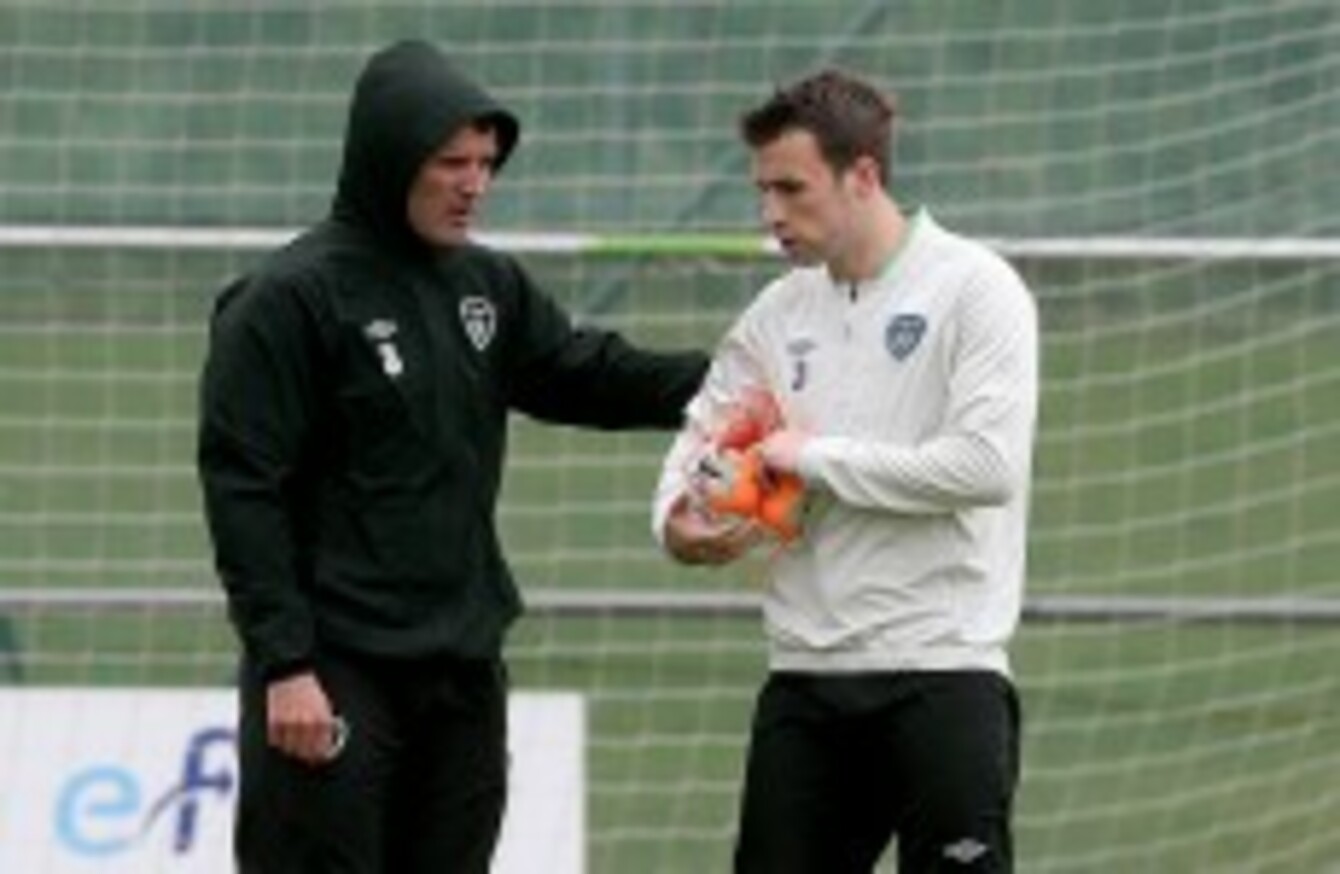 Roy Keane gives Ireland defender Seamus Coleman some directions.
Image: Donall Farmer/INPHO
Roy Keane gives Ireland defender Seamus Coleman some directions.
Image: Donall Farmer/INPHO
SKY TOUCHED DOWN at Croke Park with armchairs and pundits galore, Roy Keane played down links with the Celtic job, Mickey Harte was in foul humour, as were Yaya Touré and Rory McIlroy, and Louis Van Gaal was confirmed as Manchester United boss.
It has been a busy sporting week but your excellent comments were certainly among the highlights. Here are some of your best observations.
Willie Murphy came up with this song after news emerged of Diego Costa turning to horse placenta treatment to get fit for the Champions League.
"My lovely striker running up the field, where are u goin with ur hamstring blowing in d breeze, running around spearheading the attack like a train in d night…… hold on I can score this 1…."
Oisín Daly was hoping Leeds midfielder Paul Green took up a strop similar to snubbed Man City dynamo Yaya Touré as he joined up with the Irish squad.
"Lets hope somebody forgets Greens birthday…"
Michael Cunningham believes the Class of 92 may be hard to shift at Old Trafford.
"Gerard Houllier said about Liverpool, 'I couldn't open a drawer without an ex-pro popping out'. [Louis]Van Gaal might have the same problem."
As Australia gave TV viewers a run-down on GAA, Stiofan Hunter vgot in touch from an even more exotic location.
"Brilliant, I'm sitting in Papua New Guinea watching Tyrone v Down live on TV, able to listen to our Joe."
Arsenal's Jack Wilshere had a pop at rivals Spurs. Paul Moylan had not forgotten the midfielder's call to chat with a critical Paul Scholes.
"I'm sure Spurs will ring him up during the week and ask why they are shit and what they can do to improve."
The lights went out at the multi-million dollar Silverdome and Michael Ward bemoaned its closure.
"What a waste of a stadium we could do with that in Portumna!"
Arsenal Wenger bought himself some time at Arsenal after winning the FA Cup last Saturday. Joshua Walsh was in good spirits that evening.
"It's 30 minutes since Arsene last won us a trophy. Wenger out ;-)"
Paul Reid came up with a novel way of finishing football sticker albums.
"I used to buy other people's albums when they gave up. Then I'd cut out the ones I needed and glue em into mine. Finished Prem 95 and 96."