THE WORLD CUP obviously had our readers excited this week as there were a plethora of witty remarks and stinging rebukes in the ever-lively comments section.
Commenter 'ÉiRed' was not one bit pleased at working through Holland versus Spain on Day Two of the World Cup. We feel his pain.
I am working. I am not watching this game. I am not happy.
Robbie Lloyd feels the World Cup Gods may be siding with Big Phil Scolari's side after Brazil got a soft penalty in a 3-1 win over Croatia.
Got America and France in a sweepstakes we did today. With 3 exams still to go in the Leaving Cert I'm chuffed I didn't waste all my luck on drawing Brazil.
Donal O'Keeffe has plans to catch every minute of the World Cup but shared way, way too much.

For the next month in work It's gonna be me, the RTE player app and a toilet cubicle.
Criticism of France coach Philippe Saint-André drew this witty rejoinder from Del McG:
"Quiet, you fool, they're in our RWC pool! PSA, can I just say, from the people of Ireland, you're doing a bang-up job. Keep up the good work, fella…"
John Rock was inspired by our story about Australian rugby player, and cystic fibrosis sufferer, Nathan Charles getting called up for his Wallabies debut.
"My wife has C F inspirational for us both, well done Nathan."
Kwe Parker will only graduate high school in 2016 but is already throwing down one-handed windmill dunks on the Karolina Diamonds' basketball court.
David Carino, however, was less than impressed.
"Bet he can't put a fruit pastille in his mouth without chewin' it!"
Joe Cole signed a two-year deal with Aston Villa on Tuesday, prompting this response from the underwhelmed Johnny Fitz:
"'Senderos and Joe Coles are such exciting signings'…. the category is… Things you might say in 2002."
TV3 announced it was close to signing a broadcasting deal for UFC Dublin and Adam Walsh had an amazing idea to boost ratings.
"Hosted by Vincent Browne would be an added bonus."
Damien 'Duffer' Duff signed up with Melbourne City FC and is joining the Irish exodus to Australia, for a while anyway. 'CJ' wanted to know…
"Wonder where he's doing his regional work?"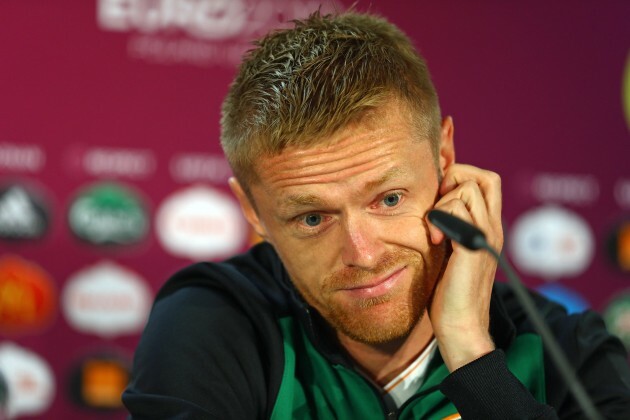 Handout Handout
The Nash Rule was brought into effect by the GAA powers that be. Brian Murphy incredulously pondered:
"When did Anthony Nash turn into Cuchulainn?"
Our six reasons why Holland would win the World Cup did not convince Ciaran Farrell.
"World darts champions is the height of the Dutch summer. Chile to take them out in the first round."
Paul Carew had some stern words for Cameroon after they refused to board the plane to Brazil over World Cup bonus haggles.
"No pride in da Parish."