Image: AP/Press Association Images
Image: AP/Press Association Images
1. "If running a marathon is as much a test of mental rigor as of physical endurance, then doing 26.2 miles at California's oldest prison, home to America's largest death row, is the ultimate internal contest.
"On the outside, marathons are movable celebrations that engulf and delight entire cities. The Los Angeles Marathon follows a glittery path from Dodger Stadium, via the Sunset Strip and Rodeo Drive, to Santa Monica Beach; the New York Marathon traverses a five-borough jamboree to the cheers of a million spectators.
"In the lower yard, a four-acre box on San Quentin's sloped backside, the only way to re-create that distance is to run the perimeter—round and round, hour after hour—going nowhere fast."
Jesse Katz produced a fascinating piece for GQ on the marathon at San Quentin Prison, where thieves, killers and dope dealers lace up their shoes and race around the yard for the longest and hardest run of their lives.
2. "It becomes clear that inasmuch as McGregor has conquered the art of hype and promotion, he has done so only because it's another facet of the fight game, a skill to master, much as you would a spinning backfist or takedown defense. All those self-aggrandizing rants, popularized by YouTube, are just part of the prefight theater that at once takes a psychic price on the opponent and triggers pay-per-view buys.
"As for McGregor's trademark predictive trash talk, it really isn't trash at all. If anything, it's the opposite. He's simply telling you his truths. When he predicts a knockout, he has seen it already. It's no more bombast or opinion than is, say, eight squared is 64 or Dublin is Ireland's capital."
Conor McGregor's appearance on the cover of Sports Illustrated generated more publicity than the article itself, in classic McGregor fashion. The article inside the mag was excellently crafted by Jon Wetheim too.
3. "Quigg shrugs aside an observation that Frampton, despite his family and wide range of interests outside boxing, is as compelled in the ring.
"'I know for a fact that nobody is like me. Nobody trains like I do. Nobody is as obsessed as I am. I visualise everything. I don't dream. Dreams don't come true.'"
This preview by The Guardian's Donald McRae for last night's title unification fight between Carl Frampton and Scott Quigg is well worth a read, even after the event.
4. "The greatest French prop of all-time? Possibly. The scariest? Definitely. But perhaps it's that reputation which, down the years, has led to a blending of fact with fiction.
"It's said, for example, that he was a heavyweight boxing champion in the French military, and that he came to rugby late in life, after an official from the Castres club saw him dominate a bar-room brawl. The reality, as Cholley explained to Rugby World, is more mundane."
Gavin Mortimer, of Rugby World, spoke to former France enforcer Gerard Cholley about his fearsome reputation.
5. "Cunningham loved dancing. He met his first long-term girlfriend, the one who was with him through his years at Orient, West Bromwich Albion and his move to Real Madrid, when they danced together at a nightclub.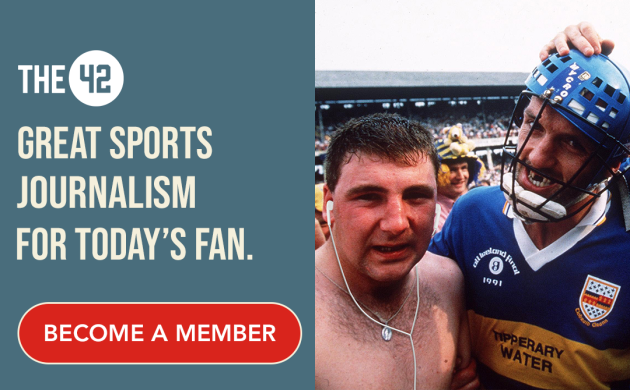 "She didn't even know he was a footballer until she saw him on the television, coming on as a substitute to make his first-team debut. When George Petchey, his first manager, started fining his quick-footed young winger for arriving late at training sessions, Cunningham entered dance competitions to win the money to pay the escalating penalties."
In a captivating feature for The Guardian, Richard Williams details the storied career of  former Leyton Orient, West Brom and Real Madrid winger, Laurie Cunningham,, who died in 1989 aged 33.
The42 is on Snapchat! Tap the button below on your phone to add!