1. "The date is March 14 of this year, and Pep Guardiola is making the short journey from the seven star Emirates Palace hotel in Abu Dhabi to the Ministry of Presidential Affairs, where a special guest is waiting to greet him."
The inside story of how Manchester City won the Premier League in The Sunday Times.
PA PA
2. "Despite their seven-year age difference, the two were inseparable. Julian would follow Brandon everywhere, Bibbs said. They spent hours sparring in the yard, and Brandon never took it easy on Julian. He pushed him to the brink of his pain threshold, and that was the beginning of Julian's life as a boxer.
Years later, when he was 22, Julian's next fight would knock him to the canvas."
Annie Costabile wrote about deaf boxer Julian Smith for the Chicago Sun Times this week.
3. "This is a pervasive opinion people have of pro athletes—and not even the worst one. But that doesn't make it true or acceptable. Imagine how different the response would be if the comment were, "He's black." But athletes are expected to accept the insulting stereotypes, shut up, and dribble."
'Kareem Abdul-Jabbar: Athletes Shouldn't Have to Endure Your Cheating Stereotypes' for Cosmopolitan.
4. "It's funny because people say how are you coping in a male-dominated world? But I don't know anything else." Growing up in Limerick, with four rugby-playing older brothers, Neville frequently clashed heads in the back garden. When she was eight she broke her nose so badly she could see it through her right eye. "To this day I can't breathe properly. I have so much trouble with my sinuses, my wife's always telling me to get it fixed." During a kickaround in the local park, she went to save a ball and dislocated her thumb. "My brother Gary popped it back in but I still can't hold a pint.""
The Guardian's Anna Kessel spoke to trailblazing referee Joy Neville.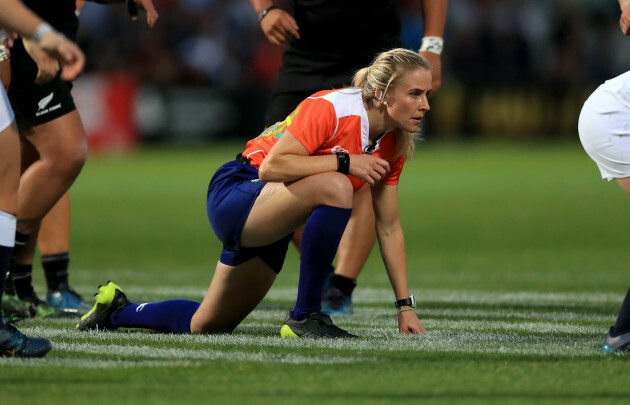 PA Archive / PA Images PA Archive / PA Images / PA Images
5. "What makes players' taxes interesting is the fact that NFLers don't just pay where they live. They pay where they play and, most notably, where they practice.
The formula is simple: total salary multiplied by days spent in a given state multiplied by that state's income tax rate, all divided by the number of days in the season. So each for each day Bryant spent in California he owed the state ($13,000,000 x 1 day x 13.3% tax rate / 170-day season)."
Jacob Feldman explored the taxing world if NFL players' finances for Sports Illustrated.
6. "Many struggle to find the answer. Research by FIFpro, the global players' union, has suggested that as many as 35 percent of former players have depression and anxiety. Xpro, a charity set up to help with the welfare of former players, found that 40 percent are declared bankrupt within five years of retirement, while 33 percent are divorced within 12 months."
Rory Smith penned a piece on retired football players for the New York Times.
7. "Maybe it seems like yesterday that Arsenal bid farewell to their soulful home, Highbury, and moved down the road to the shiny, new bowl with naming rights that would be known as the Emirates Stadium. It was a change that would have massive ramifications, and conveniently enough, the two addresses are associated with the two contrasting periods of Arsène's Arsenal."
The Guardian's Amy Lawrence on Arsene Wenger.
Tim Goode Tim Goode
8. "His talent was always underpinned by a devotion to the heavy lifting of the craft. Ejected from the press box at Tiger Stadium in Detroit late one evening for agonising too long over a baseball sidebar, he found a hot dog stand with a working light and continued typing his report up there. On another midnight vigil covering the verdict of the Mike Tyson rape trial, he delivered 800 words in 90 minutes, including an opening line that riffed on Yeats' "its hour come round at last" from The Second Coming. When sub-editors changed round to around, he went berserk because it messed with the meter of the sentence. The obsessiveness that informed his art."
Dave Hannigan paid tribute to late sportswriter William Nack for the Irish Times.
9. "Maybe it was because I grew up seeing Bruno through Hulkamania-colored glasses, but I used to look at Bruno as someone out of pro-wrestling central casting. It took me years to really appreciate how great—and how charismatic—he was. What was it that drew you to Sammartino? As you grew up, what stuck out most about him in your memory?"
Two wrestling fanatics – David Shoemaker and Brian Koppelman – email about the life, legacy, and career of one of Bruno Sammartino for The Ringer.
10. "Michael Walsh was seven years of age. Old enough to realise something was wrong, not old enough to realise exactly what or why.
All he knew was that his Daddy had been suspended by the GAA.
"It was a very strange time," he says, recalling the events of half a century ago. "There was tension around the place. But at home it was very low key. My parents made sure of that.""
The Irish Examiner's Enda McEvoy wrote about the 1968 National Hurling League final between Kilkenny and Tipperary.