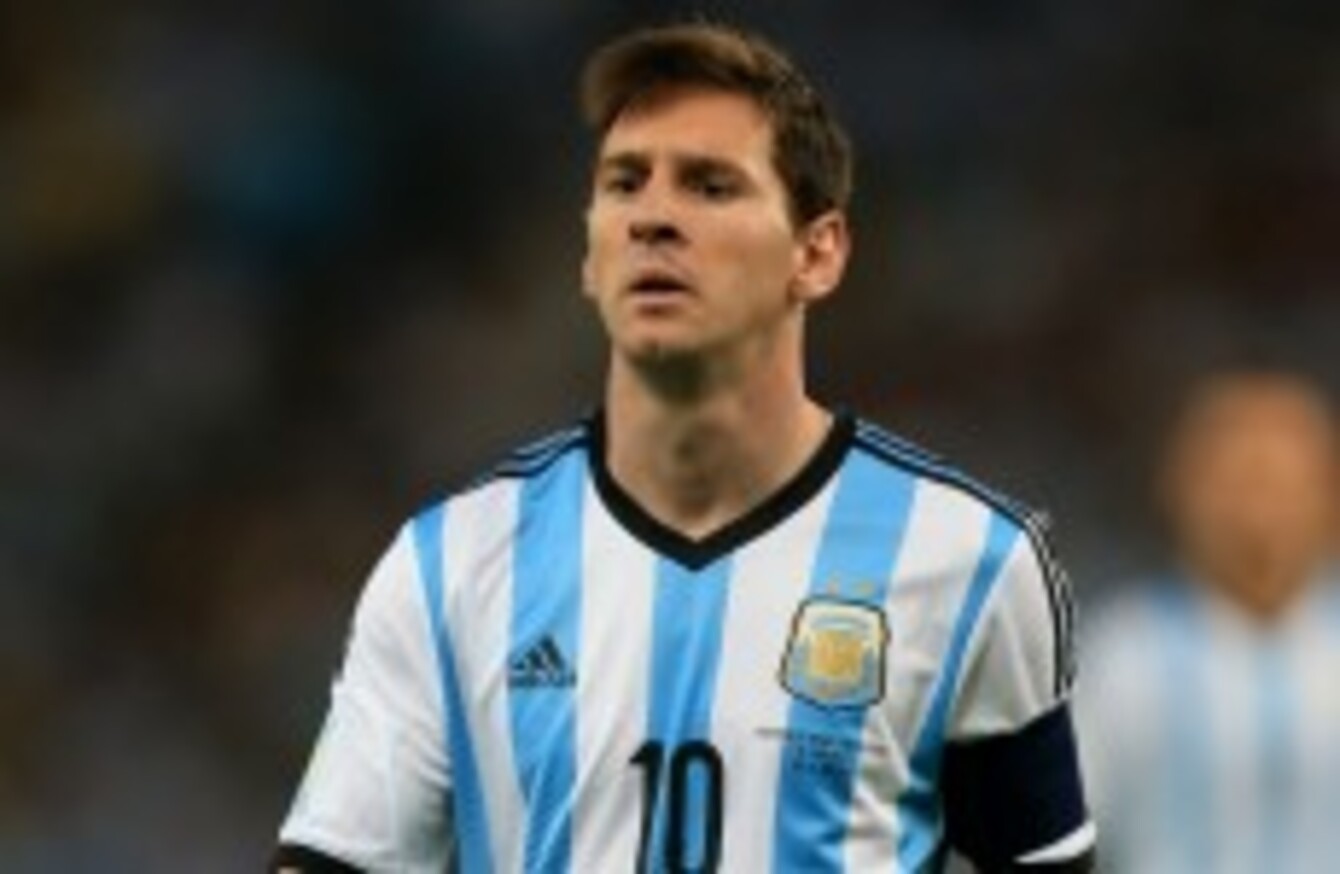 Messi's movement is explored in a piece by Ken Early for Slate.
Image: EMPICS Sport
Messi's movement is explored in a piece by Ken Early for Slate.
Image: EMPICS Sport
1. The prominence of a small group of wonderfully refined attacking players has been one of the delights of this World Cup and it is only natural the creative names are given due acclaim. But it is the wider reaction, with its elements of aggressively territorial pop star-ish zeal that seems like something new in international football.
Writing for The Guardian, Barney Ronay pens a superb piece on the star-attachment that has been hyperbolically evident during this World Cup. 
2. But Pedro Miguel Gomes will not be watching the World Cup quarter-final between Brazil and Colombia tomorrow night and he is really not like you or me. He is standing in the spot where his kitchen used to be – watching his children shovel up the charred remains of the family home, which was razed to the ground by fire last week.
The red-raw skin of his nose, burnt in the struggle to ensure everyone was safe on Wednesday night last week, is not the most eye-catching part of this plainly destitute individual.
On the pages of The Independent, Ian Herbert writes about a Brazilian family whose house burnt down after they attempted to channel electricity in order to watch the World Cup.
3. So what can we learn from these athletes' struggles to fold their arms and look to the left in a convincingly human manner? The primary issue is where your hands should go.
Should they go on the outside of your biceps, like those of the Netherlands' Daryl Janmaat? Or would you prefer, as does Mexican goalkeeper Guillermo Ochoa, to tuck them inside, thumbs up?
Dan Kois and Andrew Bouvé of Slate carry out a deep analysis of World Cup players folding their arms. As left-field and quirky as it sounds.
4. The first thing that strikes you is that, most of the time, he appears to be doing very little indeed. He loiters at an angle to the play. He drifts disinterestedly in the spaces between defenders. The only signs of alertness are those sharp, hawkish swivels of the head, as he stores a mental image of what's over his shoulder.
Then he darts toward empty space—the logic of his movement only becoming apparent two passes later, when the ball arrives at his feet. The wonder is that somehow he exerts this gravitational pull on the play while seldom even breaking into a trot.
Another feature piece from Slate here, with Ken Early expertly detailing how Lionel Messi has figured out how to win matches by moving less than everyone else.
5. Since the 2010 World Cup, Messi has scored 19 goals and six assists for Argentina in 22 games (.9 goals per game and .3 assists per game, compared to 1.1 and .4 for Barca). For shooting/assisting efficiency, he has scored .199 GAA per game for Argentina versus .262 for Barca. He also has better defensive stats for Argentina, so even if there are persistent differences, it's quite possible it has to do with style and Messi's role on each team rather than the quality of his play.
And 22 games is a tiny sample. Even so, these stats are perfectly consistent with the argument that Messi is the best footballer on earth: That .199 GAA is better than the .175 GAA per game that Ronaldo has earned at Real Madrid since 2010.
Staying on the topic of Lionel Messi, FiveThirtyEight's Benjamin Morris extensively analyses the data that confirms the Barcelona and Argentina attacker is the best player in the world.