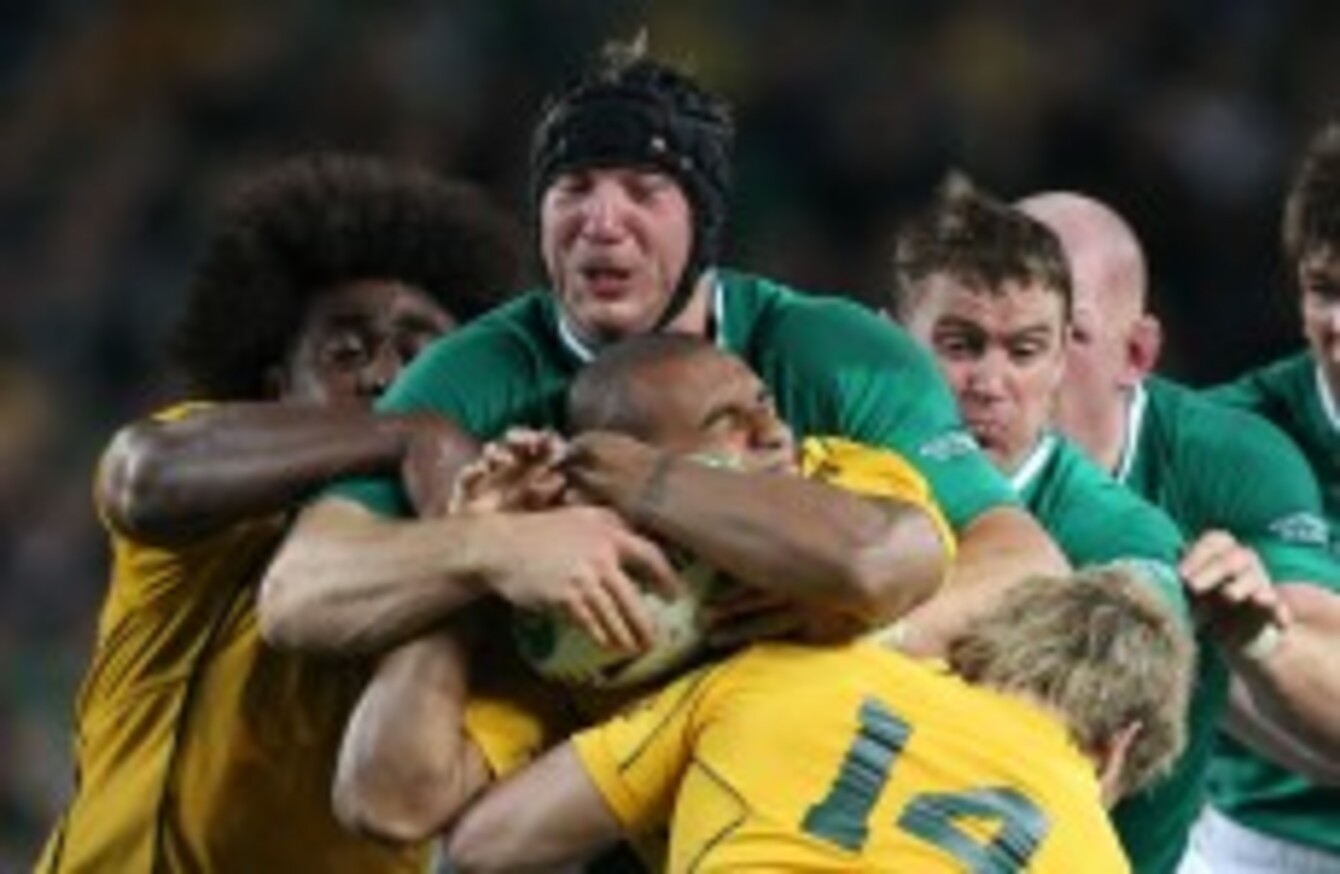 Stephen Ferris unleashes a choke tackle on Will Genia.
Image: Billy Stickland/INPHO
Stephen Ferris unleashes a choke tackle on Will Genia.
Image: Billy Stickland/INPHO
1. "If you watched it, you'll never forget it.
"Ninety minutes seared on your consciousness, the memory of which will keep you warm on cold nights and bring colour to a month of humdrum days. Unless you wear one of these two club's colours, let's set the result – a 4-3 away win for Barcelona – aside for a minute.
"Football was invented for a night like this. Bravery, brio, technique, showmanship, nerve, fun, fear, fury — goals, goals, goals."
Graham Hunter reflects on last weekend's stunning El Clásico for ESPN, focusing on Gerardo Martino, Neymar, and the title run-in.
2. "The choke tackle rewards great technique and has become an ubiquitous part of the game. Coaches have implemented it brilliantly, we can't begrudge them that.
"But there needs to be a rethinking and rebalancing of its impact otherwise it runs the risk of squeezing significant life out of today's more attack-minded professional rugby."
Former Lions and England centre Will Greenwood explains his issues with the modern day choke tackle for The Telegraph, a technique first popularised by Ireland defence coach Les Kiss. Do you agree with Greenwood's sentiment?
3. "Escobar left the premises, but the four-strong group hurling abuse followed him, continued their tirade and loudly labelled him a 'faggot'. Upset, Escobar drove his car across the car park in order to reason with his detractors, insisting his own goal had been 'an honest mistake'.
"An already tense situation escalated and at least one gun was produced and fired. Six bullets tore through the flesh and bone of Escobar's back as he sat at the wheel of his car. An ambulance was called, but it was too late. Less than 30 minutes later, Andrés Escobar was declared dead."
Writing for The Guardian, Barry Glendenning explores Andrés Escobar's deadly own goal at the 1994 World Cup in the US.
4. "Once, Cooper and Julie heard about a mother who had left her job because she had fallen ill and used her last pay-packet to buy a bike for her son for Christmas.
"Two days after Christmas, the bike was stolen. The Finlay Cooper Fund paid for a new one. And so in the minds of Colin and Julie Cooper, the little dragonfly still flits and glides in the sunlight, the memory of a beautiful little boy helping others rise above the tumult."
Oliver Holt, in his column for The Mirror, reveals how a charity set up by Hartlepool manager Colin Cooper in memory of his son has been helping children everywhere.
5. "With soccer's World Cup less than three months away, it has become apparent that testing procedures for performance-enhancing drugs won't meet the currently accepted gold standards of international sports, veterans of the antidoping movement say.
"FIFA, soccer's world governing body, hasn't caught a men's World Cup player for PED use since Argentine star Diego Maradona tested positive for five variants of the stimulant ephedrine in 1994."
The issue of 'The World Cup's Drug Problem' is articulated by Matthew Futterman on the pages of The Wall Street Journal.
6. "Halfpenny is a key physical asset to Wales and running into large and angry sportsmen can be bad for one's health. Is Halfpenny's boot too valuable to risk? It would be unfair to refer to him as rugby's version of an NFL field goal kicker, kept out of the action until called upon to strike the ball between the uprights; he still has to tackle, for one thing. 
"And although his tackling numbers aren't stratospheric they are in line with other full backs in the tournament not named Kearney or Brown."
Writing for his own site, Andy McGeady wraps an interesting narrative around some of the ball carrying statistics from the 2014 Six Nations.