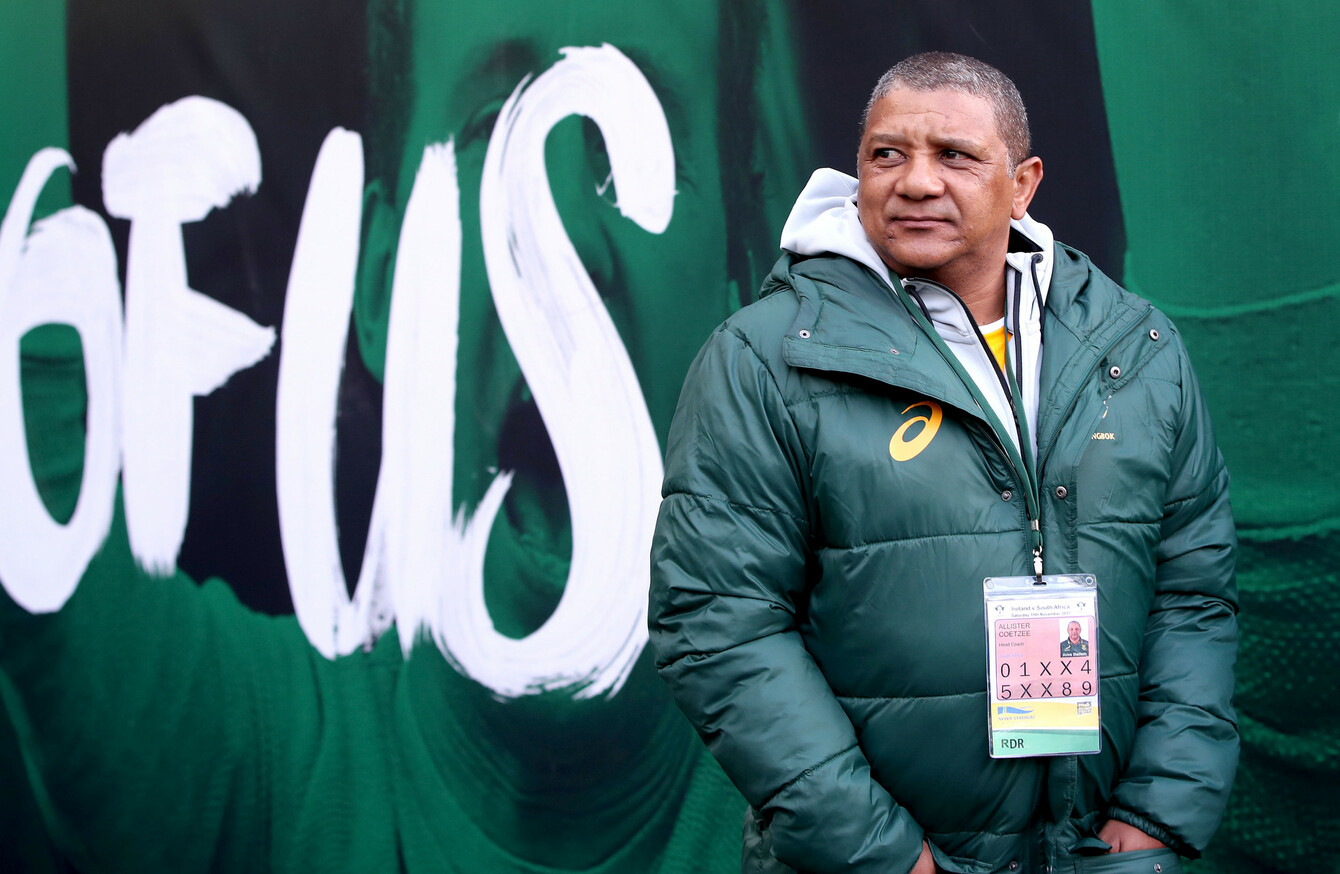 Image: Bryan Keane/INPHO
Image: Bryan Keane/INPHO
SOUTH AFRICA COACH Allister Coetzee sprung to the defence of his misfiring Springboks on Monday insisting they are trying their best.
The tourists slumped to a record 38-3 defeat to Ireland in Dublin on Saturday, just under two months since New Zealand gave them a 57-0 thrashing.
But Coetzee put down their abject showing to a lack of experience and ill-discipline that allowed Ireland to open up a lead through penalties.
"The crux of the matter is we were ill disciplined. We didn't realise penalties will hurt you so much and the three points in the northern hemisphere is almost like a score (try)," said Coetzee.
"We've got to make sure our discipline is intact. We need to have patience."
But he denied that there was a lack of effort or application from his team.
"The Irish, what they did well, they stayed very patient in their kicking game. They didn't do anything spectacular.
"(There was) one lineout where they got a line break where we tackled in there but they got the inside.
"But further than that everything was from our turnovers and turnovers where we conceded penalties; and penalties led to a lineout and a lineout led to a maul (from which Ireland scored). So that's the picture of our game really.
"To just say there's a lack of effort is awful, it's also not true."
South Africa face France in Paris on Saturday but Coetzee is expecting a much tougher challenge from Les Bleus than Guy Noves's touring team managed in a 3-0 series defeat in June, in which he was shorn of many first choice players.
"It's definitely not going to be the French side that toured South Africa earlier this year and I don't read a lot into the game against the All Blacks," said Coetzee, referring to France's 38-18 home defeat to New Zealand last Saturday, in which they were blown away in the first half to trail 31-5 at the break before mustering something of a second half fightback.
"I think they came back nicely. There are a lot of players who are playing well in the side at the moment.
"We've got to prepare for a much improved French side and that's the bottom line. There are certain things that you have to be good at: they've got a good, powerful scrum, a good maul and we've got to make sure we can deal with that.
"Obviously, the focus is purely on us for this week and how much we learn from last week and how much we want to get better this week.
"The French will always be a threat at home and we've got a hell of a lot of respect for the French, and it's got nothing to do with the inbound series: that's history.
"They will come out and want to rectify that series loss."