NBA / YouTube
MANU GINOBILI PULLED off an astonishing last-gasp defensive block as the San Antonio Spurs dug deep to claim a 110-107 victory over the Houston Rockets in their Western Conference playoff series..
Kawhi Leonard — who limped off late in the game with an ankle injury — led the scoring for San Antonio with 22 points as the Spurs took a 3-2 lead in their best of seven series.
But it was Ginobili's heroics in overtime — denying James Harden as the Rockets star shaped for a game-tying three-pointer — that stole the show at San Antonio's AT&T Center.
Eric Gay Eric Gay
It was a superb clutch defensive play from the 39-year-old Argentinian, which gives the Spurs a precious lead as the series heads to Houston for Game 6 tomorrow night.
"Manu reached back and gave us one of his Manu performances from past years. He was a stud," Spurs coach Gregg Popovich said.
"We went to him with Kawhi off the court and asked him to make some things happen, generate some offense. He did a good job, whether distributing or scoring — he was big for us," added Popovich, praising his team's defensive resilience after the loss of Leonard in a tense finale.
"Everybody pulled together and played some good defense, especially without Kawhi being out there. The competitiveness was just off the charts.
"We're obviously thrilled with the victory. We would have really been in a hole. Either team could have won the game down the stretch."
But it was a frustrating night for Harden, who led the scoring for the Rockets with 33 points and a triple-double but was unable to provide his team with the breakthrough in overtime.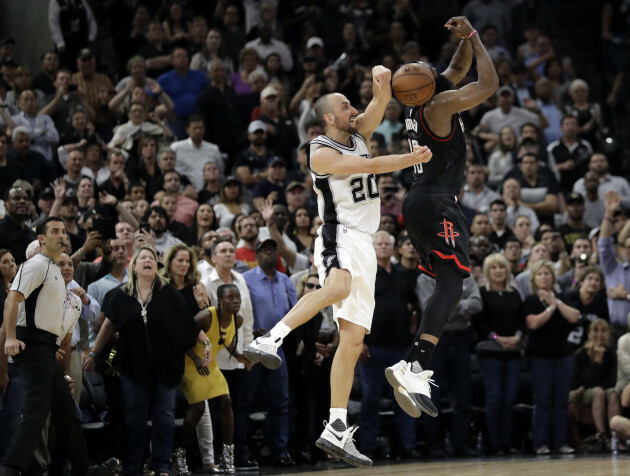 Eric Gay Eric Gay
Harden made only four of 15 attempted three-pointers and crucially coughed up nine turnovers — including three in overtime.
Three other players made double figures for the Rockets with Patrick Beverley finishing with 20 points, Ryan Anderson 19 points and Eric Gordon with 11.
San Antonio's scoring was spread throughout the team, with LaMarcus Aldridge adding 18, Danny Green 16 and Patty Mills 20.
Jonathan Simmons (12) and Ginobili (12) also notched double digits.
San Antonio meanwhile played the final minutes of regulation and the overtime period without Leonard, who appeared to twist his left ankle during a drive in the third quarter.
NBA / YouTube
Popovich declined to speculate on the seriousness of Leonard's injury.
"He didn't want to come out obviously, we let him a play on a little bit just to see how it went. But it was obvious he couldn't go," Popovich said.
Houston looked to have edged clear when Ryan Anderson's three-pointer put them ahead with 47.6 seconds on the clock.
Danny Green then drew a foul attempting a layup to give San Antonio a 109-107 buffer, with a further free throw making it 110-107.
The winner of the series will play the Golden State Warriors for a place in the NBA Finals.
The42 is on Instagram! Tap the button below on your phone to follow us!