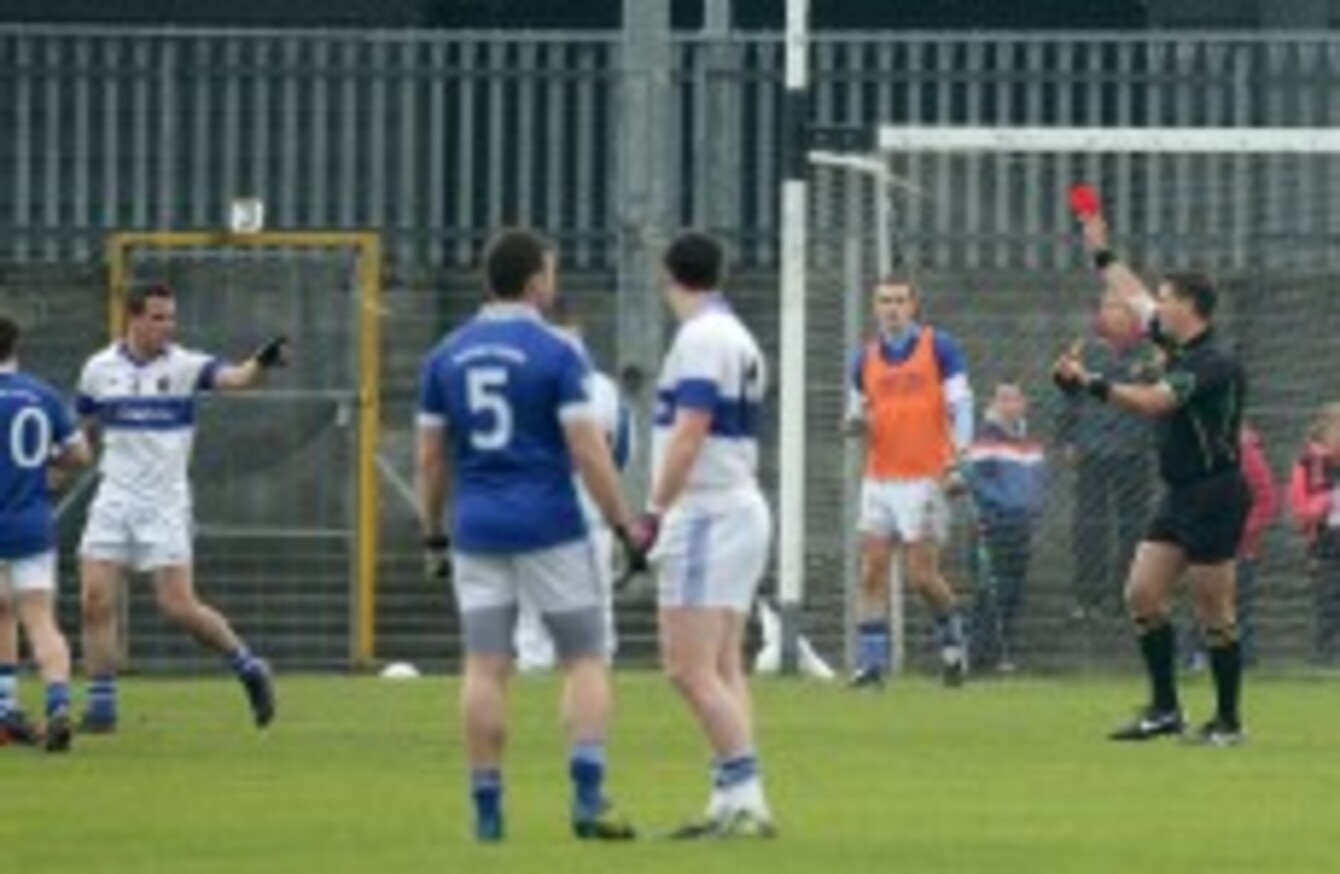 St Vincent's Ger Brennan is sent off early in the game by referee Damian Brazil
St Vincent's Ger Brennan is sent off early in the game by referee Damian Brazil
BOSS TOMMY CONROY says St Vincent's are likely to appeal the AIB Leinster club SFC dismissal of captain and Dublin star Ger Brennan.
Defender Brennan was shown a straight red card seven minutes into Vincent's two-point quarter-final win over St Loman's of Westmeath on Sunday.
Referee Damian Brazil consulted with officials before issuing the sanction for an off the ball incident which left Loman's forward Kelvin Reilly grounded.
As things stand, Brennan is suspended for their 24 November semi-final clash with Meath champions Summerhill while fellow Dublin player Diarmuid Connolly is also banned.
"Ger is adamant that he didn't strike," said manager Conroy, who believes Brazil took advice from umpires. "The linesman didn't see it. We'll have a look at it and we'll certainly be talking. I don't know what way it will go. We'll let the club deal with that but certainly we'd want to appeal it I'd say, yeah."
The courageous win with 14-men came at the end of a punishing run of games.
It was the Dublin champions' third match in a week after requiring a replay to defeat holders Ballymun Kickhams in the county final and their fourth match in 13 days.
"I've played on some good teams and watched some very good Vincent's teams but this team, having watched what they did against Ballymun and what they've done again now, it's been fantastic," added Conroy, who singled out Tomas Quinn for his seven point haul.

"I thought 'Mossy' was great inside, he took an awful lot of punishment and was still able to kick the scores that we needed."
Losing Loman's manager Declan Rowley, the former Leitrim boss, lamented a missed opportunity against a weakened and fatigued Vincent's.
"You'd have to say that it was stacked up for us," admitted Rowley. "If we had a little bit more experience, maybe if we'd been out of Westmeath a couple of years before, we'd have had that experience to drive it on and pull it over the line because it really was stacked in our favour."