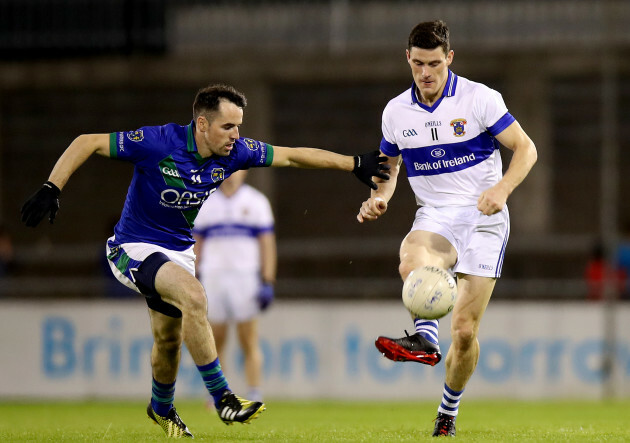 Bryan Keane / INPHO St Vincent's Diarmuid Connolly in action against St Sylvester's Gary Sweeney. Bryan Keane / INPHO / INPHO
St Vincent's 0-20
St Sylvester's 0-7
Fintan O'Toole reports from Parnell Park
ST VINCENT'S BREEZED into the last four of the Dublin senior football championship tonight, showing no lethargy from their summer hiatus as they accounted for St Sylvester's in a routine quarter-final success.
Brian Mullins watched his charges resume their championship campaign in the wake of Dublin's All-Ireland exploits and by the final whistle in Parnell Park, he could reflect on a satisfactory night's work as they had a hefty 13-point cushion on the scoreboard.
A semi-final berth puts the reigning champions back within a game of returning to the decider and keeps their hopes alive of a fifth successive county final showing.
Bryan Keane / INPHO St Sylvester's Shane Doyle and St Vincent's Nathan Mullins. Bryan Keane / INPHO / INPHO
St Sylvester's battled away in the early stages to remain in contention as they trailed 0-6 to 0-4 when the opening quarter had concluded. But they failed to raise a flag for the next thirty minutes of action, encompassing periods in both halves, and by the time they notched their fifth point, St Vincent's had 0-15 on the board.
Mossy Quinn was their scorer in chief early on as he bagged 0-6 in the opening half alone, a contribution divided neatly between open play and dead balls. He would finish with 0-8 to his credit and was the finisher close to goal that capped off St Vincent's best approach play.
Diarmuid Connolly only got on the scoresheet once in the first half but his influence on the action was pronounced. He sprayed some delightful passes in attack, setting up points from play by Enda Varley, Quinn and Shane Carthy with his pinpoint deliveries.
Connolly made a stunning one-handed catch under pressure before half-time and even if the eventual shot drifted off target, the fielding drew applause from the crowd. Deep in injury-time, he did manage to split the posts with a superb shot off his left to round off St Vincent's dominant performance.
St Vincent's powerful second quarter phase of play killed off the game as a contest as they went in front 0-12 to 0-4 by the interval. Gary Sweeney and substitute Alan Foy tried hardest to probe for St Sylvester's but they were not able to prise apart the Vincent's rearguard in a meaningful fashion.
Varley (0-4) and Cormac Diamond (0-2) were others to impact in a scoring sense for a Vincent's team who also had a strong performer in Shane Carthy. They'll receive tougher tests before the season is out but this was a highly competent display.
Scorers for St Vincent's: Tomás Quinn 0-8 (0-3f), Enda Varley 0-4 (0-3f), Diarmuid Connolly (0-1f), Cormac Diamond 0-2 each, Ger Brennan, Shane Carthy, Gavin Burke, Eamonn Fennell 0-1 each.
Scorers for St Sylvester's: Gary Sweeney, Alex Wright (0-2f) 0-2 each, Alan Foy, Ed Walsh (0-1f), Paudi White 0-1 each.
St Vincent's
1. Michael Savage
2. Michael Concarr
3. Jarlath Curley
4. Craig Wilson
5. Brendan Egan
6. Ger Brennan
20. Cameron Diamond
7. Nathan Mullins
27. Lorcan Galvin
12. Cormac Diamond
11. Diarmuid Connolly
9. Shane Carthy
13. Ruairí Trainor
22. Enda Varley
15. Tomás Quinn
Subs
10. Gavin Burke for Trainor (40)
21. Joe Feeney for Cormac Diamond (44)
30. Eamonn Fennell for Sheehy (49)
34. Luke Sheehy for Egan (56)
22. Mark Loftus for Mullins (60)
26. Lorcan Smyth for Varley (60)
St Sylvester's
1. Michael Shiel
18. Paudi White
3. Conor Quinn
4. Johnny Peacock
5. Andrew Cunningham
6. Daniel St Ledger
7. Brian Sexton
8. Stephen Cunningham
9. Jack Hazley
10. Glen Hazley
11. Gary Sweeney
24. Shane Doyle
13. Michael McCarthy
14. Ronan Palmer
15. Alex Wright
Subs
21. Ed Walsh for Stephen Cunningham (25)
22. Alan Foy for Wright (36)
25. Jamie Kennedy for Sexton (39)
17. Ciarán McArdle for St Ledger (44)
12. Dylan Connolly for McCarthy (50)
23. Niall Coughlan for Andrew Cunningham (60)
Referee: Barry Tiernan
Subscribe to The42 podcasts here: