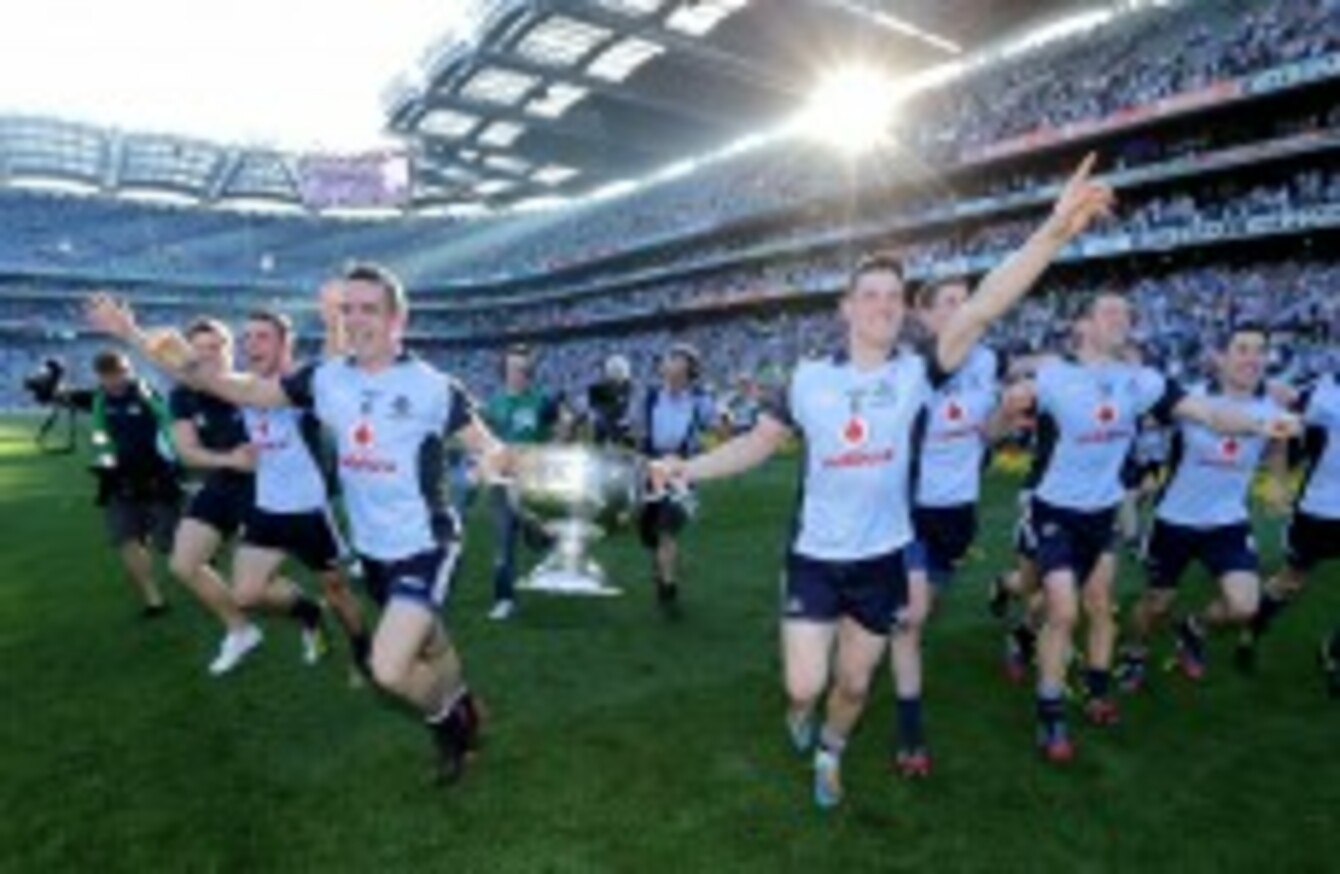 Ger Brennan and Diarmuid Connolly celebrating Dublin's All-Ireland winners.
Image: INPHO/Morgan Treacy
Ger Brennan and Diarmuid Connolly celebrating Dublin's All-Ireland winners.
Image: INPHO/Morgan Treacy
THEY ARE THE marquee names in the St Vincent's squad that is getting set for next Sunday's AIB Leinster senior football club final.
Ger Brennan and Diarmuid Connolly scaled the heights in September with Dublin and now hope to thrive on the club stage in December.
But they have been absent for St Vincent's march through the province with Connolly seeing red in the Dublin county final replay and Brennan seeing red in the early stages of the Leinster quarter-final against St Loman's.
Yet despite those suspensions, St Vincent's have manged to cope without their inter-county figures and are preparing to face Portlaoise on Sunday.
How have they managed it? As attacker Mossy Quinn points out, playing without Brennan and Connolly is not an unusual experience for St Vincent's.
"I kind of made a joke previously that we were back to our best 15 because the lads hadn't really been there during the year.
"We put more emphasis on league games this year — and that meant playing without Dermo and Ger. We've been scraping above the relegation zone so we tried to make sure our league performances were better. We felt the core club guys had to get up to a certain level.
"I think that probably helped us when the two lads were missing. If we hadn't have focused on it, we might have struggled. Mentally, there might have been lads turning around saying 'we don't have Dermo now'."
Diarmuid Connolly watches on against St Loman's
Pic: INPHO/Morgan Treacy
Composure
St Vincent's have been keeping their heads all year according to Quinn.
"It's a great trait that we have shown so far. Even in the drawn Ballymun game, we were five points down with a couple of minutes and the easy thing is to panic a little, put Eamon (Fennell) in full-forward and pump long ball into him.
"The fact that we didn't do that and just stuck at it, we were calm and got an equalising score. The Loman's game was the same. It wasn't ideal but mentally we knew we had to work harder and a few guys spoke about that after.
"They probably said 'right, Ger is gone so I'm going to have to do more' and, if you look at our tackle count, it was probably higher than some games where we had 15."
The flipside is that St Vincent's cannot relax now that the duo are set to be available once more for Sunday's tie at O'Connor Park.
"Certainly, when they come back into the team, there has to be a balance", admits Quinn. "The two guys who played the last day mightn't play now, so it's about how certain guys react to it.
"Fellas knew after the Loman's game that they had to step up, because Ger was gone. Now it's the easy thing to say 'I don't have to do that because Ger is back, or Dermo is back — he'll get the next ball, he'll get the next score'. We've been pretty good all year with nobody doing that."
Ger Brennan watches St Vincent's
Pic: INPHO/Morgan Treacy