ARSENAL'S LONG-SERVING manager Arsene Wenger received the unequivocal support on Thursday of majority shareholder Stan Kroenke who declared he is doing a "great job".
Wenger came under unprecedented pressure last season as the team failed to qualify for the Champions League and many fans voiced their desire for him to leave after 21 years in the job.
However, the 68-year-old Frenchman ended up signing a new two-year contract after Arsenal beat Chelsea in the FA Cup final — his prevaricating over his future at the club was blamed in part on a disastrous mid-season slump in the team's form.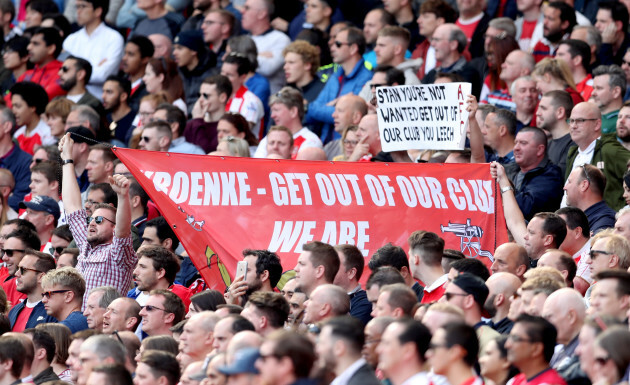 Adam Davy Arsenal fans hold up an anti-Stan Kroenke banner. Adam Davy
However, Kroenke said he and the board had taken the right decision in keeping Wenger at the club.
"An easy answer is to do something," Kroenke told The Daily Telegraph and The Daily Mirror.
"It's harder not to do something. We have dealt with this a lot in different organisations and we just think that Arsene is doing a great job and he's the right guy.
"I think he is more focused than ever. Focused on winning. I really think I do see that," added Kroenke.
Kroenke, who owns a formidable array of teams ranging across several sports including the NFL's Los Angeles Rams and the Denver Nuggets of the NBA, said there was no question of him selling his 67% stake in Arsenal.
"Just go look at our history," said the 70-year-old American, who is not very popular with Arsenal supporters and will face them at the club's annual general meeting later on Thursday.
"We get into these things to try to grow them. You don't see us selling things. You just don't. We are committed long-term.
"I love Arsenal, love being involved with Arsenal. There's no finer feeling than going out and winning like we did with the FA Cup."
Subscribe to The42 podcasts here: