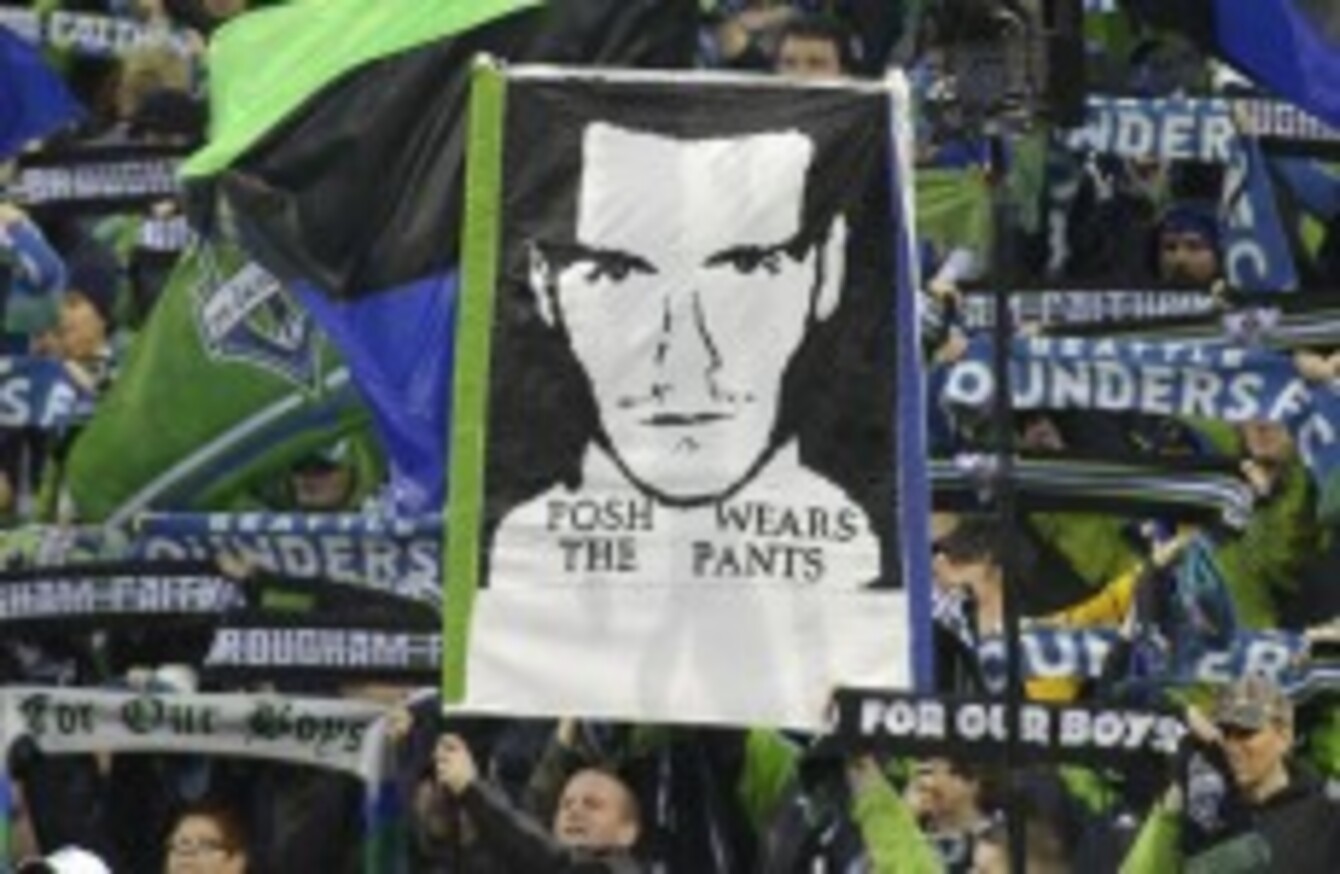 Seattle fans display a banner mocking LA Galaxy's David Beckham.
Image: /AP/Press Association Images
Seattle fans display a banner mocking LA Galaxy's David Beckham.
Image: /AP/Press Association Images
MAJOR LEAGUE SOCCER is back, it's still raining in Seattle, David Beckham is still an LA Galaxy player and Alexi Lalas still has a huge problem with his wantaway antics.
These are reassuring things to hold on to when seeking distraction from all the other grim certainties of life: the New York Knicks still losing, for example, or the NFL lockout still holding tough.
Day Four? Rumours that potential rookies won't attend the draft (live on ESPN). Day Five? Rumours that Barack Obama won't attend his brackets prediction for March Madness (live on ESPN).
How the MLS opener managed to squeeze any attention out of this week of all weeks is admirable. Flying a few hours north to Seattle, Beckham, Landon Donovan and the Galaxy took the hopes of an entire league with them. "This is our collective chance to shine," MLS chiefs seemed to whimper when scheduling this Western Conference opener for a rainy Tuesday night in Washington State.
LA won a poor clash 1-0, Juninho's 58th minute strike the only watchable moment of a game during which it bucketed down incessantly on the artificial turf of the Qwest Field (home to the Sounders and … the Seattle Seahawks, it says here. Whatevs).
Star Theory was a branch of Film Studies I always enjoyed but I found it to be such a no-brainer. To sum it up, it doesn't matter what schlock you throw up on the screen, the viewer will associate the lead actor or actress with the main theme in 0.7 seconds.
For the greater public twiddling their thumbs until the basketball cranks up a few notches tomorrow, they needed a team like the Galaxy to give them enough star material to hold onto when flicking through the channels.
All a little obvious, like I said, but that suits my very obvious theme: there truly is no other point to David Beckham who is in the last year of that infamous contract.
The best thing about his performance was the circus of pre-match banter he inspired – because during the game, he was a surly presence on the right wing, all misplaced passes and poor first touches.
He started off as grumpy as he meant to continue on a pre-recorded ESPN interview in which he was pushed on his half-arsed stint with Spurs. "I had a bad injury last year and I need to work on my fitness so (in order to do) that, I need to be with a Premier League team training," he said, his tone notably impatient.
This was red rag to the cold-looking panellists sitting pitchside in rainy Seattle. Host Max Bretos threw it over to the man who was instrumental in signing Beckham for LA, former General Manager Alexi Lalas:
"I cannot for the life of me understand why he can't get back into shape with the team that pays his salary right here in the MLS."
What are they
really like?
Rare insights on sport's biggest names from the writers who know them best. Listen to Behind the Lines podcast.
Become a Member
A fuming Lalas added: "I think it's pretty clear that David Beckham will do what's appropriate for David Beckham – that isn't always appropriate for the team he's playing for. It's not malicious, it's just the way it is.
"It's very telling that (coach) Bruce Arena didn't allow him go on loan but did allow him to go train. In a sense, they said we're going to appease him because he's good for us on the field and he makes us a lot of money but they're resigned to the fact that David Beckham is a satellite."
Former New England Revolution player Taylor Twellman was even more cutting.
"I don't get it! He's only played 48 out of 108 possible regular season games and yet he can't be in Arizona or California with his team mates," he roared before adding cryptically: "He's buying Shepard's Pie for Tottenham players who are not on his team."
Colleagues ripping a self-absorbed bazillionaire for the benefit of a baying audience? And there was I thinking the Donald Trump Roast was supposed to be on Comedy Central.