NASA HAS INVITED Stephen Curry to see "hundreds of pounds of moon rocks" at the Johnson Space Center in Houston after the two-time NBA MVP suggested the 1969 landings were faked.
Speaking on The Ringer's 'Winging It' podcast, Curry questioned whether man had ever landed on the moon, and he received support from Vince Carter, Kent Bazemore and Andre Iguodala.
During a wide-ranging discussion, Curry moved the conversation from dinosaurs to space exploration, asking: "We ever been to the moon?"
After his fellow NBA players replied 'no', the Golden State Warriors star added: "They're going to come get us. Sorry, I don't want to start conspiracies."
Curry went on to state his case for the landings having been faked, which prompted Nasa to issue a statement inviting the three-time NBA champion to see the evidence for himself.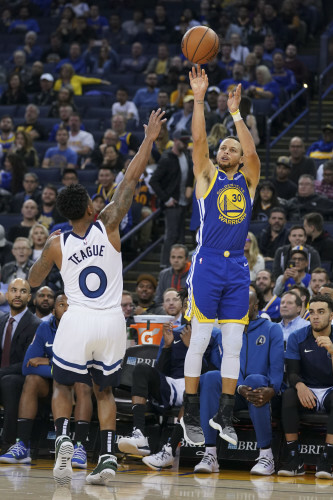 SIPA USA / PA Images Stephen Curry shoots the basketball against Minnesota Timberwolves guard Jeff Teague. SIPA USA / PA Images / PA Images
"We'd love for Mr. Curry to tour the lunar lab at our Johnson Space Center in Houston, perhaps the next time the Warriors are in town to play the [Houston] Rockets," Nasa spokesman Allard Beutel told the New York Times.
"We have hundreds of pounds of moon rocks stored there, and the Apollo Mission Control.
"During his visit, he can see first-hand what we did 50 years ago, as well as what we're doing now to go back to the moon in the coming years, but this time to stay."
Meanwhile, on the court, Golden State Warriors extended their winning streak to four games last night thanks to Curry's 38 points in a 116-108 victory against the Minnesota Timberwolves as Draymond Green made his return to the line-up.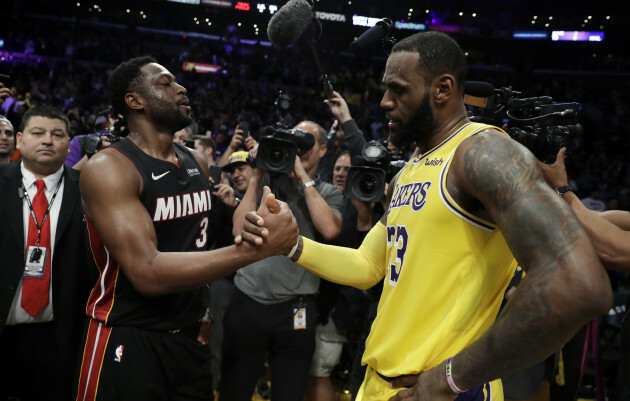 Marcio Jose Sanchez Miami Heat guard Dwyane Wade, left, shakes hands with Los Angeles Lakers' LeBron James. Marcio Jose Sanchez
LeBron trumps Wade in last dance 
LeBron James won the final instalment of his long rivalry with Dwyane Wade on Monday, scoring 28 points as the Los Angeles Lakers held on for a 108-105 victory over the Miami Heat at the Staples Center.
James and Wade, who arrived in the NBA together as part of a star-studded draft in 2003, have formed one of basketball's most famous rivalries and closest friendships over the course of their careers.
Former team-mates at the Miami Heat, where the duo won back-to-back NBA championships in 2012 and 2013, the two faced each other for the last time on Monday with Wade retiring after the 2018 season.
The 31st meeting of the two men finished with a victory for James, who seized control of the contest in the fourth quarter to finish with 28 points, nine rebounds and 12 assists.
Wade scored 15 points off the bench for Miami, whose top scorer was Justise Winslow with 28 points.
The Lakers win means James finished with 16 wins to Wade's 15 in head-to-head meetings between the two players.
The two NBA icons embraced at the buzzer before swapping jerseys in a mutual show of respect.
"It's bitter sweet man," said James. "A lot of emotions for me right now, just knowing that I'm losing a brother in this game that I've had so many wars against, so many wars together.
"There's no better way to end it than here at the Staples Center. We're going to miss him in this league. That's for sure."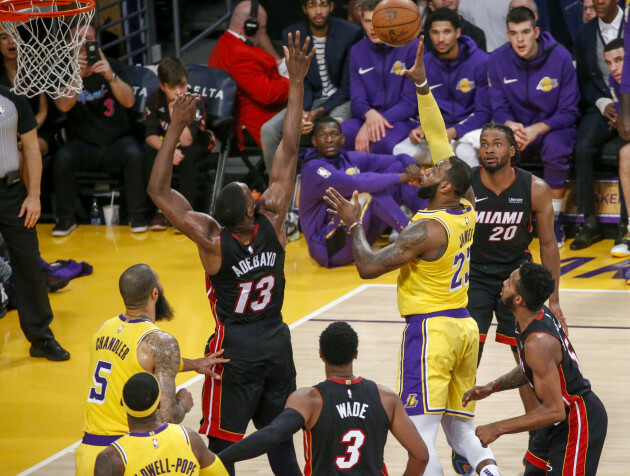 Ringo Chiu James shoots over Miami Heat'•s Bam Adebayo. Ringo Chiu
Wade paid an emotional tribute to James. "It's tough," he said. "This is what you play for, playing against one of the greatest players ever.
"Whether we were team-mates or whether we were opponents, we brought the best out of each other. I'm just so grateful to have been drafted at the same time as this guy.
"The friendship we have is beyond basketball. But I'm going to miss the shit out of this."
The win saw the Lakers improve to 17-10 in the Western Conference and was another sign that James's arrival is starting to bear fruit.
Wade said he is confident James will be able to transform the Lakers into championship contenders.
"He can do anything he wants. He's shown that, he's proven that," he said. "I have no doubt this team will be in the finals at some point."
The Oklahoma City Thunder are in first place in the Western Conference, however, following their 122-113 win over the Utah Jazz.
Paul George scored 31 points and Russell Westbrook recorded his sixth triple double of the season as the Thunder bounced back from their upset loss against the Chicago Bulls on Friday to improve to 17-8.
NBA / YouTube
Subscribe to our new podcast, Heineken Rugby Weekly on The42, here: