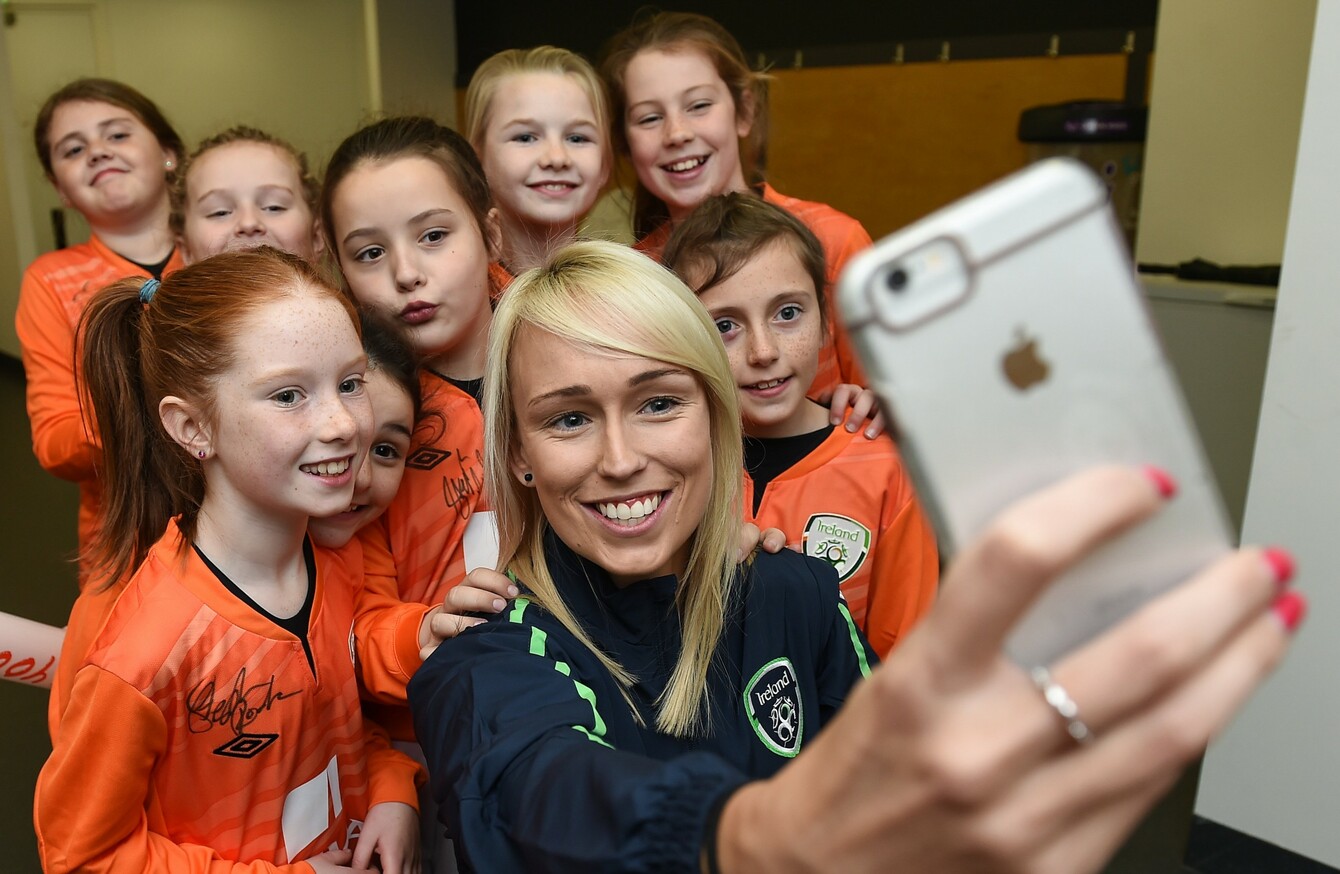 Stephanie Roche is happy in the latest chapter of her career.
Image: Cody Glenn/SPORTSFILE
Stephanie Roche is happy in the latest chapter of her career.
Image: Cody Glenn/SPORTSFILE
STEPHANIE ROCHE LOOKS relaxed as she settles into a couch at the Aviva Stadium. Perhaps it's partly due to the fact that she has just one more fixture to play this weekend before getting a break from football and she's looking forward to the time off. But there could be something else that's contributing to the easy feeling.
Following the sensational reaction to her goal for Peamount United in 2014 which led to a nomination for the Puskas award, the striker went through a succession of clubs.
Her first international transfer took her to the French side ASPTT Albi. A stint with Houston Dash followed thereafter but that move consisted of just two substitute appearances adding up to less than half an hour of game time before her contract was terminated after three months.
There's no sense of looking back in anger and the experience gained means that nothing was lost during her time in America. Following that tumultuous stretch in her football career, Roche has just completed her first full season with Sunderland and now feels she's found a place where she can be content.
"Houston was a strange one," she told The42 at the Soccer Sisters launch, which was sponsored by the Aviva Stadium.
"When I went over, I was enjoying it, I was going well and I think the club just hit a stage where they needed to change things because players were getting injured. Unfortunately for me, I was the one who had to go.
"It was a difficult time, I didn't know what to do, didn't know whether I wanted to stay away playing, but I'm really enjoying Sunderland now and I'm close to home as well which is nice so the family can come over and stuff."
"It's nice to be settled in and I've my own little life at Sunderland so it's nice to have that away from football as well as being settled in football."
Roche is tracing out the footsteps left by her Irish predecessors Niall Quinn and Jason McAteer who both enjoyed periods at Sunderland. Although she's a self-confessed home bird, Roche has discovered a rich sense of Irish culture in the north-east club that shortens the distance to home a little bit more.
"There's a lot of people over there who can relate to the Irish people. There's a couple of Irish coaches and physiotherapists within the club and a few of the underage lads are Irish as well so I have that bit of a chat with them every now and then. It's nice to have a few Irish faces around and a few people to talk to so there is definitely an Irish connection there."
But while things on the football pitch are aligning well for Roche, she's just come through a period of harrowing ill-health. A bout of swollen glands shortly after Ireland's exit from the European Championship qualification stages resulted in her taking a frantic trip to A&E.
The 27-year-old was later diagnosed with a throat condition that was detected at a critical moment before it could have caused her serious harm.
It's an abscess on my throat, so basically my whole throat was swollen up. If I had waited any longer and it burst, it could have been really dangerous. I had to go in and get it (the abscess) removed and there was a bit of a problem getting it removed because it was so deep. "
"There was about four attempts trying to get it fixed," she added. "They ended up just operating and taking out my tonsils so it was a nasty week in hospital and obviously the recovery time was about three weeks."
"I lost a lot of weight and I'm quite a skinny girl as it is so it was just about getting myself back up. I was getting about three and a half weeks at the gym in Sunderland and got myself back in shape and then I was back in training about three weeks ago."
Source: RTENewsNow/YouTube
Roche will be featuring in a new book due for release next March. Using mainly photos accompanied with text, 'A Woman's Work' will look at a host of women from a diverse range of sports and professions which are traditionally dominated by men.
For Roche's contribution, she addressed the misconceptions regarding gender in football which seemed to be a fitting topic of discussion, given how the Soccer Sisters launch aims to encourage young girls in Ireland to take an interest in football.
"It's basically just showing that women can do anything. I just talked about how growing up, it can be difficult and how people would have said it's not for girls and things like that. I grew up in Shankhill and I had a lot of friends who are boys and few friends who are girls, but mostly lads."
"I just used to play football with the lads," she continues. "The odd time you'd get the tomboy thing but they were all sound enough with me so I was lucky in that way but I think when you play against other teams, you'd hear the few little things being said. That was about it but the lads always stuck up for me."
This Saturday, the Ireland Women's team face the Basque Country in an international friendly which will mark manager Sue Ronan's last game in charge before she takes up a role as head of women's football in Ireland. The teams met two years ago in a fixture where the Spanish region prevailed on a 2-0 scoreline.
Roche paid tribute to Ronan for her six years of service at the helm and said that a win against the visitors in Tallaght would be a fitting farewell to their long-serving manager.
"She's been involved since I was 16. She's been ever-present since then so it's gonna be difficult to find a replacement but I hope whoever comes in will have the same confidence in us to go on and win because we have a good squad there and hopefully we can push on from where Sue has got us to."
"It's nice to give Sue a send-off. She's been involved with the women's team for six or seven years, she's done well for us, and I think her going into the role of as head of women's development hopefully will help improve the game even more."
The42 is on Instagram! Tap the button below on your phone to follow us!