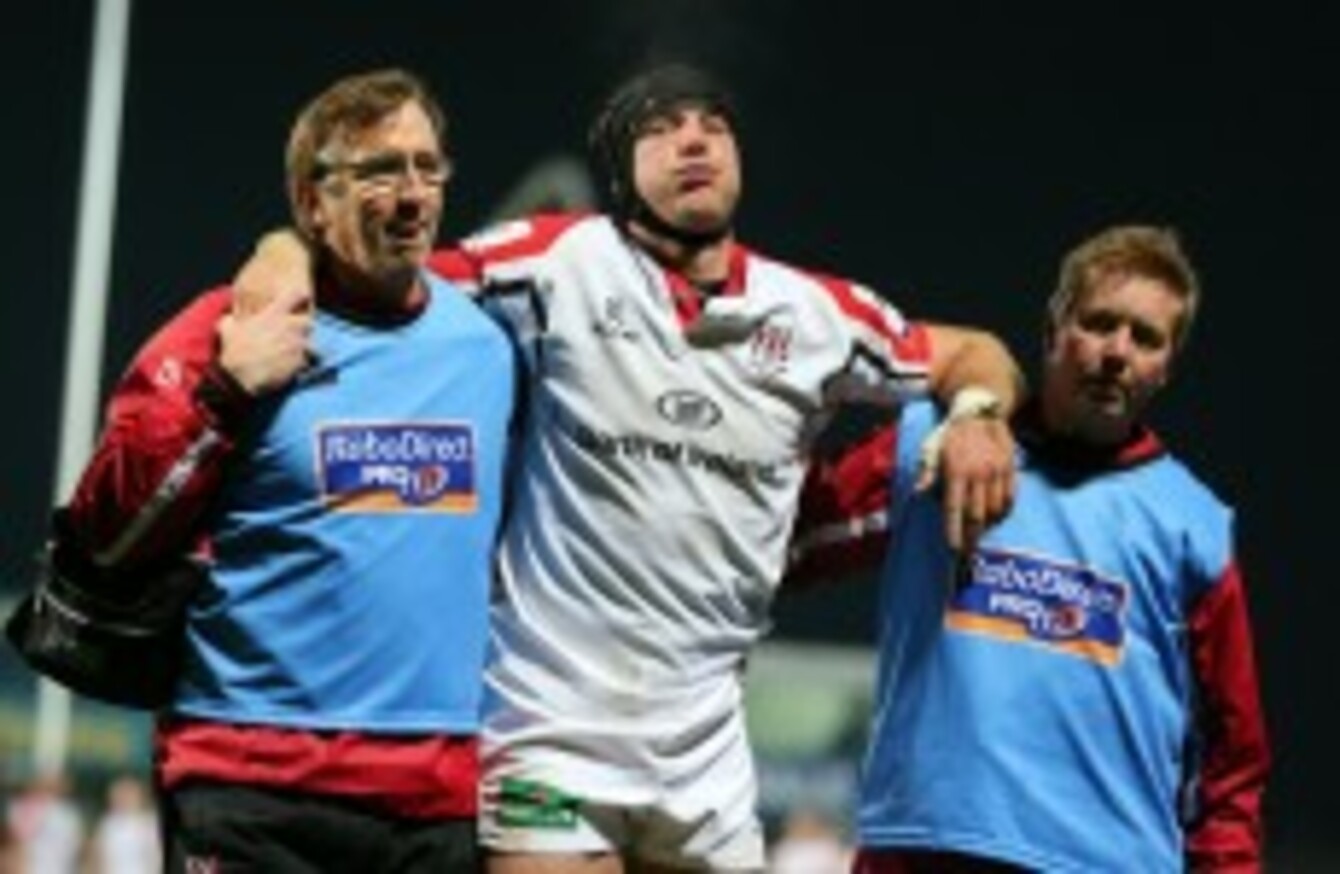 Ferris is helped off the pitch during a league game against Edinburgh in 2012.
Image: Dan Sheridan/INPHO
Ferris is helped off the pitch during a league game against Edinburgh in 2012.
Image: Dan Sheridan/INPHO
FOR STEPHEN FERRIS, a conversation with Declan Kidney in November 2012 is a crystalline echo.
The Ulster and Ireland flanker, who was forced to retire after a troubling ankle injury failed to heal, spoke with TheScore.ie, this week, about his fitness battles, dark days, a satisfying comeback and an all too early end to a brilliant, barnstorming career.
He recalls, "Deccie had spoken to me and said 'Look Stevie, I know you want to play in this game [against South Africa] and you are going to be involved in the [upcoming] Argentina game'. He told me I didn't have to play, against Edinburgh, to prove my match fitness. I had only played five or six games that season and Declan said if I really wanted to go back and play for Ulster, he'd allow it. He said 'It's your call but from our point of view, you'll be involved in both games.
"My idea was to go up and get 60 minutes under my belt. I wish, now, that I had've listened to him and said 'I'll be okay and leave the Edinburgh game.'"
Ferris injured his right ankle under the force of a double-team tackle by Edinburgh's Andy Titterrell and Allan Jacobs. Ulster physio Gareth Robinson and team doctor David Irwin helped him to limp off the Ravenhill pitch and the immediate prognosis was at least a month on the sidelines. There would be no Test appearances against the Springboks or Pumas. There would be no competitive rugby, in fact, for 17 months.
There were dark days and times when you thought 'Shit, I can't make this'," he admits.
"The ankle has had a lot of trauma; three surgeries in the last couple of years, to fix different injuries. It was probably a year between my last operation and my comeback as I had to take it slow. Still, the swelling would come back. It still does, even though I haven't played for two months now."
From November 2012 until March 2014, Ferris progressed inches with the finish line seemingly miles away. "Every two or three weeks was a step forward but some weeks I would take two steps back. I moved from small, strengthening exercises to running on the Alter-G [anti-gravity] treadmill after six or seven months but any time I put weight on it, the ankle would react a bit.
"When I finally got over that hurdle and was able to run straight lines it felt like I was making progress. I'd feel fine until I did some side-stepping and the ankle would flare up again. It was very, very frustrating. I'm not a physio nor a doctor but it was more an accumulation of injuries than one specific. If it was as easy as a broken ankle, there would have been a set treatment plan and I would have been back."
There were murmurs of comebacks on five separate occasions, with Ulster responding with variants of Ferris being close, near and not far away. Talk of a move to Japanese rugby came and went before the province offered him a six-month contract extension and, in January of this year, another. Payback came on in brutish, rousing fashion on 14 March as he came off the bench in a home win over Scarlets and had the crowd on their feet with a first-up thump on Gareth Davies. It felt like a moment; a catharsis from treatment room ghost to the rib-splintering Ferris of old.
Source: RaboDirect PRO12/YouTube
"I loved getting back," he said. "It felt as if all the hard work — the 18 months of rehab, steps forwards and set-backs — had been worth it. At the same time, playing that game was tough on my ankle. I felt it digging in during the match it was sore.
"The idea was to give it 40 minutes in each game and see how it reacted but it kept digging in and snowballed a bit. I worked so hard to get back and play in that Saracens game and did fine for that 30 minutes but the ankle was sore again.
"I was missing training and it was swelling up. The [Ulster] lads said 'You can't keep doing this to yourself Stevie'. I went along to a surgeon and he said the ankle was not going to get better. Professional rugby would only make it worse."
At the very least, Ferris says, he will no longer have to answer questions about his ankle or, from the casual supporters, the knee, elbow or shoulder. "You'd be sick of it after a while but, I suppose, whenever I saw Tommy Bowe, when he was injured, I'd ask what the craic was then 'How's the hip?'"
He adds, "[Ulster prop] Callum Black is getting married in England and I went to pick up a suit today. Instead of talking about the ankle, I could reminisce about old games and the good days. That was such a relief."
Ferris can distinctly recall the moment, before the Rugby World Cup pool game against Australia, when Jerry Flannery handed out the Ireland jerseys to the matchday 22. The hooker would return to Ireland days after witnessing his country beat the Wallabies 15-6. He knew his tournament was over, Ferris notes, but, with tears in his eyes, urged his teammates to make a statement at Eden Park.
Beating a southern hemisphere team at 'the home of rugby', in a World Cup, ranks up there with Ferris' Six Nations winners' medal [clinched in Grand Slam style]. "Nobody expected us to win but we did it so convincingly in the end," he says. "We dominated Australia in every aspect."
The resounding image of the game was the blindside picking up Aussie scrum-half Will Genia like a ragdoll and marching him back towards his tryline. "At the time," Ferris reflects. "I never realised I had lifted him up and back five yards. It was only when I saw the replays, and clips on YouTube, that I knew what I had done.
Another ref might have called it for being offside [from the Wallabies scrum put-in] but it was worth the risk. Eoin Reddan had snipped at Genia a few times so that was the red flag for me to get on him. I snapped in and drove him back and the boys came piling in behind me. I can just remember Donncha O'Callaghan shouting 'Give it to him Fez, give it to him'. Soon after that and I was lying on his back and giving him banter."
Exclusive NZ - IRE
Rugby Analysis
Get Murray Kinsella's match analysis and Garry Doyle's updates from New Zealand exclusive to members
Become a Member
Ferris recalls the World Cup as the best time of his rugby-playing career, where he enjoyed every moment with 'a special bunch of guys'. "We truly believed we could win the thing. We got to the quarter finals [against Wales] but never showed up on the day. If we had've played the day before, or after, I feel we would have made the semis. The Welsh defence, though, was unreal. Shane Williams held Sean O'Brien up over the line at one stage. It was one of those days."
He continues, "As a professional rugby player, you never think you'll have to retire. You definitely don't have those thoughts when you're in your 20s; in your prime. Even when David Wallace injured his knee, he may have been in his mid 30s but he was still world-class; still thinking he'd go to the World Cup and perform. You can't let those thoughts [about injury] enter your head because, if you do, you'd dwell on it and it would wreck your head."
Texts arrived from far and wide when Ferris made his official retirement call on 3 June. He was heartened by positive words by rugby fans, on Twitter and Facebook. Flannery and Ronan O'Gara — 'Boys I've played with, fought with and lived the dream with me' — were among the former teammates to wish him well. "The ones that matter most," he declares, "were the words of support from my Mum and Dad, brothers and my girlfriend, Laura. They said 'You've given it absolutely everything; 100%; for Ulster, Ireland and the Lions'. Most people would bite their arm off for the career I've had.
"I've no regrets. There was not a game I ever held back in. That might have worked against me in the end but I wouldn't change the way I played for anything."
Aged 28 and already well into planning for life after rugby, Ferris is involved with Clic Sargent, a charity for young people with cancer, and has finished a course at the Ulster Business School. He has also undertaken a Level 3 coaching course and will impart some knowledge on his former club side, Dungannon next season. Rugby fans may also spot him in the BBC television gantry at Ravenhill [now Kingspan Stadium] on a few occasions next season. He wants to take a break from the day-in, day-out of rugby but insists he will be a boisterous Ulster fan, like the rest of them, 'for the next 10, 20, 30, 40 years'.
The ankle will never properly heal. Still, Ferris is stoic about his permanent reminder of his days on countless battlefields, from Stevenson Park to Eden Park and everywhere in between.
[The ankle] will definitely hamper me down the line. Every day I can feel it when I climb stairs. Walking up hills is a nightmare. Most people walk up hills flat-footed but I have to do it on my toes as I can't close the front of the joint up. It's like that deceleration when I'm running, the ankle bites and that's where the inflammation comes."
"I saw a line-up that somebody tweeted about a couple of weeks ago," he recalls. "It was players who had either retired or were forced to retire last season. There was myself, Imanol Harinorduqoy and Dimitri Yachvili. Guys like that.
"It's unbelievable but it has become such a physical, unforgiving sport. That's why we love it, I suppose, and why we first picked up a rugby ball."