LAST SUMMER, WATERFORD goalkeeper Stephen O'Keeffe showed us that he was hard as granite by charging down the Anthony Nash firing squad.
Today, he reminded us of that.
He may have ended up on the losing side, as Kilkenny ran out 1-21 to 18 point winners in Croke Park, but O'Keeffe proved that last year's toughness is still there, after putting himself in the line of fire under a high ball.
O'Keeffe plucked a ball from the sky in the latter stages of the game, but found himself to be a sitting duck, as Richie Hogan came in at speed.
Hogan couldn't stop himself in time, rattling into the keeper (who still managed to catch the ball), who took a serious looking hit to the ribs.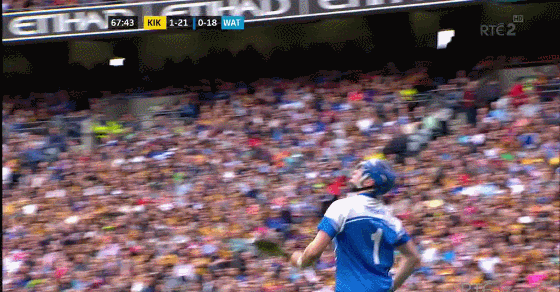 After getting his wind back O'Keeffe was up and back between the sticks, although we can imagine in a lot of pain.