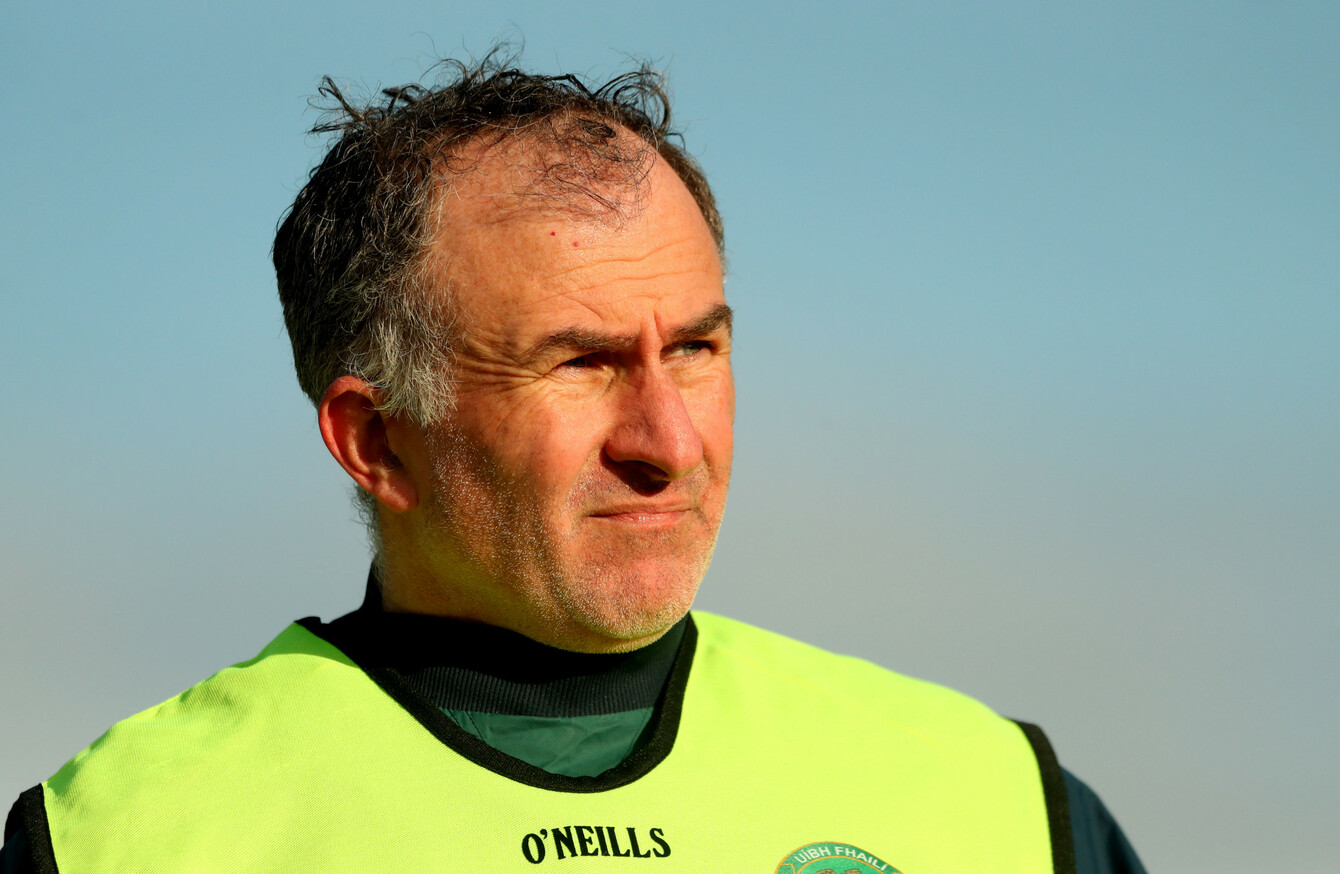 Ex-Offaly boss Stephen Wallace (file pic).
Image: James Crombie/INPHO
Ex-Offaly boss Stephen Wallace (file pic).
Image: James Crombie/INPHO
STEPHEN WALLACE HAS spoken about his disillusionment after his dismissal from the position of Offaly senior football manager last night, and slammed recent untrue stories about the set-up.
News broke last night that the county were looking for an interim manager with a statement released noting that 'the decision was made that Stephen Wallace should not continue as manager'.
In the wake of their Leinster SFC defeat to Wicklow on Sunday, there has been no shortage of rumours and reports of unrest in the Offaly camp, with relations between the Kerry native and players allegedly reaching an all-time low as players departed the panel.
But Wallace — who is currently suspended following a melee during a Kerry club match — dismissed those reports on Off The Ball AM today, sharing his side of the story and telling of what happened after training.
"Very simply, I got a phone call last night at about half past nine saying that I'd been relieved of my position as the senior football manager," he explained on air, adding that the call was from the Offaly county board chairman Tommy Byrne. "It was as short and sweet as that.
Source: Off The Ball/YouTube
"Look, the bottom line is as a manager, your major concern is your players. There was (an) unbelievable untruth put out in the media this week that I had lost the dressing room, players fallout, players walking out. Couldn't be further from the truth.
"The relationship with the county board, I suppose from day one, it would have been strange. They're a difficult board to work with, there's ongoing issues all the time in terms of getting the best possible platforms and partnerships for the players. It's a constant battle from that point of view.
"I'd always consider myself a players' manager, they were my number one concern. They issued a statement in reply to all of this media nonsense, they handed it to the county board chairman before training last night at around 7.30pm.
"It's out there in the media, it's well documented where they gave 110% support for me as manager, my management team and my backroom team, and were looking forward to knuckling down and having a cut at the qualifiers.
"They were bitterly disappointed with their performance last Sunday and understandably so. Next thing I know, I'm gone, so answer me that."
He added that he didn't exactly see the sacking coming:
"Look, I've a strong county board who appointed me on a three-year plan to rebuild a whole new team.
"I was doing the job according to the remit that I had been given but for some reason, the people of Offaly maybe expected to win an All-Ireland within the first year of rebuilding a new team."
"The major sense of injustice here is why was I relieved of my duties? The county board has already come out twice since then. In The Irish Examiner this morning they said it's because we lost a Leinster championship game to Wicklow, and with RTE Sport last night it had to do with my suspension and my inability to do my job as a result of that.
"Mixed messages already. My message is quite clear. My job never moved, my position never wavered. We kept out head down, we were getting on with things. We had a relatively successful year — we got to the semi-final of the O'Byrne Cup, kept the team up in Division 3 which was the plan.
"Like I say, outside of all that, the players were fully committed to working under our regime. They were very happy with the training platform and process that we put in place but the county board weren't happy."
From there, he was questioned repeatedly by Ger Gilroy on the suspension he was handed by the Kerry CCCC and the exact circumstances of the incident.
The bottom line, Wallace insisted, was that it wasn't an issue and he received no indication that it would impact his future at the helm.
"The suspension became an issue when we lost the football game, let's be clear with this," he continued.
"I was in constant contact with the county board, they were fully aware of my situation before the Wicklow game and it wasn't a problem. But it's a major issue because we have lost the Wicklow game. The difference a game makes, to use a cliche.
"Of course it didn't help but it is what it is. I'm not the first GAA official or player that's going to have a misdemeanour, get suspended. It is what it is, but you just get on with it."
When prodded to delve deeper into the incident during his club Ardfert's Kerry intermediate championship club game against John Mitchels, he was reluctant to discuss his exact actions.
Wallace also spoke at length about players' actions on social media and dismissed rumours of a heated dressing room at half-time on Sunday as 'nonsense'.
And concluding, on the letter backing him as manager, he clarified.
"It was put together by the players that were training last night. It wasn't 100% of the squad, it would be inaccurate to say that because there were certain guys not training last night. It was uniformity and 100% solidarity for everybody that was at training last night.
"It's hard to comprehend it."
The42 is on Instagram! Tap the button below on your phone to follow us!