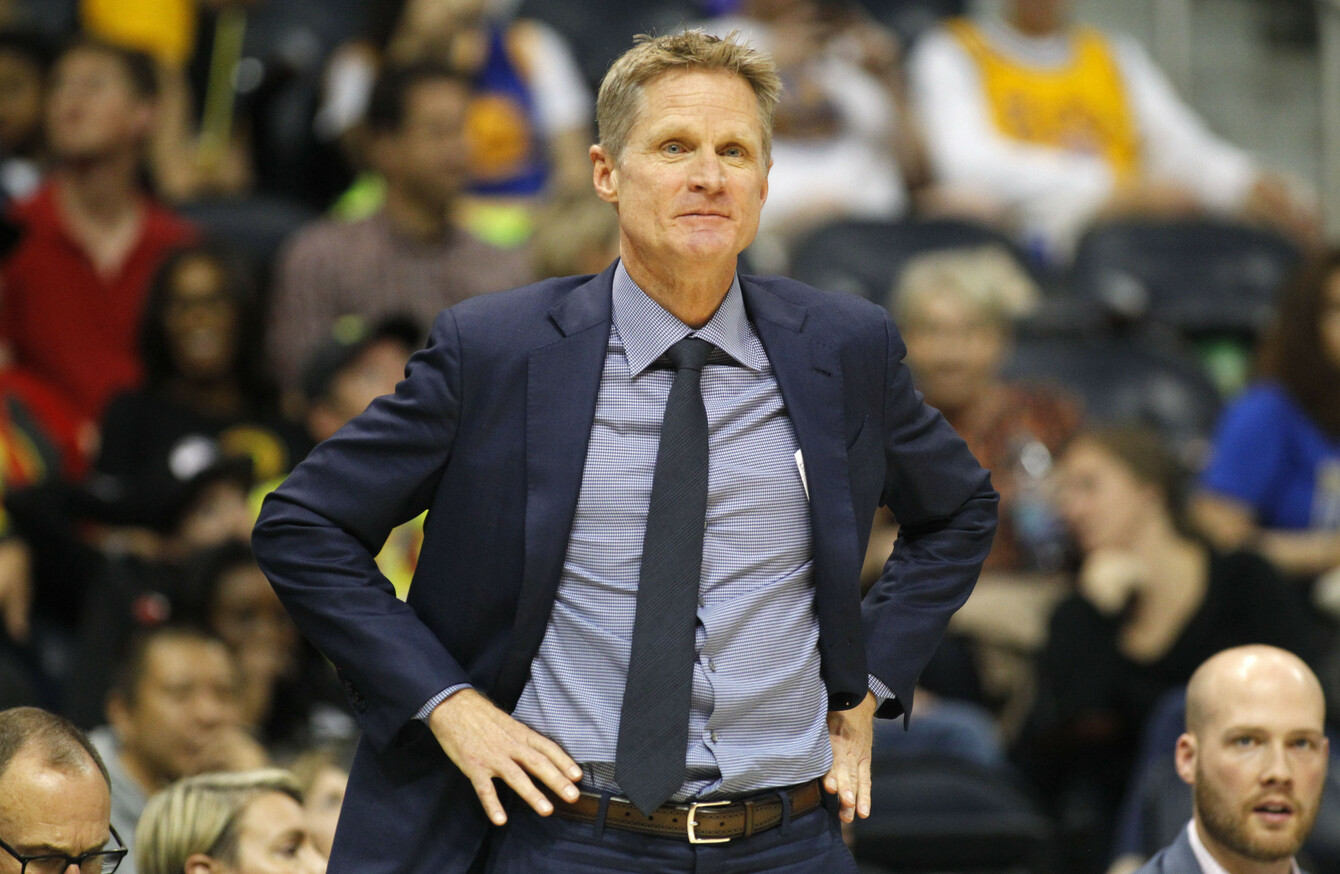 Image: USA TODAY Sports
Image: USA TODAY Sports
GOLDEN STATE WARRIORS' coach Steve Kerr is more qualified than most to offer an opinion on gun violence.
It's been 33 years since his father – noted academic and Middle Eastern expert Malcolm Kerr, who was president of the American University in Beirut, was shot and killed by two members of Islamic Jihad outside his office.
At the time, Steve was at the University of Arizona, starting there just a few months before his father's murder.
He would go on to became a five-time NBA champion with the Chicago Bulls and San Antonio Spurs before beginning a distinguished coaching career in 2014, taking over the Warriors and guiding them to the championship in 2015 and 2017.
Kerr has spoken about his father's death frequently over the past 18 months. In the aftermath of the Pulse nightclub shooting in Orlando in the summer of 2016, there was a moment's silence before Game 5 of the NBA Finals, which took place the following day.
Kerr later admitted it was emotional.
"I was thinking of my dad," he told the New Yorker.
"It's very personal because you've gone through it. You understand how much they are suffering, just like how our family went through that suffering. When you think of it, all of those statistics have names and these names have faces. They are peope who are now lost."
Later, he went into great detail about America's gun laws on a local sports podcast.
"Our government is insane. We are insane," he said.
"And what bugs me is this adherence to the right to bear arms. That was back in 1776. People didn't own automatic rifles. You had to have a musket in case the Redcoats were coming. The British were coming. And the beautiful thing about the Constitution is they left open amendments to change things because things change over time.
It's easier to get a gun than it is to get a driver's license. It's insane. And as somebody who's had a family member shot and killed, it devastates me every time I read about this stuff— like what happened in Orlando— and then it's even more devastating to see the government just cowing to the NRA and going to this totally outdated Bill Of Rights, right to bear arms. Until we vote these senators and congressmen and women out of office, the same thing's gonna happen.
"You wonder if any of these Senators and Congressmen and women who are so opposed to even holding a vote on not only the right to buy an automatic weapon but just the background checks and the lists and all the stuff, how would they feel about this if their own child, their own mother, their own father, sister, brother, wife, husband was murdered. Mass murdered. Would that change your mind? I don't know but how many times do we have to go through this before our government actually does something about it?"
Kerr is currently in China as the Warriors have two upcoming pre-season games against the Minnesota Timberwolves in Shenzhen and Shanghai.
It was there he was quizzed about the Las Vegas massacre.
"You can't explain the pain that this brings," he told The Atlantic.
"So I hope we can do more than just offer victims our thoughts and prayers. We've been offering victims thoughts and prayers for three decades. We need to offer them something else. And I know a lot of people have been saying don't politicize this, don't disrespect the victims by calling for gun control.
But I'd argue that if we'd had any respect for the victims, we would have done something 20 years ago, 30 years ago, when Columbine happened or Sandy Hook or Aurora. Name any one of these mass shootings that happens pretty much every week in our country. If we had any respect for our citizens we would've had discussions before. So, for people to say don't have that discussion now, now is not the time. When the hell is the time? That's what I want to know.
I believe in the Second Amendment. I believe people should be able to protect themselves, should be able to own a handgun or a hunting rifle. But I also believe that mentally ill people shouldn't be able to buy guns. I believe there should be serious training for anybody buying a gun. I believe there should be universal background checks. It should be a process, so we can keep people safe.
That shouldn't be too much to ask when you think about what we've done to protect our citizens in other areas. 9/11 happens and what do we do? We take our shoes off when we go to the airport, we can't bring water through. We do much more extensive background checks of people coming into the country. We even have a Muslim ban even though there is no proof that's going to protect us.
We do all kinds of stuff, talk about building a wall, right? We do everything to protect our citizens, unless it's one of our own citizens mauling each other and massacring each other with a gun because of the Second Amendment. Why can't we just adjust to what's happening, come in with some common sense gun control and background stuff?"
Originally published at 18.18
Subscribe to The42 podcasts here: