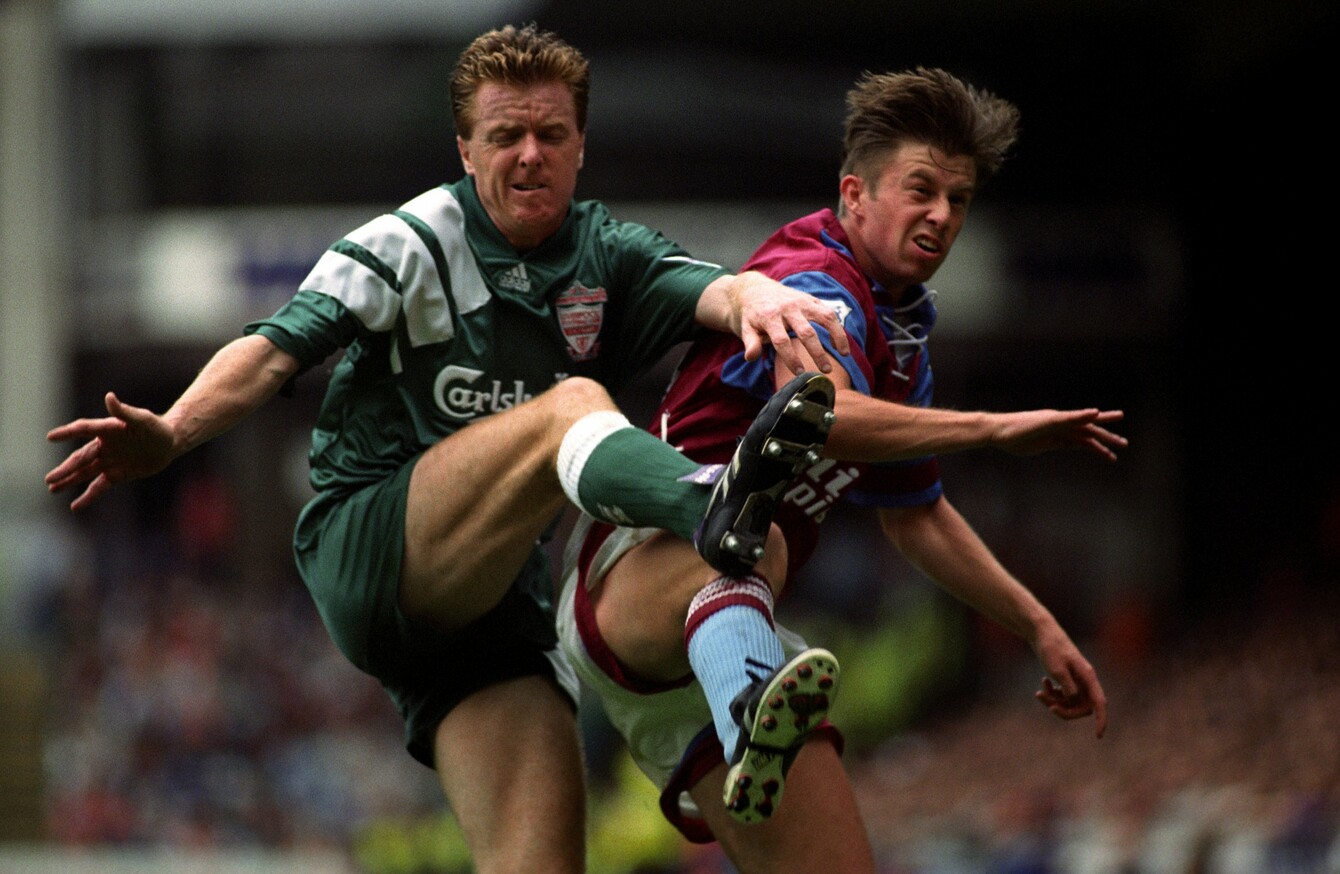 Liverpool's Steve Nicol and Aston Villa's Stephen Froggatt compete for the ball in a 1992 league match.
Image: EMPICS Sport
Liverpool's Steve Nicol and Aston Villa's Stephen Froggatt compete for the ball in a 1992 league match.
Image: EMPICS Sport
WHY DID LIVERPOOL FC, having dominated English football in the 1980s, suffer such a marked decline in the 1990s?
Few people with as much authority as Steve Nicol can answer this question.
In the 1980s, Liverpool won the league six times, finished second three times and fifth once.
By contrast, their 1990s league finishes read as follows: 2nd, 6th, 6th, 8th, 4th, 3rd, 4th, 3rd, 7th, 4th.
As someone who joined the club in 1981 before leaving in 1995 after making over 300 appearances for Liverpool, Nicol was there for some of the Reds' greatest triumphs, while he also stuck around long enough to witness their significant decline.
So what happened? Hillsborough undoubtedly had an impact. Nicol admits his form suffered badly owing to the psychological impact of the tragedy, while he suggests others at the club were also deeply affected, most notably Kenny Dalglish. The former striker ultimately resigned from his position as manager largely as a result of the mental strain emanating from Hillsborough as well as the Heysel tragedy four years previously.
Of course, the club still won the league the season after Hillsborough, but Nicol argues that the success was not as convincing as previous title victories, and that they had actually played better football the year before only to be denied a first-place finish thanks to Michael Thomas' famous last-gasp goal on the final day at Anfield.
The last time we won the league (1989-90), we were in decline from the team the year before. There's no way we played half as well or with the same passion or commitment. There's just no way we were as good that year — the last time we won the league — compared to the year before. That's when (the decline) started."
Source: Tribesmen Hurling/YouTube
Consequently, in February 1991, following a fifth-round FA Cup replay 4-4 draw with Everton, Liverpool replaced one club legend with another, as Graeme Souness took over from Kenny Dalglish as manager.
The former midfielder, now working as a Sky Sports pundit, has since admitted he made mistakes during his tenure and was "too hard" on the players.
Yet ultimately, Nicol believes that the main reason for Liverpool's lack of success in the 1990s was simple — the players were no longer good enough.
Souness inherited a squad whose top stars had largely either left the club or were simply past their best.
Moreover, throughout the 70s and 80s, Liverpool had a habit of unearthing top players from obscure lower league clubs for modest fees. In the 1990s, especially under Souness, they were nowhere as proficient in the transfer market, with signings such as Paul Stewart, Dean Saunders, Nigel Clough, Torben Piechnik and Julian Dicks failing to have the desired impact upon arrival at the club.
You've got to remember that for 25 years from all the way through to the 1990s, Liverpool somehow replaced stars with stars," Nicol explains. "You lose Ron Yeats and you get Tommy Smith, you lose Roger Hunt and then you get Keegan and Dalglish, so whatever position it was, Liverpool somehow managed to replace stars with stars. Eventually that was going to run out, and unfortunately it did."
Nicol left Liverpool in January 1995 just as the 'Spice Boys' era was gaining momentum, and following short stints at Notts County, Sheffield Wednesday, Doncaster Rovers and Boston Bulldogs, he went into coaching, guiding New England Revolution to four ultimately unsuccessful MLS finals during almost a decade in charge.
Since leaving the Revolution in 2011, Nicol has worked as a commentator for ESPN FC, giving his thoughts on a game that has changed drastically since his heyday at Anfield.
Yet the Liverpool legend does not necessarily feel these seismic changes in football have been for the better. In fact, the money, he says, is the "only reason" he would want to be a player now.
There's no way I would want to play now over when I did," he says. "No chance! Although, of course we all want to have a couple of grand a week. But other than that, I wouldn't swap it for today in a heartbeat.
"During my time at Liverpool, nobody played for themselves. It was all about the other 10 — you were the last one that you thought about.
"And that only happened because of all the stuff we've been talking about: doing everything together, winding each other up — that's been lost. I feel bad for the players that that's been lost, because they won't get to experience what we did."
5 League Titles and a Packet of Crisps by Steve Nicol is published by Trinity Mirror Sport Media. More info here.
The42 is on Snapchat! Tap the button below on your phone to add!