IT SEEMED A lovely metaphor for what the Republic of Ireland had found themselves immersed in.
It was, after all, an historic football moment for the country. Comparisons were inevitable. Exactly a month beforehand, the Six Nations rugby clash with England elicited levels of emotion that transcended sport. It was genuinely gripping. That day, iconic memories were created.
But for Stephen Staunton's Euro 2008 qualifier against Wales, it was a hugely contrasting affair.
After all, it was a battle between two poor teams.
Though the go-to barometer of Staunton's reign is usually the 5-2 thumping against Cyprus in Nicosia the previous October, there was a harrowing episode against San Marino in February 2007.
In front of 3,294 people in Serravalle, the Irish put up an appalling display against a team ranked 198th in the world. Three minutes from time, Wayne Henderson raced from his goal to snuff out a long-ball forward, made a complete mess of it and Michele Marani stabbed home to equalise for the minnows.
sp1873 / YouTube
The jubilation and euphoric scenes that followed were only bettered by the Irish themselves after Stephen Ireland's winner eight seconds from the full-time whistle. The relief was palpable. But the entire scarring episode was somehow made worse by Staunton's post-game reaction.
We showed fighting spirit. We controlled the game from start to finish. We're grateful for the three points."
He pointed out how, after San Marino scored, they created four chances – a mark of their 'tremendous spirit'.
It was a staggering statement: grateful for a victory over a collection of part-time footballers who had been set to claim their very first European Championship point before Ireland's last-gasp intervention.
"You can't legislate for what's going on at the moment but hopefully the tide has turned with that late winner," Staunton continued.
"Stephen Ireland got us out of a hole".
A thousand Irish supporters had made the journey. In the stands afterwards, they called for Staunton and Delaney's removal as manager and CEO respectively. It was 13 months since Staunton's appointment. It was a new low.
Lorraine O'Sullivan / INPHO Lorraine O'Sullivan / INPHO / INPHO
Throughout it all, Staunton seemed completely ignorant to the truth. In the immediate aftermath, he was quizzed on fans booing him. Something which he tried to deny even occurred.
" That's propaganda, that's like going over to Russia 50 years ago", he replied.
"But that seems to be the way at the moment."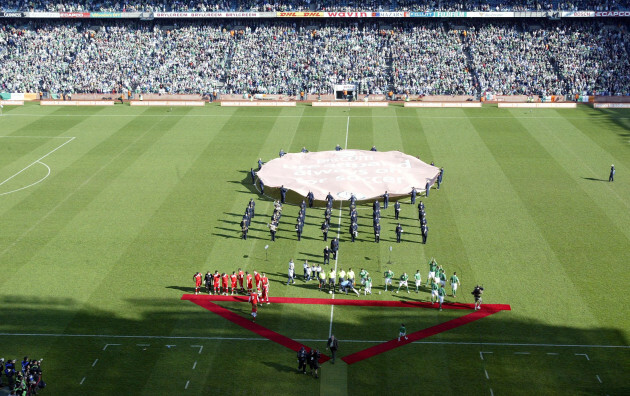 Donall Farmer / INPHO Donall Farmer / INPHO / INPHO
And the finger-pointing continued from there on. Preparing for two back-to-back home games against Wales and Slovakia, blame was apportioned to the media and Irish football fans. As mis-steps go, Staunton turned a very large hole into a gigantic one.
"Nobody likes criticism, but unfortunately it goes with the job", he told reporters.
But I think it has been way over the top. I haven't murdered anyone. It was very disturbing. The expectations have gone through the roof. Anybody with any knowledge of the game knows where we're at, but all of a sudden this transition period is supposed to happen overnight. We've always punched above our weight. Journalists are trying to convince supporters that we're better than we are".
So, it was that level of delusion that preempted the clash with Wales at Croke Park. It cast a shadow on preparations. Staunton was already walking a tightrope. What followed on the pitch fit the narrative perfectly, with Staunton's lack of awareness to the fore.
"We'll have 69,000 screaming fans in the stadium", he predicted.
It is going to be great to see the Irish fans in here waving flags and going mad".
The game hit its peak even before a ball had been kicked. The anthems were rousing but there followed a dull, insipid affair that belied the gorgeous, blazing Saturday sunshine that it was played under.
The crowd were spectacularly silent – the buzz of anticipation replaced by a consistent, communal groan that greeted every errant pass or poor touch (there was plenty of both).
Ireland got his side out of another hole by neatly grabbing the only goal of the game in a rare moment of quality. And though the 1-0 victory wasn't lost on the masses, neither was how abysmal the opposition were.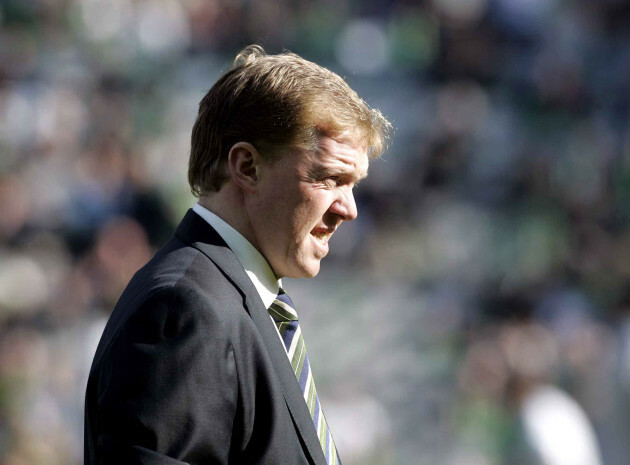 Tom Honan / INPHO Tom Honan / INPHO / INPHO
What had been billed as some sort of 'Celtic derby' turned out to be as intense as a pre-season friendly – the toxic atmosphere of the Irish camp dovetailing neatly with the dire state of Welsh international football.
The fact it was a third consecutive victory for the Republic of Ireland seemed lost on many while the bigger picture wasn't. Even when Staunton's side racked up another win a few days later against Slovakia, there was trepidation. And when September came, there were dropped points in Bratislava and a defeat in the Czech Republic – signalling the end of Ireland's Euro hopes.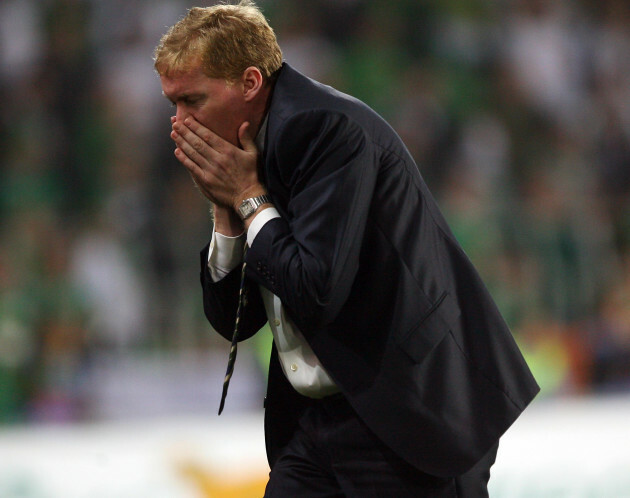 Cathal Noonan / INPHO Cathal Noonan / INPHO / INPHO
But that period was really 'peak-Stan'. After a draw with Slovakia – a massive setback –  Staunton admitted the players had taken it hard. In his own unique way, of course.
Judging by the dressing-room, the lads are absolutely devastated. It's like a morgue in there, but I wouldn't say it's a bad result."
Quizzed on the importance of the Czech assignment that was to follow, he offered up another bizarre response.
We always had to win it (the game in Prague). You try and win every game and at least now we know we have to beat the Czechs in Prague. A win is a win if you win it."
As it turned out, Ireland didn't win. And Staunton was finally put out of his misery the following month after a 1-1 draw at home to Cyprus.
It was a chaotic and traumatic campaign and, a decade on, remains a strange, complex but fascinating period in Irish football.