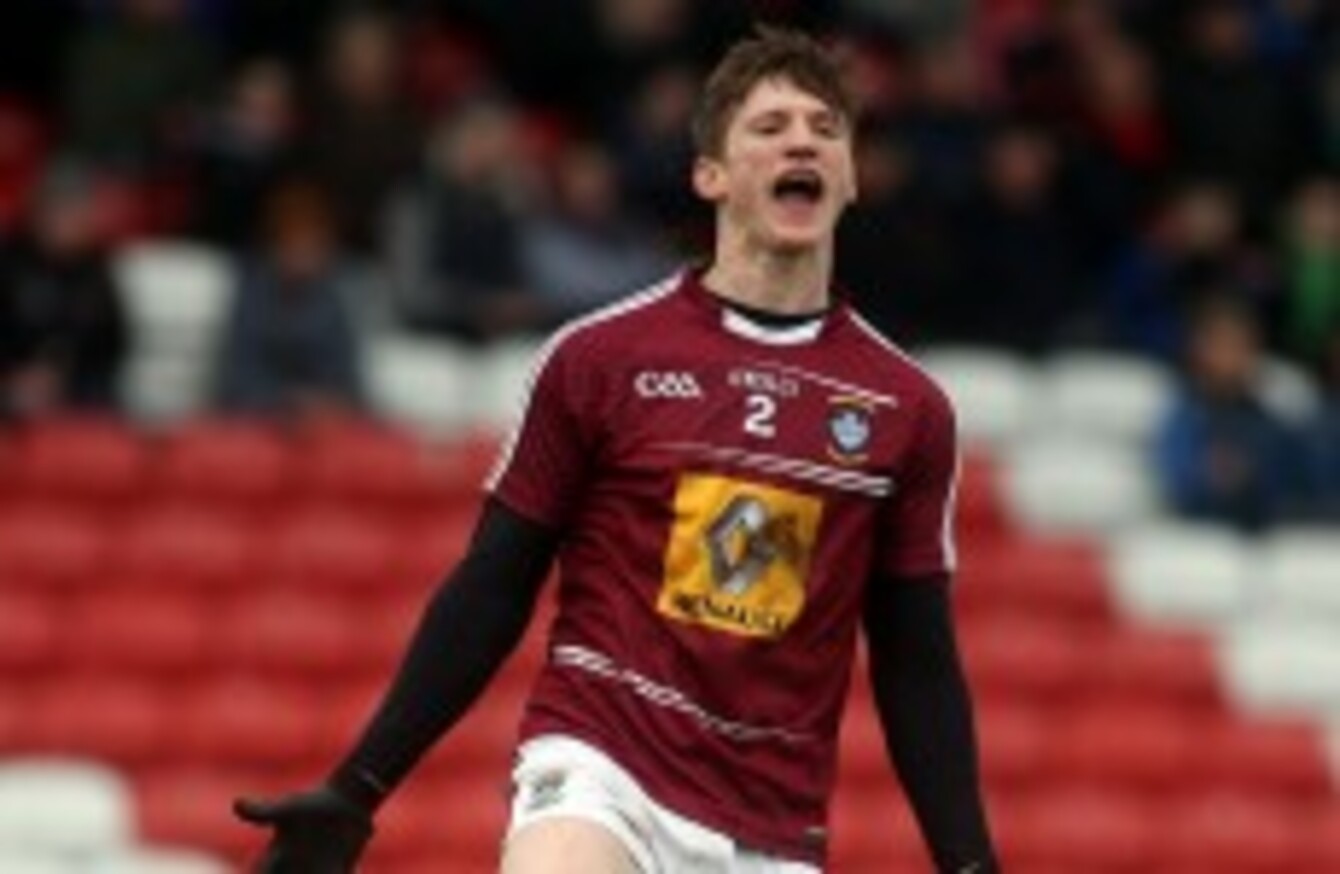 Gilmore will miss out against Louth but he could have a lot to be happy about after the weekend.
Image: Presseye/Lorcan Doherty/INPHO
Gilmore will miss out against Louth but he could have a lot to be happy about after the weekend.
Image: Presseye/Lorcan Doherty/INPHO
WESTMEATH CORNER BACK Steven Gilmore is gutted to be missing Saturday's championship opener – but he's still hoping to have plenty to celebrate after the weekend.
Steven will finish his "One year, no beer" campaign next Tuesday, and by then he hopes to have raised over €7,000 for mental health charity Aware.
"I wanted to do something for a mental health charity for a good while and the fact that alcohol and mental health are fairly related it felt like a good idea to do something with the two of them, so I just thought of the idea of abstaining for alcohol for a year, and the reason I did it for a year, was it had a good ring to it, one year no beer!"
Gilmore will miss Saturday championship opener due to a quad strain, but he's hopeful of a Westmeath win that will mean he'll have a Leinster quarter-final to look forward to – an opportunity for him to make his championship debut.
"I have a scan tomorrow, I haven't trained in the last six or seven weeks, so if we win, the next game is in three weeks so that's my goal to be back by then.
"I started three O'Byrne cup games and I started all the league games, so this is the first game I'm missing all year so it's very annoying.
"I strained my quad there a couple of weeks ago so I'm out. It probably won't be too long more but I wont make it back for the Louth game anyway."
Steven's original target was €3,000 but after receiving huge support from his family, friends, his club St Lomans and even local rivals Mullingar Shamrocks, he set a new target of €7,000. Among those to donate to the cause are Westmeath and 'Shamrocks' players Kieran Gavin and Denis Corroon.
"At the moment I've raised €6,700 and there's a week to go, my target at the start was only €2,000 and I've had to put that up every now and again, so at the moment it's set at €7,000 so I'd be hoping to raise another five or eight hundred over the next week" he says.
"I've had a few events throughout the year and the family have helped and supported me so much, and the club are going to make a donation too."
Be part
of the team
Access exclusive podcasts, interviews and analysis with a monthly or annual membership.
Become a Member
Last October Steven's St Loman's Club won their first senior football championship in half a century, and while his team mates celebrated in style Steven remained commited to his task. He also abstained throughout a 'J1′ to America last summer.
"It's actually easier than I though it'd be, it was definitely hard at the start but after a while you kind of just get used to it and it just becomes the norm. I've enjoyed it and I can still have the same craic on nights out."
Westmeath come in to this weekend's game on the back of a disastrous league campaign in which they lost all seven games.
"Preparations have been very good, the mood is quite positive in the camp some people might find it hard to imagine that it'd be positive after losing all our games in the league, but playing Division one football – we take a lot from that and learn from it.
"The majority of our team are quite young. Even the experienced lads, and most of the lads who have two or three years experience are still quite young. There might be one or two who are making there championship debuts on Saturday who are quite young too."
So while Steven reaches his target this weekend, and possibly with a championship quarter-final to look forward to – will he be having a few drinks to celebrate?
"That'll depend on training and football!" he says.
You can support Steven on his mycharity.ie fundraising page.