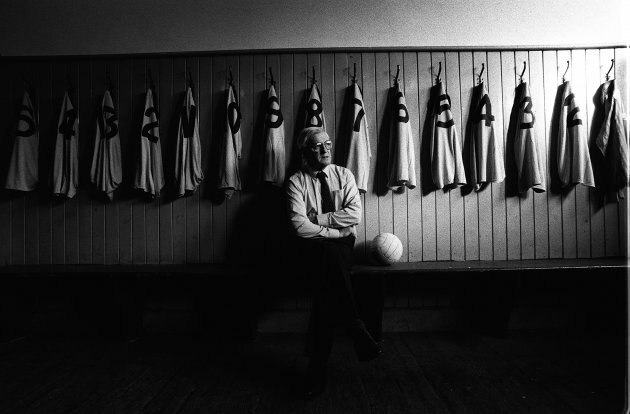 Billy Stickland of Inpho took this picture of former Dublin football boss Kevin Heffernan back in 1989. He explains how it happened:
That was done as part of a feature for Magill with David Walsh on the great Dublin football team of the late '70s whose manager was Kevin Heffernan.
We had to do a series of photographs and I just came up with an idea to back to the old changing room in Croke Park where the Dublin team would have prepared before matches. So we got a load of Dublin jerseys and hung them on the wall of the dressing room.
When you're photographing someone you need to put them in a situation where they are comfortable so they can do whatever you need them to do without feeling that they're being photographed too much.
The changing room was one of these very old-fashioned dingy ones with the light coming in from the side. It's natural but it looked good.
When Kevin came in he immediately felt comfortable and could see what was happening so it was very easy to work with him. It was a familiar environment.
So it didn't really take that long as once he sat down I could see how it would work. I didn't have to keep him there for hours and it worked very well.
It would have been difficult to take him and bring him around somewhere else.