Happy Sunday to all of you.
Could this be a decisive day in the Premier League title race? In the battle to survive the drop, could Sunderland conjure a shock? And later, at White Hart Lane, could Spurs reduce the gap at the top to four points?
This does seem to be quite a critical weekend for a few reasons and we'll bring you all the action from a busy day.
The teams are in.
Let's see how Sunderland line up, firstly.
Meanwhile, the Leicester starting XI picks itself these days.
These sides met on the opening day of the season and what a statement of intent it was from Claudio Ranieri's side.
Riyad Mahrez scored twice, Jamie Vardy netted and Marc Albrighton grabbed another in an emphatic 4-2 victory. Memorably, the Foxes were 3-0 up after 25 minutes that day.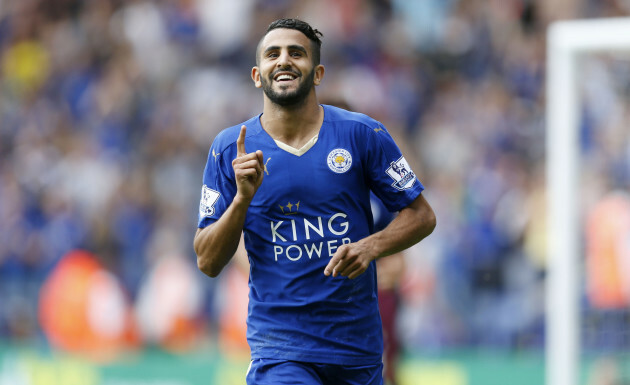 Paul Harding Paul Harding
It's hard to see something similar this afternoon.
Four straight 1-0 wins for Leicester ahead of this clash.
Big Sam looks pretty relaxed before this, doesn't he? They've got two games in hand on Norwich and are four points behind them. Can they do it?
The boss certainly thinks so.
"I'm more confident than I've ever been since I've been here based on the performances.
If we can perform this week like we did last week that is all I can ask for and hopefully it will be big enough to bring us probably our biggest three points of the season."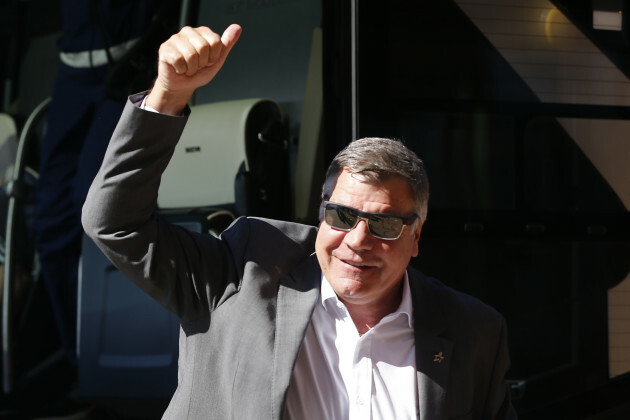 Owen Humphreys Owen Humphreys
Teams out on the pitch. Just moments away now. Final predictions?
Apr 10th 2016, 1:32 PM
1'
Dangerous as Vardy swings in a dangerous cross from the left, looking for Okazaki. Sunderland knock it out for a corner but Leicester can't do anything with it.
Apr 10th 2016, 1:37 PM
5'
Scrappy opening here though Leicester have had more of the ball. Sunderland yet to properly get any momentum going in the final third – very much penned back at the moment.
Apr 10th 2016, 1:39 PM
9'
The hosts certainly showing plenty of heart and desire early doors here but it's the least we can expect. They are, after all, battling against the drop.
Apr 10th 2016, 1:42 PM
10'
Ten minutes into the game and we've had the first Lee Cattermole 'challenge' as he goes right through Danny Drinkwater.
Apr 10th 2016, 1:43 PM
12'
Vardy will be disappointed with that. Simpson swings in a cross from the right and the attacker is up early, well placed but seems to get the header all wrong and it sails well wide. Never properly got over the ball and it just skewed off his forehead.
Apr 10th 2016, 1:47 PM
16'
CLOSE! An inevitably swift counter-attack from Leicester as Drinkwater quickly feeds Vardy and Okazaki slips away on the left. His subsequent cross is blocked for a corner and from Fuchs' delivery, Morgan gets up cleanly but, with a free header, he puts it wide. He knows how good a chance that was too.
Apr 10th 2016, 1:51 PM
19'
Jan Kirchhoff has been the standout player so far, breaking up the play and giving Sunderland a platform. Leicester struggling to cope with the pressure from the hosts and are giving the ball away incredibly cheaply.
Apr 10th 2016, 1:53 PM
21'
BOOKING! Absolutely idiotic stuff from Borini. Frustrated after Fuchs nicks the ball away from him, he responds by diving into a reckless challenge about ten minutes after the ball was cleared.
Apr 10th 2016, 1:54 PM
24'
M'Vila looks to ping a ball in behind the Leicester defence for Khazri, who makes a great run. It's almost inch-perfect too as the midfielder looks to slide it home at the far post. The ball is just slightly too long for him though. Good stuff from Sunderland.
Apr 10th 2016, 1:57 PM
25'
Apr 10th 2016, 1:59 PM
28'
PENALTY CLAIM! That could very easily have been a penalty but Anthony Taylor can't be sure and doesn't give it, which is fair enough.
The ball is clipped towards the far post for Okzaki to run onto and Yedlin doesn't know where the striker is. The Japanese international reaches the ball first and controls on his chest. Yedlin lazily kicks up his leg to try and cut out the pass but gets the player instead. Okzaki hits the deck but no penalty awarded.
Apr 10th 2016, 2:02 PM
30'
BOOKING! A nice bit of retribution from Fuchs as Borini gets to the cross-field ball first and nicks it away…the Austrian goes right through him and the yellow card is inevitable.
Apr 10th 2016, 2:07 PM
36'
No real pattern to this and that perfectly suits Sunderland. They've been good. Very solid and a good shape. They've disrupted any sense of rhythm in the Leicester side and the likes of Mahrez and Vardy have been kept quiet. Meanwhile, Kaboul powers an optimistic header towards goal from about 14 yards that whistles over Kasper Schmeichel's crossbar.
Apr 10th 2016, 2:12 PM
40'
This is great stuff from Sunderland. They're playing some neat passes, frustrating Leicester and getting the crowd going too. Nabbing a goal from somewhere would do very nicely. Van Ahnholt is played through in the left channel as the Leicester defence falls apart. He takes a touch too many, though, and runs out of space but he wants a penalty for a hand-ball. A long-shot, really.
Apr 10th 2016, 2:18 PM
45'
Pressure from Leicester as half-time approaches. Firstly, Okazaki is played in again down the left side – a nice pass from Albrighton. He cuts it back for Vardy but he completely mis-kicks the volley and Sunderland survive. Then, there's another penalty claim as Mahrez dummies on the edge of the area and cuts onto his left. The strike hits Kaboul's elbow but, again, Taylor waves away the penalty protests.
Apr 10th 2016, 2:19 PM
45'2
CLOSE! First clear-cut chance as Borini smacks a low strike towards goal. It deflects off Wes Morgan and Schmeichel blocks. Straight at the goalkeeper but he did his job regardless.
Apr 10th 2016, 2:21 PM
45'3
Apr 10th 2016, 2:27 PM
45'
An interesting half. Sunderland have been impressive and you can see why Allardyce was confident before kick-off. They've broken up the Leicester plan of attack and haven't been too vulnerable to the counter attack.
They may have conceded a penalty on another day but they've created the only proper chance courtesy of Borini and are excellent value for the 0-0 scoreline currently.
Apr 10th 2016, 2:35 PM
46'
Apr 10th 2016, 2:35 PM
47'
Early corner here for Sunderland after Borini's strike is deflected.
Apr 10th 2016, 2:36 PM
48'
All is not well back there for Leicester. They retreat inside their six-yard area as Schmeichel punches the corner clear. It falls to Borini and he mis-hits the shot. It could've caused a lot more problems, though.
Apr 10th 2016, 2:41 PM
52'
CLOSE! Defoe is blocked down as he cuts inside and tries to fire a right-footer to the far corner. But the ball breaks nicely for Borini on the other side of the area. He takes a touch and thumps it across Schmeichel. It whistles narrowly wide. Sunderland opening Leicester up once more. Big chance for the Black Cats here.
Apr 10th 2016, 2:45 PM
56'
Apr 10th 2016, 2:45 PM
56'
CLOSE! Quick break from Leicester after the home side cough up the ball in a dangerous area. Vardy moves to the right and gets the pass. Looks up and clips in a perfect pass for Drinkwater, who's charging into the box. He takes a touch and Sunderland get bodies back to close him down. Maybe, just maybe, he could've smacked that first time but that's being hyper-critical.
Apr 10th 2016, 2:48 PM
60'
Drinkwater gets up in support of Mahrez and drops back into the pocket. The winger slips it back to him and he tries to give Mannone the eyes with a neat side-foot towards the near post. But there's hardly any pace to it and the keeper gets down to make an easy stop.
Apr 10th 2016, 2:53 PM
63'
SUBSTITUTION! Ulloa (on) – Okazaki (off)
A change up front for the league leaders but will it pay dividend? Half an hour left here and it's perfectly poised.
Apr 10th 2016, 2:56 PM
66'
Apr 10th 2016, 2:58 PM
67'
Well, they were about to make a change but that plan has been shelved now because Sunderland have fatigued badly in the last five minutes. And they fail to protect Vardy in a 1-v-1 with Kaboul this time. A simple ball over the top and the attacker burns past the veteran centre-half before slipping it wide of Mannone to the far corner.
His first in six games, his 20th of the league season and Leicester will go ten clear if it stays like this.
Apr 10th 2016, 2:59 PM
70'
SUBSTITUTIONS! N'Doye & Rodwell (on) – M'Vila & Khazri (off)
A double switch for Sunderland as they desperately try to rescue something here.
Apr 10th 2016, 3:00 PM
72'
Apr 10th 2016, 3:01 PM
72'
To sum everything up, Fabio Borini has hit himself in the face as he tried to turn a cross towards goal.
Apr 10th 2016, 3:04 PM
76'
SUBSTITUTION! Lens (on) – Borini (off)
One final throw of the dice from the hosts. They've got just over 15 minutes to get something here.
Apr 10th 2016, 3:09 PM
79'
Route one stuff from Sunderland now but it almost gets them somewhere. The cross from the right is lofted in, there's a little flick-on and van Ahnholt is loitering at the far post where he almost makes contact.
Apr 10th 2016, 3:10 PM
81'
SUBSTITUTION! Gray (on) – Mahrez (off)
The youngster finally comes on – he was about to before Vardy scored.
Apr 10th 2016, 3:13 PM
83'
WHAT A MISS! Oh, dear. Jack Rodwell can't quite belive this and neither can we. What a moment as the ball breaks to him just a few yards from goal. He just has to roll it to the far corner as Schmeichel tries to smother. But there's a rush of blood to the head and he can't keep it down. A massive, massive moment.
Apr 10th 2016, 3:15 PM
85'
SUBSTITUTION! Amartey (on) – Albrighton (off)
The ex-Aston Villa man takes an age to head to the touchline as Ranieri makes his final change.
Apr 10th 2016, 3:19 PM
89'
Incredible how quickly Sunderland disintegrated. They had a firm hold of this game before energy levels dropped alarmingly just before Vardy's goal. Ever since, they've failed to mount much.
Apr 10th 2016, 3:20 PM
90'
Five minutes of added time.
Apr 10th 2016, 3:21 PM
90'2
Apr 10th 2016, 3:24 PM
90'5
Apr 10th 2016, 3:25 PM
90'5
And that's it wrapped up here.
They almost had a second moments ago when Gray's effort was stopped by Mannone but Vardy races clear and takes it around the keeper before rolling it home.
Game, set, match.
An emotional Claudio Ranieri walks down the tunnel as the away fans sing 'We're going to win the league' and, you know what, we all believe them now.
This was as professional as it gets. It was hard and Sunderland were determined and solid. For a while, it looked like they might nick a goal. But after the interval, you could see the home side fall apart. They had exerted themselves and had nothing left in the tank. Concentration levels dropped and they conceded.
Inevitably, it was the tried and trusted method that won them the game – Vardy's pace and finishing ability.
This is a massive result. Ten clear, Tottenham still to play and the momentum continues.
Thanks for staying with us and there's plenty of coverage on the site throughout the rest of the day.
The42 is on Snapchat! Tap the button below on your phone to add!
Exclusive Six
Nations Analysis
Get Murray Kinsella's exclusive analysis of Ireland's Six Nations campaign this spring
Become a Member