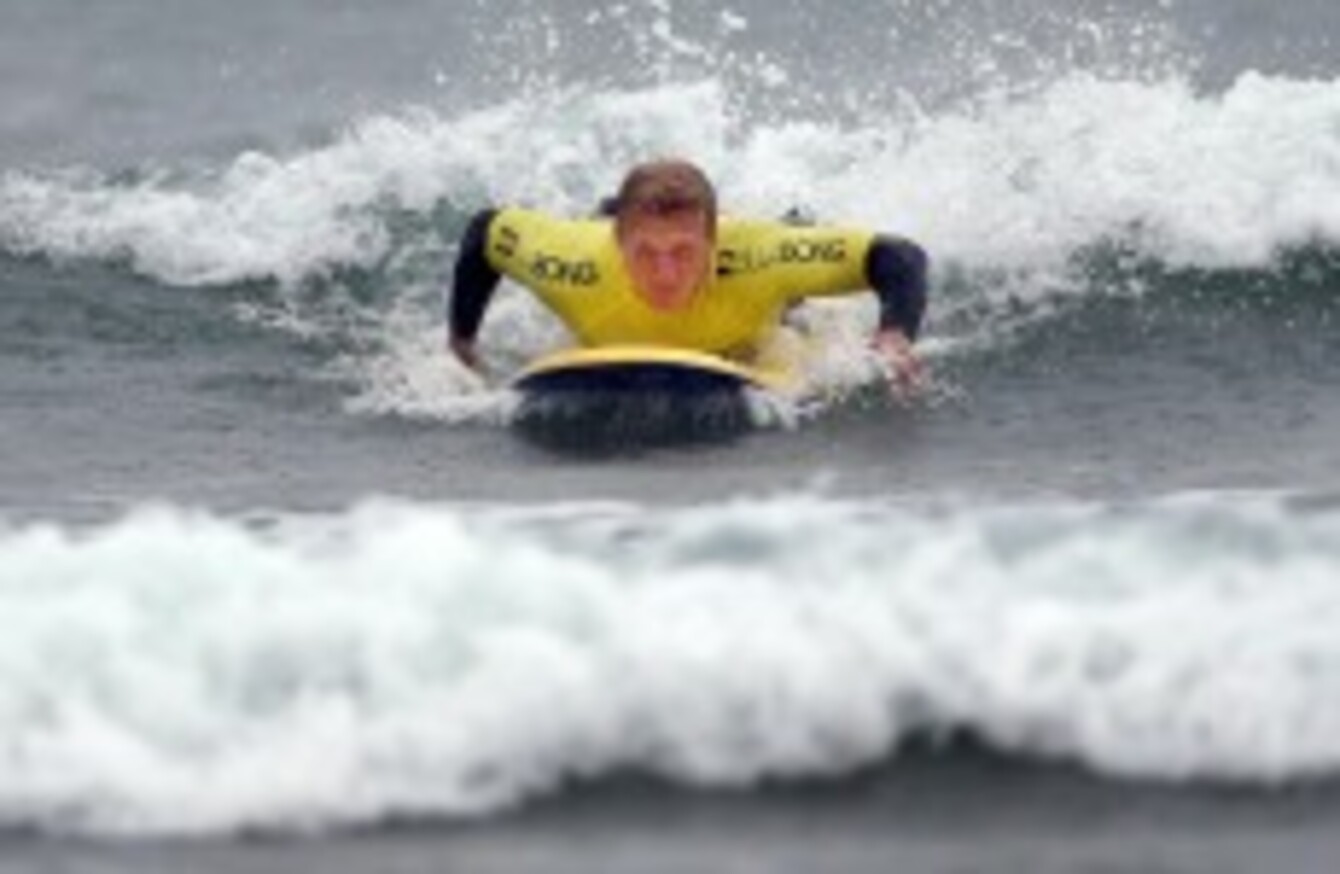 Ulster Rugby's Stuart Olding gets the hang of it at Bundoran.
Image: ©William Cherry/Presseye
Ulster Rugby's Stuart Olding gets the hang of it at Bundoran.
Image: ©William Cherry/Presseye
THERE ARE SURFING locations in Ireland up there with the best in the world – but to truly enjoy it, you need to be prepared for just about any kind of weather because as Irish National SUP (Stand Up Paddle) Champion and the first woman to windsurf the legendary JAWS in Hawaii, Katie McAnena describes, "you can basically get every season in one day".
Surfing is experiencing something of a boom at the minute but if you haven't the foggiest idea of how to begin, fear not, because with a board that won't cost you more than €150 and some basic essentials, it's very easy – and relatively cheap – to call yourself a surfer.
Sadly, however, Ireland is not Hawaii, and though McAnena says we can get every season in one day, the season we're currently staring down the barrel of will throw up more wind and rain that it will warm temperatures.
We caught up with McAnena to give us the crash course…
Is winter surfing in Ireland as scary as it sounds?
Not at all. Winter in Ireland is the perfect cocktail of howling winds, massive waves, vicious storms, serene calm and pounding hail-showers.
Basically you can get every season in one day…except for summer. Expect the air temperatures to often be less than five degrees Celsius with a wind-chill factor making it more like minus 5. Water temperatures range from about 6 to 10 degrees (which is often warmer than the atmosphere so sure it only makes sense to get in the sea!) When Ireland is good she's very, very good and when she's bad she's awful. But like I said, no matter what the day delivers at least you're at home, making the most of what your local environment has to offer.
SEE SPORT
DIFFERENTLY
Get closer to the stories that matter with exclusive analysis, insight and debate in The42 Membership.
Become a Member
What do you absolutely need to have before dipping your feet in, so to speak?
"Determination, a very flexible work/social calendar, motivation, a thick wetsuit, a thermos of tea, your best mates, a damn good wetsuit and the acceptance that you may be about to drive for 3 hours, sit in the sea for 2 hours and only catch one wave."
How much are we looking at to get started – and not get pneumonia?
"Surfing is relatively cheap to many other water sports because you only need one board to begin with and second hand prices you can easily pick one up for €100-€150. A suit and associated costs will set you back anything between €200-€400 but that will get you equipment to last years."
Any advice when buying that first wetsuit and should you but second hand?
"Try your best to strike the balance between a good deal and a good product. There is no greater misery or deterrent from spending time on the water than a crappy, cold wetsuit or gear lets you down. By all means go 'Del Boy' on it and hunt out a bargain but remember, not only will a decent wetsuit and equipment keep you in the water and help your progression it will also keep you safer and that is paramount. Water sports in Ireland in winter are inherently fraught with risk and danger. Investing in your safety by staying warm and not breaking down at sea will save you many a stressful situation and maybe even your life."
What are the most important things to remember for newbie surfers?
"These account not just for new surfers but even veteran water-goers who still make these mistakes (myself included!) Being unprepared — cold water is physically and mentally challenging. Stay warm, stay hydrated and stay safe. Check your gear and then check it again. If something fails and you're out at sea in the cold you've only got minutes to react before you lose control of your fine-motor skills. If a leash breaks or a board or sail tears always make sure you have an exit strategy.
Plan before you go. Always, always know your limits. Weather in winter in Ireland is very changeable you have to be prepared for the fact that one minute the sun will be shining and the next you may be swept into a gale-force squall of wind and rain.
"Always, always, always tell someone where you're going and when you intend to come in. Never go out alone. Never push yourself to the point of exhaustion. Save some energy when you can. Ask the locals at a new spot about rips, currents, rocks and other hazards. If in d, don't go out! Respect your fellow water people, no matter what craft their on everyone has a space on the water but we have to learn to be respectful and to share with others. You are always at the mercy of the sea, never the other way around."
I've just walked into the shop and seen 2mm, 3mm, 4mm and 5mm wetsuits, what am I buying?
"You need a 5mm to 6mm suit in winter. And thick booties – they're the 'shoes' you wear to keep your feet warm. Hoods are phenomenal and seeing as you lose a huge amount of heat from your head you need to wear one. I wear gloves and swear by them. They buy me at least an extra 30mins in the water but some people hate them. It's a preference thing…Other than that personally I think you'd be mad to surf without a 5mm suit, booties and a good between Nov and March in Ireland."