THE DOG ON the street could have told you that Tadhg Beirne was going to win plenty of turnovers for Munster.
But even though the province's supporters knew it was coming, they have still delighted in the Kildare man's effectiveness at the breakdown.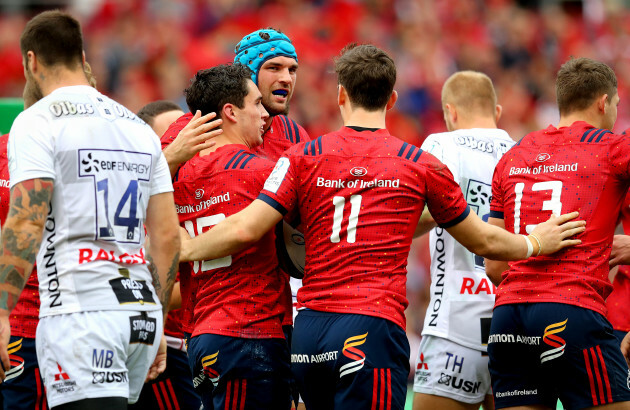 Ryan Byrne / INPHO Beirne has settled in superbly at Munster. Ryan Byrne / INPHO / INPHO
A man who is certainly in contention for the title of King of the Jackals in this part of the world, Beirne had a couple of early-season breakdown frustrations with Munster, but the Heineken Champions Cup has seen the former Scarlets forward showing his class.
Stealing opposition possession is an important part of Beirne's game but there is so much more to his repertoire and it looks certain that he will add to his two Ireland caps next month. His form makes Joe Schmidt's second row conundrum even more intriguing.
From Munster's point of view, the signing of Beirne is already proving to be the game-changer Johann van Graan hoped it would be and the most exciting thing is that there is more to come from the former Clongowes student.
As early as the 16th minute against Gloucester on Saturday, we got another show of Beirne's breakdown effectiveness.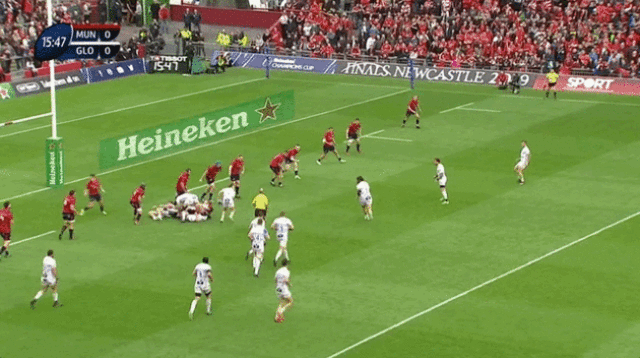 Click here if you cannot view the clip above
Beirne is good at identifying ideal opportunities to attack the ball on the ground and this is a fine example.
Isolated ball-carriers are always a cue for turnover specialists like Beirne, and Gloucester tighthead Josh Hohneck is as isolated as Easter Island in this example.
Hohneck is carrying off a pass from scrum-half Callum Braley and has no direct support as he goes at Munster.
The two closest Gloucester players are halfbacks Braley and Danny Cipriani.
Now, there are a handful of ruck-ploughing halfbacks out there but this is far from ideal.
Braley has just passed the ball and Cipriani is standing still, seemingly not recognising that Hohneck is isolated. 
Beirne, just inside the tackling pair of John Ryan and Rhys Marshall, instantly understands the opportunity.
Ryan chops in low and effectively on Hohneck, with Marshall briefly assisting up high, bringing the carrier straight to ground and opening the door for Beirne to jackal.
As we can see above, Beirne and Marshall both race for the ball but it's Beirne who gets hands to it first, with Marshall intelligently realising that he can aid his lock in securing the turnover.
Marshall's role, as indicated in white above, is to shield Beirne from a potential clearout as he completes the poach.
That's exactly what happens as Cipriani belatedly arrives in and binds onto Marshall with relatively little impact, then Gloucester lock Ed Slater's access to Beirne is also impeded by Marshall. Beirne completes the turnover for Munster. 
The above is one of four jackal turnovers Beirne made for Munster across the opening two rounds of the Heineken Champions Cup – only Bath's Francois Louw has more so far with five – and he was particularly effective in this area in the 10-10 draw with Exeter.
It took Beirne less than 14 minutes to make his first Heineken Cup turnover for Munster, as he again benefited from a good tackle and some fine assist work from a team-mate.
Click here if you cannot view the clip above
The ball carrier – Exeter's Henry Slade – gets isolated again here, with Sam Skinner overrunning him as he looks for a tip-on pass and other Exeter players move to find their attacking shape for the next phase.
There isn't to be a next phase with Beirne sensing his chance, however.
Peter O'Mahony makes a good tackle on Slade, starting up around his chest before sliding down and clinically taking out his legs as the Exeter playmaker attempts to free himself.
Beirne has a decent bit of time to jackal here, initially getting his hands around Slade's upper body as the Exeter centre attempts to fight on the ground, before Beirne grasps the ball underneath Slade.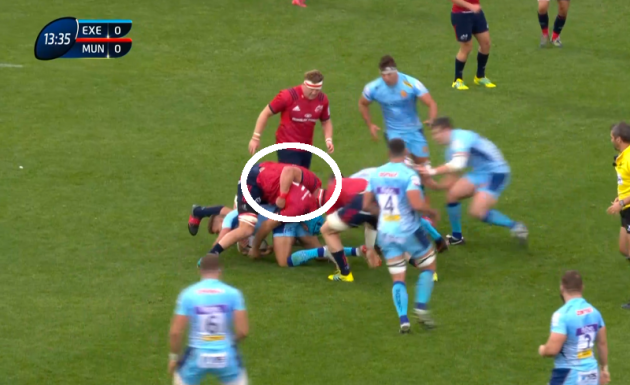 As indicated above, CJ Stander does a fine job of 'clamping,' essentially binding onto Beirne and anchoring him in place – meaning he is less likely to go off his feet and also ensuring Beirne is more stable when the clearout does come from Exeter.
Beirne's strength over the ball combines with Stander's assisting work here to ensure that the second row is not blasted off the ball when four Exeter players arrive in an attempt to rescue the situation, and Beirne actually drags Slade downfield before the penalty comes. 
It is worth noting that O'Mahony makes it back to his feet and also binds onto Beirne for the last second, just helping him to finish the job.
Exactly 10 minutes later, Beirne has his second breakdown turnover of the afternoon.
Click here if you cannot view the clip above
Beirne's starting position should be quite familiar by now, as the tracks across from close to the ruck and in behind a team-mates tackle.
Watching Beirne off the ball during games is fascinating, with the 26-year-old always, always brimming with that desire – that need - to turn the ball over.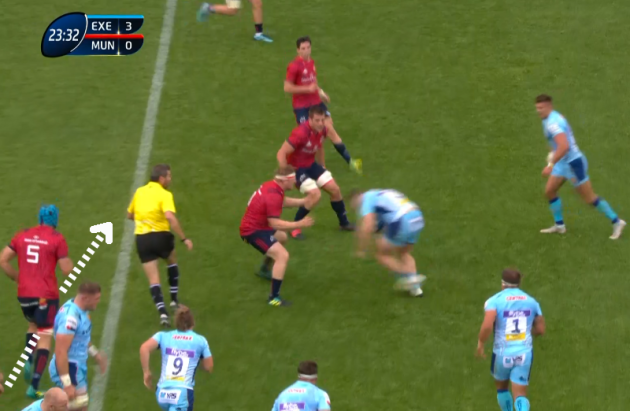 Beirne works extremely hard around the pitch to put himself in good positions to take advantage of his team-mates' tackling or the opposition's poor support play, and it comes up trumps again here.
Slade initially appears to be in a good position to provide the clearout after Luke Cowan-Dickie's carry in this instance.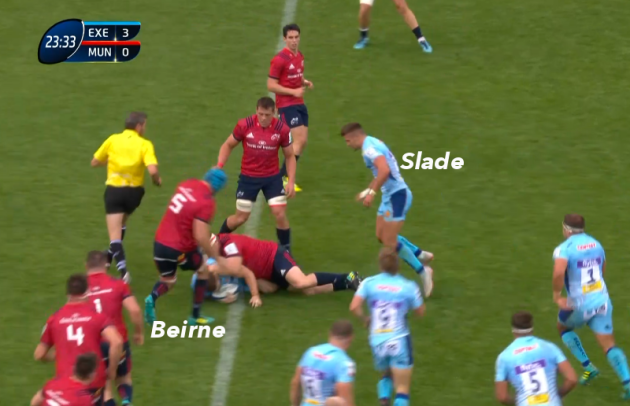 But Beirne's sheer speed and accuracy of movement beat the Exeter centre.
Beirne is coming slightly from the side of the tackle here, but his finishing position paints a good picture for the referee.
He ends up with his feet behind the tackle [indicated in red below], having snapped himself into that position even as he works at getting a grip onto the ball.
As he's moving his feet in behind the tackle, Beirne's accuracy and speed in getting his hands to the ball before Slade can clear him away is remarkable.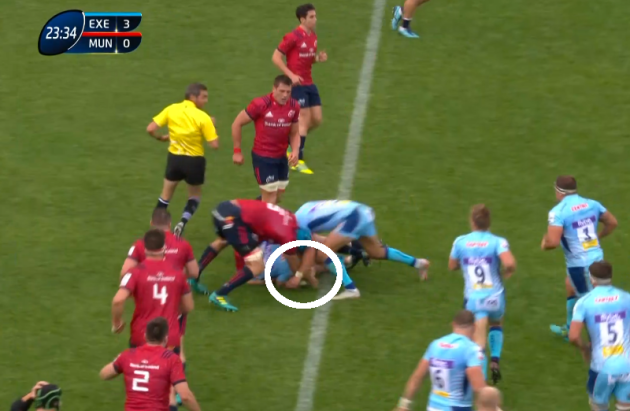 To ride the first hit from Slade without budging – even moving slightly forward immediately after – shows Beirne's strength, but his reaction to the arrival of loosehead prop Ben Moon is even more impressive.
Moon drives his left shoulder onto the contest, adding his 110kg bulk to the mix and looking to lift Beirne's right leg to destabilise him, but the Munster lock still stays in the fight.
The work of tackler Stephen Archer is important here, even if it is hard to fully appreciate underneath the bodies on their feet.
Archer continues to pin Cowan-Dickie even after he has brought him to ground, making it more difficult for the Exeter hooker to fight in a bid to take the ball out of Beirne's grasp.
It's something the Irish sides have been doing particularly well this season – seeming to roll away but in reality continuing to pin the tackled player and prevent them from getting into better positions to present the ball.
Beirne does finally get driven backwards when Skinner arrives into the ruck, but he's won the ball cleanly at that stage and is able to turn and hand it off to Jean Kleyn.
Beirne completed another clean breakdown turnover early in the second half against Exeter, perhaps being a little lucky not to be pinged for failing to show a clear release after some involvement in the tackle, but demonstrating incredible balance and fight to once again steal possession for Munster.
Of course, it's not only at the breakdown that Beirne is a threat to the opposition.
We saw his effectiveness in maul defence against Gloucester when the Munster lock forced a turnover in the 27th minute. 
Beirne initially competes in the air against Ed Slater, putting real pressure on his opposite number.
But Slater wins the lineout throw and comes back to ground as Gloucester look to set up their maul.
Beirne's actions are decisive and destructive. 
In the image above we can see that Freddie Clarke, wearing number six, is lifting Slater at the back. When Slater comes back to ground, Clarke's next job is to 'brace' at the front of the forming maul, providing a screen that denies Munster access to the ball.
But Beirne cleverly gets his right arm in between Slater and Clarke…
… and attempts to drag and force his way into the space between the Gloucester pair, looking to break the 'seam' between them.
Beirne is aided by Kleyn – who initially lifted him at the back – driving from behind, while loosehead prop James Cronin cleverly drives into Clarke to destabilise him [white below].
The combined effect is that Beirne forces his way through the seam [red below]…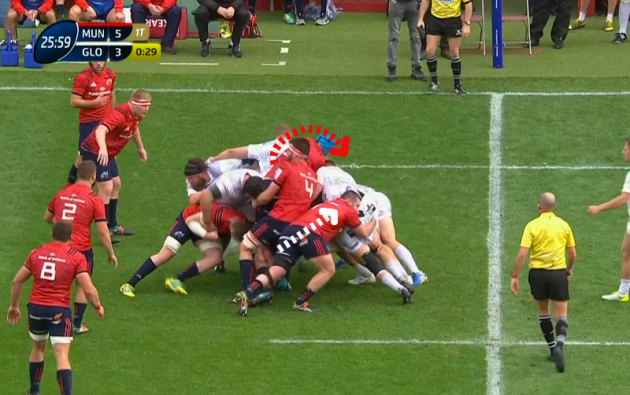 … and into a hugely threatening position. 
Slater attempts to wrap up Beirne's left arm – therefore depriving him of the chance to wrap around the ball-carrier at the back of the maul…
… but Beirne, typically, continues to fight and fight, wrestling his left arm free and then making a huge effort to wrap both arms in underneath ball-carrier Jake Polledri and around the ball.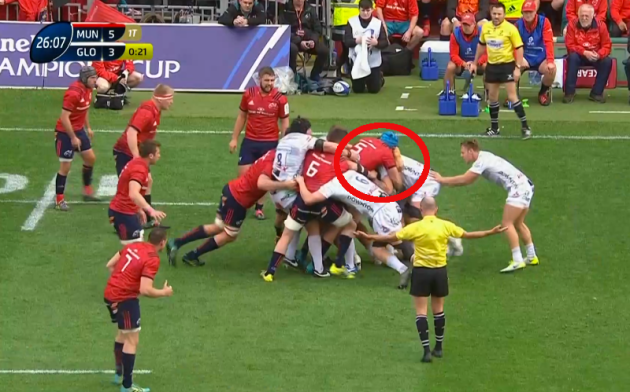 Once he's in this position, Beirne has to continue to fight in order to complete the turnover, with the referee eventually signalling the turnover to Munster after Gloucester's failure to use the ball from the maul.
While there is real technical quality and understanding of the maul from Beirne in this clip, it's hard to stress enough just how demanding a physical effort it takes to fight his way through the maul and earn the turnover.
Beirne has always had the kind of 'dog' – different from the one on the street – or aggressive edge that is key in these situations, where the player has to overcome physical demands to earn the ball.
Indeed, in this instance, Beirne is extremely displeased and gets involved in some push-and-shove with Polledri before referee Alexandre Ruiz speaks to them.
"He's trying to break my fingers," says Beirne as Ruiz calls Polledri in.
"Scumbag, man," says Beirne to Polledri as he arrives. 
"Eh?" answers Polledri, as Beirne looks to Ruiz and says, "He's breaking my fingers."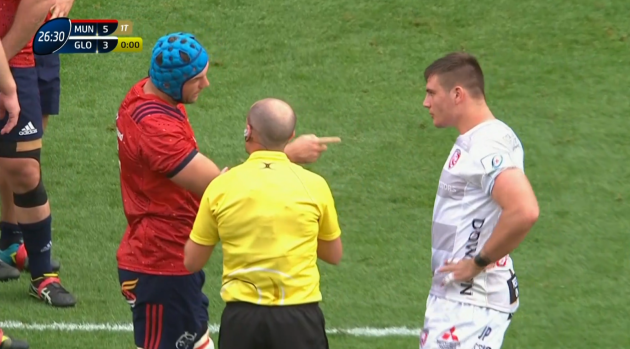 Play moves on with Beirne having earned the turnover for Munster, another example of the destructive play he specialises in.
Munster have always excelled at turning over opposition possession and the likes of O'Mahony, Stander and Chris Cloete will continue to do the same, but to now have such a major threat coming from the second row is completely new ground for the province.
Of course, there is more to Beirne than the defensive side of the game. 
He has been Munster's second busiest ball-carrier in the opening two rounds of the Heineken Cup with 24, as Stander leads the way on 32 carries.
Beirne often carries in heavily congested areas but he has still averaged a gain of 1.8 metres per carry, whereas Stander is at 1.1 metres per carry on average.
Beirne possesses excellent footwork, as we see in the example below.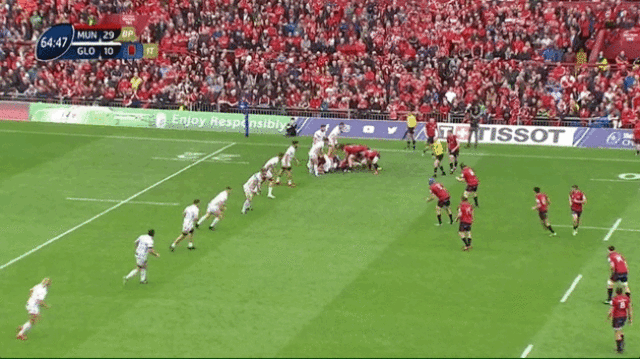 This could so easily be a negative carry for Munster, where they lose ground, but Beirne steps hard off his left foot to beat the onrushing Ciaran Knight, then intelligently rolls on the ground after he's been tackled.
Beirne's attacking skills extend beyond carrying the ball, of course.
His highlighted his pace after being freed by a Kevin O'Byrne offload to burst into Gloucester territory early in the second half.
Click here if you cannot view the clip above 
Beirne will have been disappointed with his kick in this instance, of course, but the speed he covers the ground at underlines just how athletic he is.
Beirne's handling ability, another key skill, is one of the primary reasons he can be an attacking game-changer for Munster as they develop under van Graan.
Against Gloucester, we saw a glimpse of what could be the exciting future for Munster.
The province's forwards have been noticeably busier with their passing this season, with the likes of Niall Scannell and Archer impressing, and Beirne is one of the most comfortable and fluid passers in the pack.
He has only passed the ball six times in Europe so far, but the effort below against Gloucester shows why his skill level is so encouraging for Munster.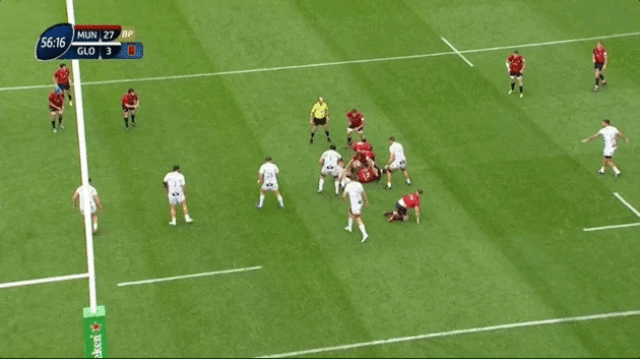 Click here if you cannot view the clip above
Munster are attacking in the 22 when Beirne gets on the ball in the middle of what looks like a carrying pod, then swivels and releases a pass out the back to Joey Carbery, who then frees Sammy Arnold to score.
We've seen Munster in these threatening positions very often in their biggest games in recent years, but their conversion rate in terms of scoring tries hasn't been high enough.
Sometimes their well-established directness is enough to get over the tryline, but developing this ability to also pass inside the opposition 22 under pressure – as Beirne is here – is key for Munster's progress as an attacking team.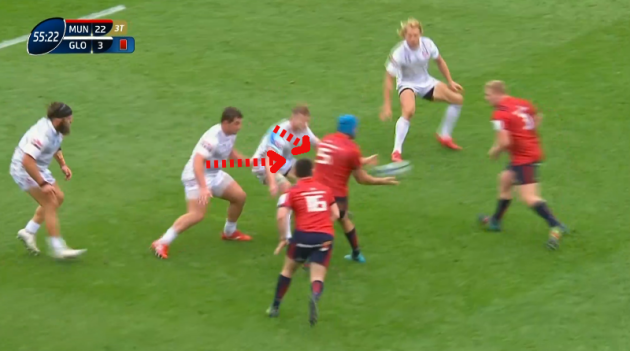 In this instance, Beirne has committed Val Ruskin in front of him to the tackle but also lures Slater into biting in on him.
With Slater turning in, there is a possible opportunity to slip the tip-on pass to John Ryan but the Gloucester lock is an intercept threat, and Beirne instead goes out the back door to Carbery – who has almost certainly demanded the ball.
Beirne's transfer across his body with defenders rushing up on him is smooth and composed and allows Carbery to take advantage of an overlap against the 14-man Gloucester, slipping away Arnold on the inside shoulder of Ben Vellacott.
There is certainly more to come from Beirne in a ball-carrying and passing capacity, but then the entirety of his game will improve as he gets more and more comfortable with Munster.
He is still just 26, so there is major scope for him to continue to improve.
Beirne has been handling a new responsibility in calling the lineout in recent weeks and though that area went superbly against Exeter in tough conditions, there was confusion at lineout time early on against Gloucester.
The lineout is, of course, not about any one player but Beirne is likely to have spent considerable time reviewing what went wrong for Munster in that area.
There were also a couple of restart losses against the Premiership side last weekend and the demanding Beirne will have been frustrated by that too.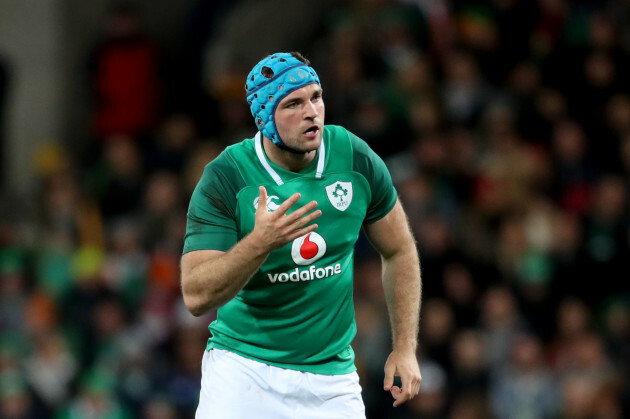 Dan Sheridan / INPHO Beirne won his first two Ireland caps in June against Australia. Dan Sheridan / INPHO / INPHO
All of that said, the opening seven appearances of Beirne's Munster career, particularly his two European starts, have largely been superb and it is exciting for the province to think that the best is yet to come.
For Ireland boss Joe Schmidt, with several other strong lock options, Beirne's form means a welcome headache. The Munster man's impact off the bench in the third Test in June won't have been forgotten.
The former Scarlets forward's ability to play at blindside flanker is a further attraction and it is hard to imagine Beirne not having an impact in the green jersey next month.
Getting his skillset firmly into the mix in a World Cup year could be a game-changer for Ireland too.
Subscribe to our new podcast, Heineken Rugby Weekly on The42, here: