"HOW DO YOU eat an elephant? You eat it bite by bite, don't you?"
There was no shaking the game-by-game, short-term focus of Ireland's players as they entered 'D-Day' at Carton House.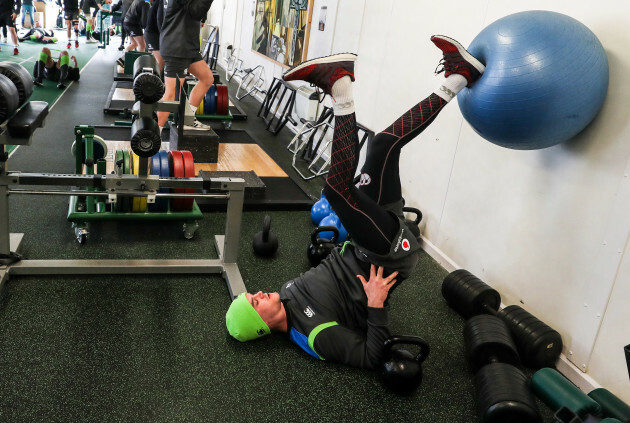 Billy Stickland / INPHO Jonathan Sexton at work in the gym this morning. Billy Stickland / INPHO / INPHO
The 'D' of course stands for the defensive theme on the half-cleared, half-snow-covered training pitch in Maynooth — after Monday's attack session when the squad decamped to Abbotstown — but it almost seemed a fitting way to underline the importance of the match ahead.
All along, the St Patrick's Day clash with England has been an unavoidable potential title-decider. With three wins already under their belt, Ireland are certain to have something to aim for in Twickenham. However, Saturday's clash with Scotland will determine whether that special something is a Grand Slam or a weighted mount in a three-horse Championship race.
Between Scotland's poor away form — without a road win against one of the traditional Five Nations teams since Croke Park in 2010 — and Ireland's 10-game winning streak since losing in Cardiff last season, arguing the case for a Scottish win this weekend is no easy task.
However, the Calcutta Cup in Gregor Townsend's possession along with a touch of vengeance in the air after Ireland's cold start to last year's Championship in Edinburgh certainly helps to dial up the intensity of focus in this Ireland squad.
"We gave them a huge head start which in this tournament is never ease to claw back," says Tadhg Furlong, fit to start again after sitting out the win over Wales.
Somehow we managed to do that and regained the lead, then let them back into it. It was a massively frustrating result, but we have learned a lot from it. You have to be able to start well and defend their wide attacking game."
Though Ireland's defence in exactly those wide channels was an issue late on against Wales, there is abundant confidence that enough holes will be plugged, enough roles reaffirmed and hammered home to ensure Ireland won't be left chasing a score again.
"Our defence is in a good place," said Conor Murray, "there's just a few little fixes here and there that we know are within our control.
"No better opportunity to fix them than against a Scotland team who are really dangerous out wide. There's a few little things that we're looking to get better at. And that's the way the competition goes: you get better and better week on week. That's our aim."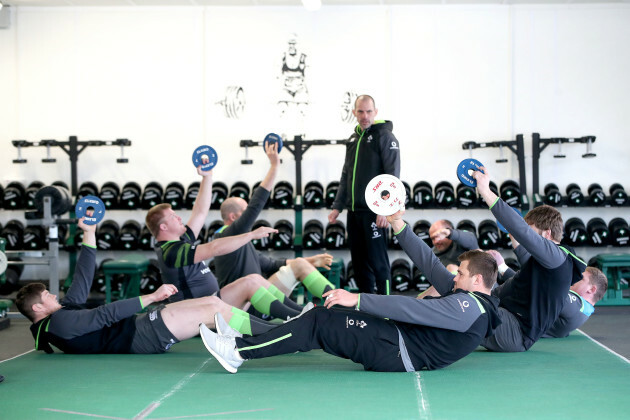 Bryan Keane / INPHO Bryan Keane / INPHO / INPHO
"Today was our 'D-day' and we looked prety sharp," says Joey Carbery, "we're aware of the threats Scotland are going to pose, with (Huw) Jones and (Stuart) Hogg out the back. We have to be pretty sharp this week.
"Each day is very intense, I wouldn't say there's an extra edge. We know what we are building towards so everyone was very focused today. We know how tough a game it will be, watching them against England shows how good they were. We have to be sharp on both sides of the ball."
Scotland's magnificent performance to beat England 25 – 13 and claim a first win over the old enemy for a decade was undoubtedly the standout result of week three in the Six Nations. However, on the other side of their form ledger remains the week one tonking in Cardiff. That's precisely the the sort of inconsistency that Townsend hopes to do away with as head coach.
"Every team has a blip and that was theirs," offered forwards coach Simon Easterby, perhaps thinking of his trip to Murrayfield last season as the blip on Ireland's formbook.
"They beat Australia in Australia, the performance against England didn't surprise us at all. Yeah, I don't think we are looking too much into that Welsh performance. They have a couple of different personnel in there as well. I think they are in a really good place."
Still, let's not mess around here. Any of Ireland's rivals would gladly swap into their placing at the summit of the Championship table at present.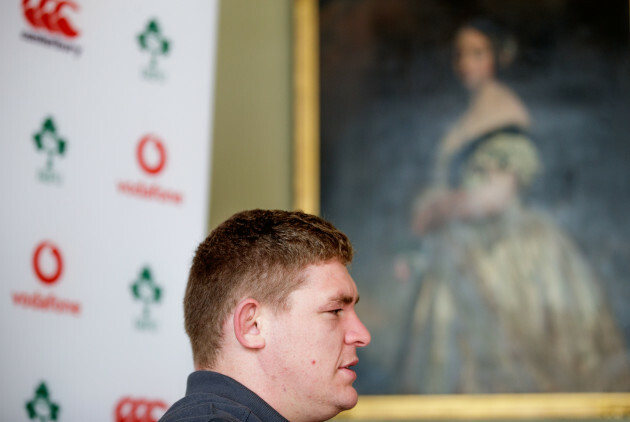 Bryan Keane / INPHO Bryan Keane / INPHO / INPHO
The fact that it's the two remaining title rivals to come on consecutive weekends simply makes this the most enticing scenario possible for fans and neutrals alike.
For players, meanwhile, it's all the more important to keep the focus on the near, and keep those dirty words of 'Championship' and 'Grand Slam' far away.
"I wouldn't say it's banned," offers Furlong, "it's just not talked about really.
"It's no different to any other week: you can't start looking ahead or to 'ifs', 'buts' or 'maybes'.
It's very much task-orientated on the game ahead. Like, how do you eat an elephant? You eat it bite by bite, don't you?
"It really is game on game for us and we have a massive one this weekend."
The tighthead adds: "They are in the same situation as we are. We know they are quality team and they are coming here with their backs against the wall and having to win to remain in the Championship hunt.
"It's no different to us and our mindset against Wales. We're at home on our patch and you leave those external factors aside and know your job and do your best individually for the team."