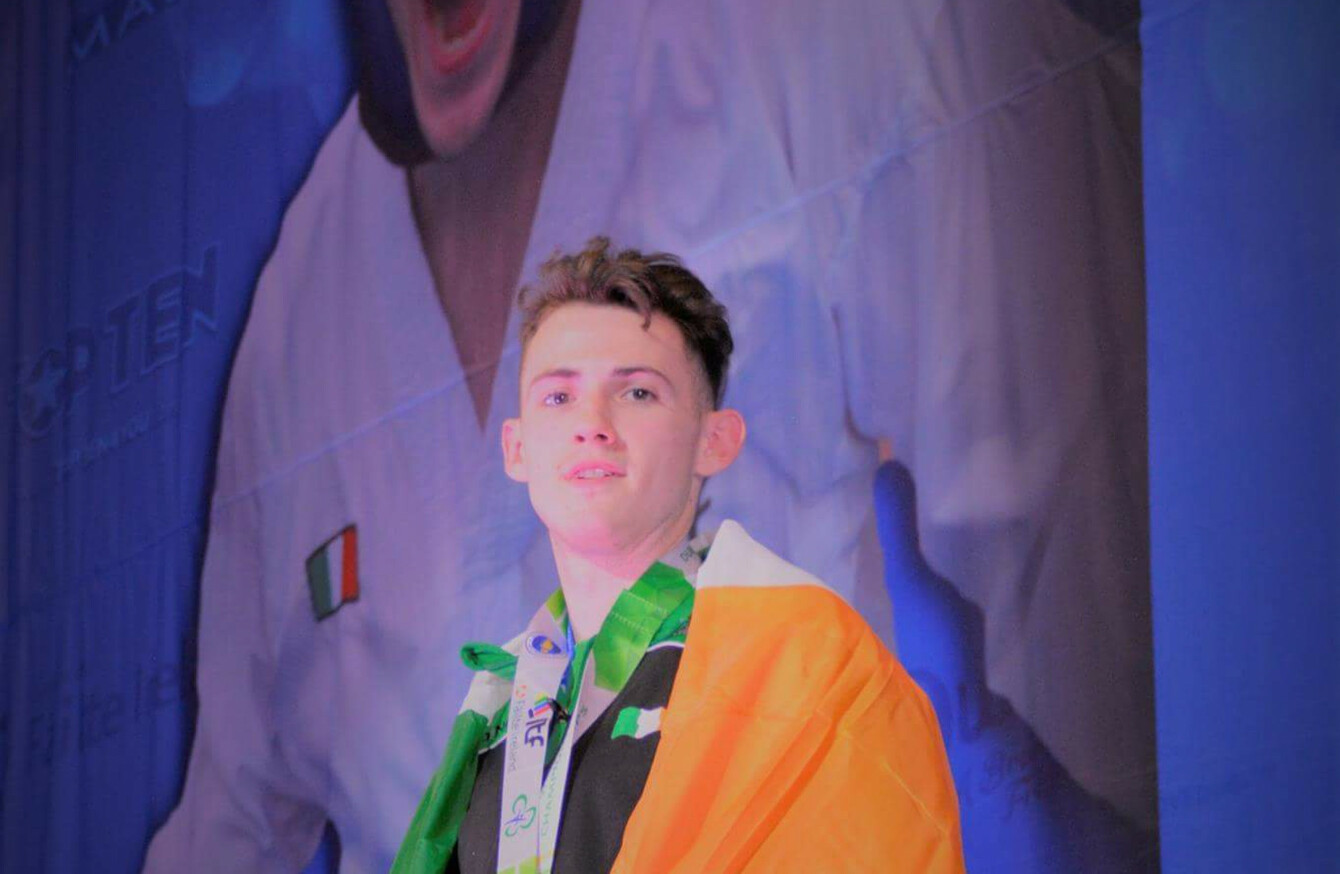 Jamie Williams won a gold medal at the Taekwondo World Championships in Dublin back in October.
Jamie Williams won a gold medal at the Taekwondo World Championships in Dublin back in October.
2017 WILL BE likely remembered as the year when the Conor McGregor backlash went into overdrive.
The Dubliner has been without question the most talked-about Irish athlete of the past 12 months, despite not fighting once during that period in the sport with which he is primarily associated.
McGregor apathy has come about owing to a mixture of egregious incidents involving the fighter, general overexposure and his comprehensive loss to Floyd Mayweather in a boxing match that was widely ridiculed from the moment it was confirmed and even in the year or two before then when it was touted.
Those seeking an antidote to the ubiquitous UFC star may want to delve deeper into the world of Irish taekwondo.
The sport receives the type of minimal coverage that MMA received in the Irish media before Conor McGregor came on the scene.
Yet there is unlikely to ever be a taekwondo equivalent of McGregor. In fact, in many ways, taekwondo athletes are the antithesis of the more publicity-driven UFC stars.
In recent months, The42 have interviewed a number of the top Irish stars, including Ellen Ince and the Shelley brothers.
Without exception, everyone interviewed has come across as conspicuously humble and devoid of ego, even in the case of world champions.
It is partially to do with the fact that they are all competing in a sport where moments of glory are fleeting and financial rewards are limited at best. Those involved have little motivation to compete other than the sheer joy of doing what they love — a noble concept but one that is increasingly uncommon in modern society.
Most of those involved in Irish taekwondo, even at the very top level, work or go to college on the side, which tends to keep the stars of the sport firmly grounded in reality.
And while most high-profile sports are now dominated by money and short on morals, taekwondo impresses upon its athletes the importance of adhering to a proper code of conduct and certain standard of behaviour. It preaches five tenets that cannot be ignored — courtesy, integrity, perseverance, self-control and indomitable spirit.
Despite the small population and the meagre resources the sport must contend with in Ireland, it has managed to thrive against the odds in recent times.
Countless medals have been won by Irish athletes over the years at World and European level, and 2017 was no exception. If the ITF version of taekwondo was an Olympic sport like its World Taekwondo equivalent (read this article for a description on the differences between the two versions of the sport), then Team Ireland would likely have added to their medal haul at recent Olympic events.
When the World Championships came to Dublin for the first time last October, it was another highly successful few days for the hosts. With 60 countries and over 1000 athletes descending on the competition, which was held in Citywest, Ireland won the best overall country award and emerged with 28 medals: 10 gold, eight silver and 10 bronze.
Jamie Williams was one of those who distinguished himself by winning gold, fulfilling a longtime dream in the process. It was the culmination of 15 years of training, after he took up the sport in 2002 aged seven.
What made the achievement all the more special was that it took place with Williams' friends and family watching him do it in the flesh.
That was a great thing, coming from the worlds, having my mam, dad and sister there," he tells The42. "They've never seen me before in a competition that big. To have them there was something special to support me throughout the day I was competing, that was fantastic.
"I had one side of it back in 2015 when I won the Euros. I had the feeling of ringing home and telling them I'm after winning. But to actually have them there was so much better, seeing them do it and winning it with you.
"In the run-up, I tried not to think about (the fact that it was happening in Dublin) too much or heap on too much pressure. I tried to think of it like it was any other Championships or any other country and just focus on my training and what I could control and that when I get there, everything else could take care of itself."
Williams and his fellow taekwondo athletes may not have got mainstream recognition in the form of an RTÉ Sports Award nomination or anything along those lines, but that is by no means a reflection of any lack of sacrifice or commitment in comparison to other top-level athletes.
"Towards the summer I was training twice a day five or six days a week," he recalls. "When I started back in college, just with time for travelling and stuff, it's one session a day for five, six days a week. I didn't have as much time, so I had to be efficient with the training to get the most out of each session.
"Everything was 'up at this time'. I was travelling on trains, going to college, arrive at a train station at this time, onto the train, go home, eat at these times, training, teaching and coaching classes at this time, home at this time, to bed at this time.
"I started college back in September, the middle of October was the Worlds, so for about six weeks, it was 'boom, boom, boom,' everything was planned out, I had to just stick to it."
Unsurprisingly, given this intense schedule, Williams has taken some time away from the sport after his gold medal triumph, as he slowly starts preparing for his next big competition — the European Championships, which take place in Maribor, Slovenia this coming April.
"I haven't done a whole lot since, I've just been keeping fit, going to the gym," he explains.
I had a couple of nights out, but I have to be fairly strict… I walk around a bit heavier than the weight I fight at, so I have to keep it under control and be strict enough in the build-up to try to keep my weight down. So to not have to focus on that has been a massive help.
"You don't get to see friends that often in the build-up. You don't get to go out and socialise, so being able to do that has been good as well."
Away from taekwondo, Williams' main concern is a degree in Strength and Conditioning at the Limerick Institute of Technology. The 22-year-old initially studied Law and Tax, but dropped out when he decided it was not a future path he was interested in pursuing.
The Irish athlete was born and grew up in Sixmilebridge, Clare — a county that is rapidly becoming a hotbed of Irish taekwondo talent.
"When I started, it was only really Shannon, and a small bit in Ennis. But since then, (Secretary General of the Irish Taekwondo Association) Stephen Ryan has opened up in Quin and he's running a very successful club.
"There's a couple of other ones in Inagh and Ballyea. John Moriarty has his club and would have trained with Stephen Ryan. There's a good group of competitors that are coming out from there.
"It's a small enough area compared to Dublin and Cork to get competitors, so we do quite well with what we have. The contingent in the area is growing massively and it's going to keep going that way as they get more people onto the national team.
"But from where we are now is brilliant. When I first started on the team, there was maybe only four or five of us from this kind of area across all the clubs. Shannon had four on the team this time alone, Quin had seven or eight, so the numbers are growing, which is great to see."
All in all, Williams has come a long way since starting out as a seven-year-old with big dreams that didn't necessarily revolve around the World Championships.
When I started I wanted to be a Power Ranger, now I'm world champion," he says, underlining how he came to claim the best consolation prize imaginable.
"When you hear martial arts, you think karate, so I wanted to start in karate. But my dad had heard of this taekwondo club and asked would I be interested in that instead. I said 'yeah, sure'. I wanted to do some punching, kicking, spinning kicks, backflips.
"I went around and loved it from day one. So I was competing then, went to a couple of tournaments, and saw (1984 movie) 'The Karate Kid'. I saw the big trophy at the end of that, which he won. I kind of thought I wouldn't mind winning something like that myself. So that's why I kept going to competitions, hoping one day I'd win a big massive trophy."
The42 has just published its first book, Behind The Lines, a collection of some of the year's best sports stories. Pick up your copy in Eason's, or order it here today (€10):