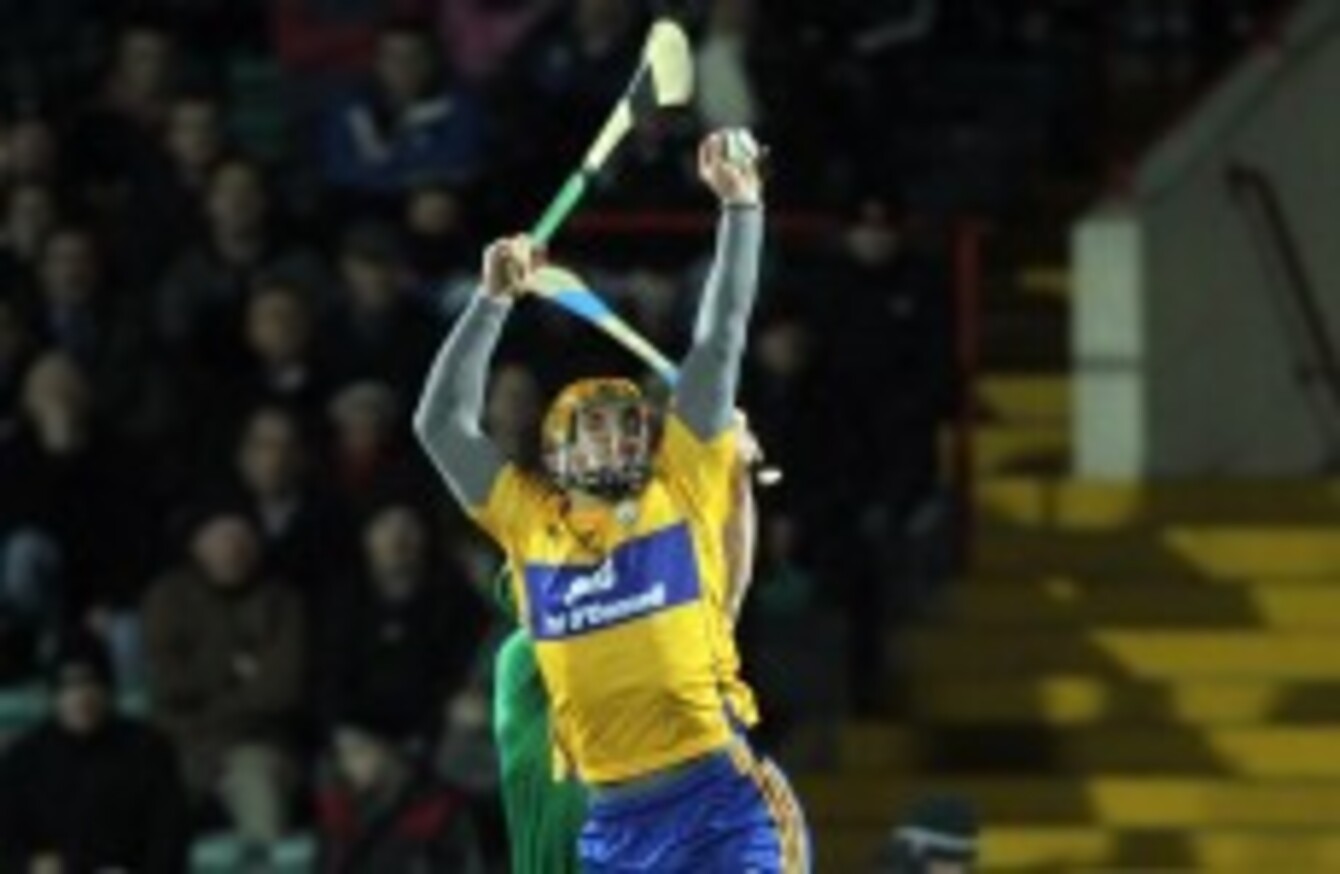 John Conlon beats Limerick's David Moloney to a high ball.
Image: INPHO/Donall Farmer
John Conlon beats Limerick's David Moloney to a high ball.
Image: INPHO/Donall Farmer
CLARE HAVE LOST  just one game worth mentioning in 2012.
And being honest, it's only worth check-listing for the sake of posterity. That was the Waterford Crystal Cup final to Tipperary as both counties kept a hint of shadow to their sides.
When Davy Fitzgerald has let them shine, they have blinded their opponents. Four wins from four in the league 1B and, all of a sudden, this could be a big year for Clare.
Promotion and, if you are to believe the whispers, a league title is what Davy has targeted from this league. Cock your ears a little more and you'll have heard talk of the preparation being done in the Banner County – training 30 days out of 34, for example. Whatever of that, Clare certainly look to be in fine fettle and have won each league game by an average of more than nine points.
Limerick were cleaved by 14 in front of their own women and children at the Gaelic Grounds while Wexford, most recently, were swatted aside in Ennis. The Banner visit second-placed Offaly in their final regulation league fixture, with a chance to eliminate the Faithful County from the promotion picture.
In the dog-eat-dog world of Division 1A, no result has been out of the question but Clare look so dominant that the only reason you would suspect defeat is if they put out a shadow side. After all, a league final is already guaranteed. On the other hand, now is not the time to curb momentum.
Because pushing on to win the league title is what they crave. In the same way that Dublin needed it last year to reinforce their self-belief, Clare's and Davy's impatient ambitions may warrant that too. To achieve it from a base in Division 1B would be quite remarkable considering how highly-charged those in 1A have been thus far. This is as close to championship hurling as we have seen outside the summer in some time, ahead of a weekend in which every team bar Dublin have something to play for. The point being that the counties perceived to be stronger than Clare right now and on high alert.
Davy Fitzgerald on the sideline in Portlaoise recently. INPHO/Lorraine O'Sullivan
In the same way that Donal O'Grady did not want to play second-tier league after blitzing through it in 2011, Davy Fitz knows promotion coupled with continued progress in the league will only steel his side for his championship opener with Waterford. Should The Banner's form land them a league semi-final – they will need to win the 1B final first – then they will play any of Cork, Kilkenny or Tipperary. For the confidence of this rather young side, they need a chance to take on the best.
So it may be.
Conor McGrath and Nicky O'Connell are making plenty of headlines right now but they are not alone. John Conlon is among a great crop of young forwards emerging in Munster (and beyond) and you would expect Fitzgerald to use him a little better than Ger 'Sparrow' O'Loughlin did in 2011.
The Munster loss to Tipperary stood out to many as a reason why Clare could hope to challenge the best as they went 1-03 to 0-00 up early on but to see Conlon put on powerhouse Paudie Maher made little sense. In a sport where you look to create mismatches, this at best nullified their excellent forward; being less generous, he was overwhelmed by the Thurles man.
This year, Davy Fitz is looking to play to Conlon's strengths and the Clonlara man pitched in with 1-2 in his most recent game against Wexford – interestingly, as part of a two-man full-forward line.
He rattled off 1-3 against Laois, just a point against Antrim but 0-4 as the Banner eventually ran Limerick off their own field on day one. If Clare arrange their instruments correctly, the tune could carry them a long way. The locals seem content with their new manager thus far, with only a few voices dissenting against a perceived overuse of the short passing games. For any team finding its feet, patience is required as both style and a game plan is formulated.
And yet for all the optimism garnered through their four wins in a row, Davy Fitz need only look at his next-door neighbours Limerick for proof that a good spring does not a summer makes. The Treaty County razed all before them by an average of almost 10 points in the 2011 NHL2 but still came up short in Munster – against Waterford, coincidentally – and in the qualifiers against Dublin. Some of the younger guns got a little shyer as the year went on, something Davy Fitz may yet encounter.
A young team sometimes needs to walk before it can run but, for now, Clare are looking big for their age.