IN THE LONG run, it won't matter but conceding six goals can't be ignored either.
When last did we see Brian Cody take off JJ Delaney? Or ask why he didn't remove Tommy Walsh from the side of a man who was doing the most serious damage?
The question is whether this win over Dublin blew away Kilkenny's air of invincibility or whether such a stirring comeback merely added to it.
The answer is that we don't yet know but there have been a couple of suggestions in recent times that the Cats are not quite as potent as they were.
The All-Ireland semi-final win over Waterford last year was pockmarked with a multitude of poor wides but all was forgotten after the Liam MacCarthy was picked up.
Business as usual, open 24-7
The league run of 2012 had been routine up until Dublin rolled into Nowlan Park and all but rolled over the All-Ireland champions. Danny Sutcliffe served notice of his burgeoning talents when he scored 0-5 from play a week ago, special attention will be paid to the St Jude's man when Tipperary visit Croke Park in the next round of the league.
And close to the camp, the word is that Sutcliffe relishes the chance to test himself against the biggest names. The youngster was at times exceptional as Dublin U-21s made it to an All-Ireland final last year and he has this year already forced Jimmy Barry Murphy to substitute long-time stalwart John Gardiner and put Former Hurler of the Year, Walsh in the firing line too.
He may get his chance to tackle Paudie Maher next time out, another stern test, to be sure.
Kilkenny fans are so often energised by the very sight of Tommy Walsh, and greet his every puck of the ball with ecstatic cheers. He reinforces their belief that Kilkenny will come through; to see him taken apart – even if he played plenty of ball himself – will be a worry. No doubt the Tullaroan man is still one of the very best, but to be rifled for 2-3 from play must have worried Cody.
More the surprise too that the Cats manager did not make a switch. New boy Richie Doyle was having an exceptional day at left wing-back as he filled out the number 7 shirt that for years we would have associated with JJ Delaney. Perhaps the impressive Doyle – also a left hander, cutting a doppelganger for Delaney and playing with the same sort of assurance – might have helped quell the influence of Sutcliffe. There was a suggestion that Cody just let the storm ride out and hope that the better quality would come through.
Exclusive Six
Nations Analysis
Get Murray Kinsella's exclusive analysis of Ireland's Six Nations campaign this spring
Become a Member
Perhaps he did but he removed Delaney from full-back and brought in Jackie Tyrrell for the final 13 minutes. There was a sense that the Kilkenny manager felt changes needed to be made – you suppose six goals will do that. The Village man helped steady the ship but it was far from plain sailing at the back, even with Dublin down a man. Walsh was clearing ball but at times look too frazzled to pick out a man when he had time – simply lashing the sliotar as far away from himself as possible, and at times fluffing one-handed attempts to flick the ball clear.
Paul Murphy has been a revelation at the back for Kilkenny in the last year but there was a period in the second half when, as the spare man, he dropped four consecutive high catches under no real pressure. Tyrrell, coming in cold, fumbled the first few balls that came his way too. The slight figure of Eamon 'Trollier' Dillon found the net for Dublin despite being outnumbered.
To win was Kilkenny, but not as we know them.
Michael Fennelly is reigning Hurler of the Year but he hardly pucked a ball, while Michael Rice was quiet beside him too. Colin Fennelly was another who massively improved in 2011 and while we expect him to be an All Star contender this year, he was out of the game almost entirely on Sunday. The reason that no one is pushing the alarm right now is that even if all those mentioned did not excel for once, the likes of Richie Power, Richie Hogan, Eoin Larkin and Co did. Now Matthew Ruth has offered himself as a new go-to guy – goaling again after doing so in Waterford. As such, there is always someone to pull a game out of the fire.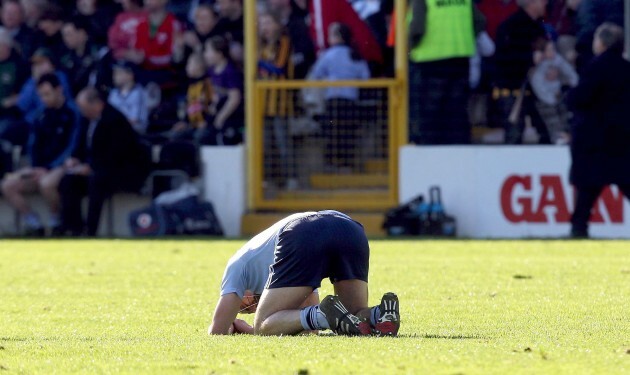 Dublin's Danny Sutcliffe dejected at the final whistle. Pic: INPHO/Ryan Byrne
For long spells, this game had the feel of last year's league final when Dublin obliterated their Leinster rivals. The final result here papers over any possible cracks but unlike a year ago, the Cats had most of their big names on the field. Henry Shefflin was not around but most other pieces were in place. Had Ryan O'Dwyer not been sent off – and a fine game he was having at centre-forward – then Dublin might have pulled off a second consecutive league win over Kilkenny.
Indeed a third game without defeat in the competition.
But Anthony Daly has no place to cash this defeat in. His defence of the league is all but over and he is faced with the possibility of a relegation shootout with Waterford. Cody is in pole position to regain the league title for the first time since 2009. Few would back against it but after dropping six goals at home, a few nagging doubts may creep in.
Or not, this is Kilkenny after all.