NO MAN EVER proved people wrong without first facing down his doubters first.
Declan Ryan has plenty of those right now and the empirical evidence, along with the anecdotal, has loudened the cat calls.
Because his side have played six games in the league and that has been spread evenly between wins, draws and losses; bookended by ultimately tame defeats amid flat performances.
And both that early-season loss in Kilkenny and this shying away from Cork are a worry to Tipperary fans. Why was the team so flat? Why was there so little of the pass and move that this team is capable of? Where has the hunger gone?
The question those doubters must ask themselves is: will Sunday's Tipperary team be the one that lines out against Limerick in five weeks? The answer is no, because only seven of the side from last year – from Munster final to All Ireland final inclusive – started at Semple Stadium. The team will be quite different against the Treaty County. Only then can the judges bring down their gavels.
Of those who have and will start in the championship, there were more than signs of life: Paudie Maher, Conor O'Mahony, Gearoid Ryan and John O'Brien all had their moments on Sunday. Brendan Maher might have been withdrawn after 48 minutes but he had already created more Tipp chances (four) than anyone else would – indeed no less than any Cork man. For those willing to question 21-year-old Noel McGrath, let us know how that boot tastes later on in the year.
The point being that it's premature to criticise in April. To those who feel the team or panel has gone stale, it must be considered that the average age of Tipp's starters was actually younger than Cork's: 25.3 to 25. These same critics would hardly expect the same overall output from the full compliment.
Draft in the experience of captain Paul Curran (for whom a viable back-up is needed at three to keep Paudie Maher at wing-back), Paddy Stapleton, Eoin Kelly (yet to start this season), Seamus Callanan and Patrick 'Bonner' Maher before writing the obituary. Because, as Kilkenny found out in last year's league final against Dublin, half your starting team will struggle against an upcoming side with something to prove.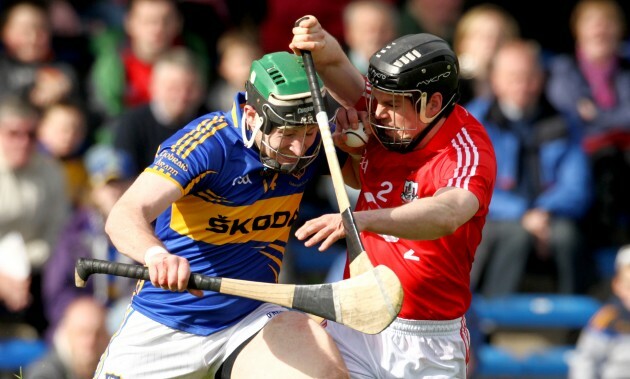 Brian O'Meara has been one of Tipperary's success stories from the league campaign ©INPHO/James Crombie
Not to mention that emerging players often struggle to assert themselves without the experience of mainstays to guide them. Confidence rubs off. Just look at Kilkenny's Matt Ruth last year versus 2012. Conor O'Brien, Thomas Stapleton, David Young, James Woodlock and Pa Bourke may well have been around for a few years but it is hard to have that unflinching confidence when you know you have always been under pressure for your place, that you have yet to fully convinced the supporters – and this manager has whipped players off early before.
In that, perhaps there is a valid criticism of Ryan: a hair-trigger response with the substitutes slips. Brendan Maher was off a little early against the Rebels; a few weeks ago Gearoid Ryan was brought in at the break despite getting 0-2 (a poor wide on 35 minutes probably cost him); Templederry Kenyons clubmate Adrian Ryan got the shepherd's crook early against Kilkenny and hasn't been seen since; Shane McGrath got just a first half against Galway; and John O'Keeffe got the curly finger at the interval against Waterford.
This method of management can unsettle players and, in turn, the team. Certainly it can give the appearance of deck chairs being rearranged when a team's level has sunk.
In truth, the much-quoted "flat" performance by Tipperary on Sunday is not a new phenomenon. If Premier fans remove for a moment the rose-tinted prescriptions from the Liam Sheedy era, they might consider that championship performances against Waterford in 2008 and Cork in 2010 showed less fizz than a four-day-old bottle of Coke. It happens, albeit a little too often under Ryan lately.
Apparently the team was stale back then too. Or overtrained. Or undertrained. But off the boil and not up to it. So while Ryan rightly has question marks hanging over his head, as do the players, perspective is needed. The 2011 league wasn't much better after all: three wins from seven – Galway, Waterford and Offaly. They still won a Munster final by seven goals. The key is to make sure momentum is generated when everyone is back.
The biggest issue for the management is to charge up intensity for the Limerick game, get those missing players fit and finally decide on, and stick with, a number five. Of those to debut for the spot, perhaps O'Keeffe deserves another shot because while the All Ireland final last year didn't go his way, he was impressive in every other championship game. That gives him the edge on the present alternatives.
Put it this way: if every defender who has been given a roasting by Henry Shefflin was consigned to the unwanted bin, there wouldn't be must demand for new hurleys around the country. That all rings true of Ryan's trigger-happiness with changes. The other options at five are Shane McGrath and Brendan Maher – primarily because sometimes you just need to have you best 15 players on the pitch irrespective of positions. In terms of other positives, Ryan will now feel Pa Bourke and Brian 'Buggy' O'Meara are ready to be considered championship starters – so it's not all bad news.
There of course are issues but, in a sport where it takes only a couple of games to go from also ran to only side left running, there's still five months left to prove the Thomases wrong.