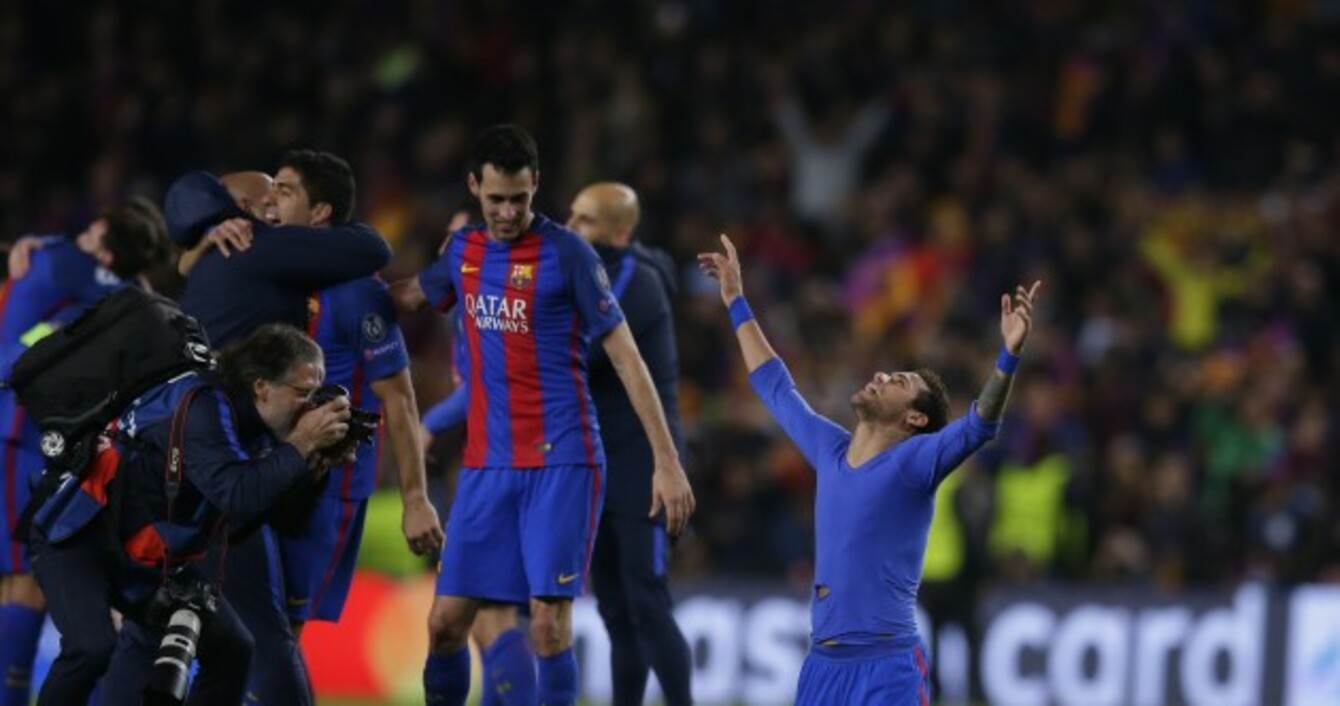 Neymar celebrates Barcelona's victory.
Image: Manu Fernandez
Neymar celebrates Barcelona's victory.
Image: Manu Fernandez
1. Neymar confirms his greatness
NEYMAR KNOWS MORE than most footballers what true pressure feels like.
For much of his career, he has been talked about as the next big thing, compared to Pele among other Brazilian greats.
Think back to the 2014 World Cup and the penalty shootout with Chile when he wept tears of joy and relief as Brazil scraped through.
So occasions like tonight have been par for the course for Neymar, who has had to grow up fast amid an unenviable weight of expectation in a country with a rich footballing tradition that has been starved of alternative icons lately.
Before now, however, no one can deny that Neymar has been an excellent, world-class player — he has already amassed over 200 career goals. But there has been a reluctance to embrace him as a true great thus far, mainly because he is still so young and there have been plenty of other promising Brazilian stars who have ultimately failed to meet the lofty expectations perennially attached to their names.
And in a star-studded Barca team, Neymar has at times inevitably been eclipsed by arguably the greatest player of all time, Lionel Messi, and fellow striker Luis Suarez to a certain extent.
Yet while Messi has so often rescued Barca from seemingly irretrievable situations, tonight it was Neymar that came good when his team desperately needed him to.
To score hat-tricks against weak opposition in La Liga is one thing, but hitting a brace and providing a gorgeous assist with your team trailing by three goals in the last three minutes in normal time of the Champions League round of 16 is the sign of a truly special player.
His sublime free kick, with the game seemingly over, took the breath away, while stepping up to take the penalty instead of Lionel Messi required exceptional courage.
So regardless of what Neymar does between now and the end of his career, he will always be remembered as the man who inspired one of the greatest sporting comebacks of all time.
2. Aubemayang good enough to get in any side in Europe
With the exception perhaps of the aforementioned Neymar, it's hard to think of a better out-and-out striker in Europe right now than Pierre-Emerick Aubameyang.
With 30 goals in 36 appearances in all competitions this season, it's no surprise that Europe's elite clubs are rumoured to be queuing up to sign the 27-year-old.
He had a rare off night in the last round against Benfica in the first leg, missing a penalty and generally delivering a sub-par performance, leading to his substitution in the 62nd minute.
"Aubameyang is not fully fit after the African Nations Cup," manager Thomas Tuchel said afterwards. "His body language did not suggest that he would do better after giving away the penalty.
"I don't think he had a problem with the substitution."
Yet like all top players, Aubameyang recovered in emphatic fashion tonight, hitting a clinical hat-trick, as Benfica simply could not cope with Dortmund's attacking intensity and ruthless finishing.
3. Something deeply wrong at PSG 
Paris St Germain have emerged from the Champions League group stages in the past five consecutive seasons now, yet they have never gone beyond the quarter-final stage.
The French champions have had some incredibly talented players over the years, but despite the many millions ploughed into the club, they continue to flatter to deceive.
Tonight encapsulated the weak mentality that has undermined their progression, following the Qatari takeover in 2011.
They have won the French league quite comfortably four years on the trot, and there is a sense that this lack of competitiveness domestically renders them inept when the pressure comes on in Europe.
On Wednesday night amid an electric atmosphere at the Nou Camp, against a Barca team that had momentum on their side from the minute Suarez scored early in the first half, the Ligue 1 side collapsed, just as they did in 2014, when they held a first-leg 3-1 lead over Chelsea, among numerous other missed opportunities from down through the years.
Having had too much physically for Barca in the first leg, Unai Emery's deeply negative tactics failed to pay dividends tonight, as they unwisely sat back deep into their half, giving Barca no shortage of space and possession, and running themselves into the ground by the final whistle as they chased an unstoppable force.
PSG were scared quite simply, with leaders, tactical intelligence, midfield generals and game management non-existent, particularly when they were most needed in the dying minutes, on a bonkers and unforgettable night of Champions League football.
The42 is on Instagram! Tap the button below on your phone to follow us!