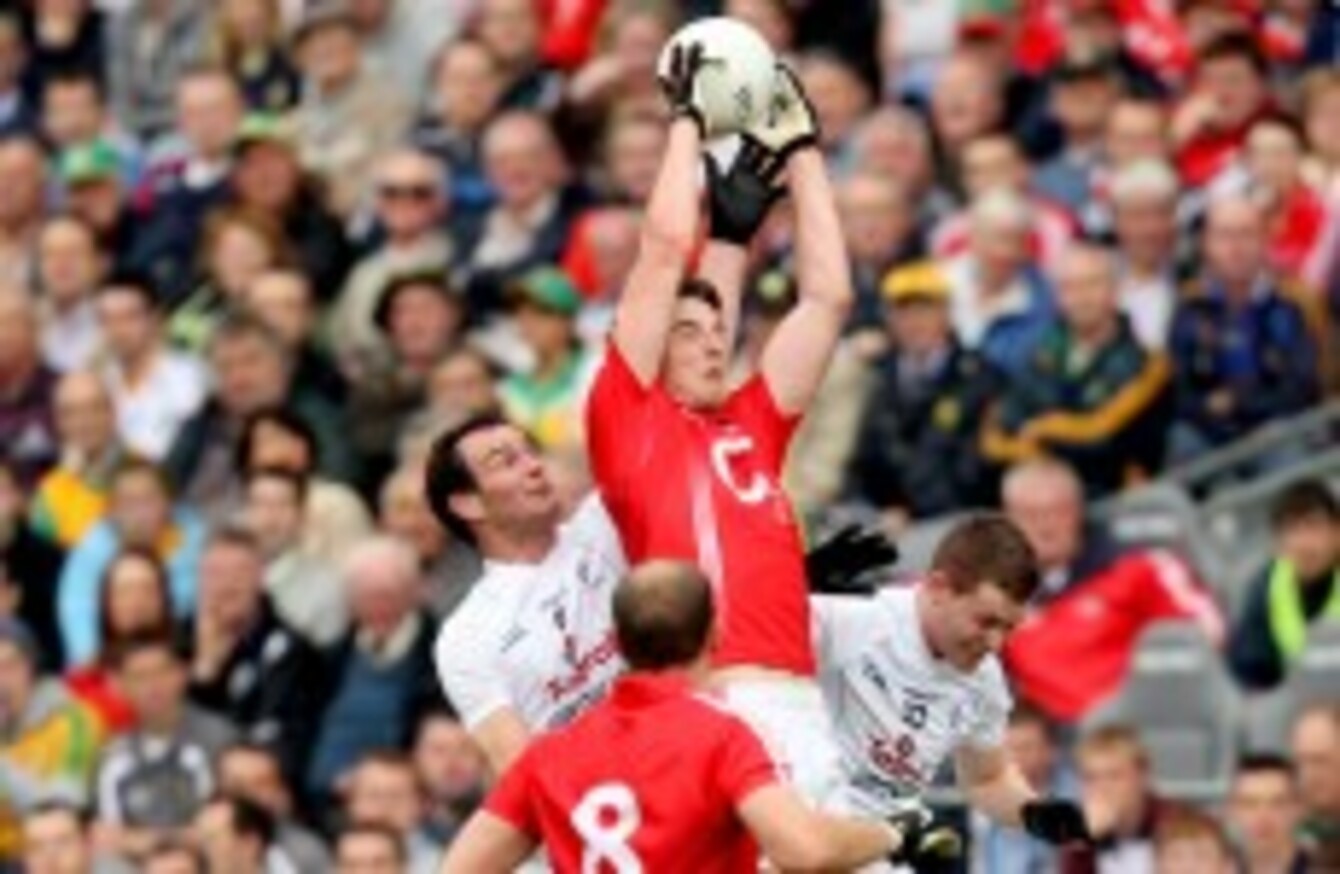 Cork's Aidan Walsh in action against Kildare yesterday.
Image: ©INPHO/James Crombie
Cork's Aidan Walsh in action against Kildare yesterday.
Image: ©INPHO/James Crombie
1. Donegal develop a scoring edge
It was clear after Donegal's All-Ireland semi-final loss last year against Dublin that they needed to change and adapt if they were to develop further. They have done that in expanding their attacking play in Ulster this year to rack up greater totals on the scoreboard on their march to provincial honors. Yesterday marked their return to Croke Park since that defeat last August and they demonstrated how they have improved.
The bare statistic in posting 1-12 in comparison to the 0-6 they registered last August illustrates that. But they are also helped by the fact that Colm McFadden is stepping forward brilliantly as the go-to guy in attack. His goal yesterday may have been fortuitous yet he also lofted over some gems of points and his 1-6 return was invaluable. Coupled with the scything runs of Karl Lacey, the controlled play of Patrick McBrearty and the nerve of Michael Murphy in nailing frees, Donegal have strong attacking options at their disposal.
2. The strength of Cork's panel is key
As his team floundered in the second-half of last season's All-Ireland quarter-final against Mayo, Conor Counihan found himself powerless on the sideline to change the course of the game. With his team stripped of key attackers as a result of injuries, Cork's panel did not have sufficient depth to cope. They ended the defence of their All-Ireland crown on a low note, only notching one point in the second-half and succumbing to a four-point defeat.
This year is different with everyone back on board, full of good health and itching for action on the pitch. That's helped their management when they encounter a sticky patch in games, like they did nearing the end of the first-half yesterday against Kildare. By the 40th minute, the big guns had all been wheeled off the bench with Pearse O'Neill coming in to help win the midfield battle, Patrick Kelly supply the guile in the half-forward line and Daniel Goulding the accurate finishing close to goal.
A match that looked like it would be a battle descended into a rout as Cork cantered clear in the second-half. Those substitutes made a key impact and it is their presence on the bench that is sharpening the minds of those who command starting places to produce supreme performances. Cork wound up with a 13-point victory yesterday and even though they used their five subs, players like Eoin Cotter, Mark Collins and Barry O'Driscoll were all left frustrated on the bench. Cork's training ground will be a ferocious arena in the coming weeks as players press hard to gain starting berths on August 26th against Donegal.
3. Changing times for Kerry
Their consistency ever since the inception of the All-Ireland quarter-finals in 2001 has been unparalleled but for the second time in three years, Kerry now find themselves having bowed out at the last eight stage. For a group of players that have been well-versed in September showdowns, it is an unfamiliar experience. Despite the recovery they showed in the qualifiers during July, ultimately yesterday proved too great a challenge. They have simply lost too many players from the team that swept to All-Ireland glory in 2009 and that has affected their subsequent challenges.

SEE SPORT
DIFFERENTLY
Get closer to the stories that matter with exclusive analysis, insight and debate in The42 Membership.
Become a Member
Kerry's Paul Galvin forced off the ball yesterday by Donegal. Pic: INPHO/Lorraine O'Sullivan
It would be churlish to write them off, irrespective of their poor underage record over the past decade, because Kerry have consistently showed an ability to remain competitive and reinvent themselves as contenders every season. They could even have sneaked a draw yesterday with a comeback prompted by the brilliant fight of Tomás Ó Sé and Paul Galvin almost bringing them level. But there will be questions now over the future intentions of their players and management.
Will Jack O'Connor be back to complete the last part of his three-year term? The suspicion is that Tomás and Galvin remain totemic figures that the side cannot lose but will the likes of Eoin Brosnan and Aidan O'Mahony opt to recommit come the start of 2013? And who of the young batch of O'Donoghue, Crowley, Maguire, Buckley and Curtin will now step forward to lead this team? Interesting and uncertain times lie ahead.
4. Where to now for Kildare?
Kerry may be entering a phase of uncertainty but at least they have fresh memories of All-Ireland triumphs to recall. In contrast Kildare look further away from realizing that cherished ambition after yesterday's events in Croke Park. At half-time against Cork, they were very much in contention after recovering from a rocky opening to string together five consecutive points and had sowed seeds of doubt in their opponents minds.
Yet they emerged in the second-half and were simply blown away by the power, pace and poise of Cork as they conceded ten points in a row and the match was dead as a contest by the time they registered their first point of the half in the 60th minute when Johnny Doyle raised a white flag. Four years on from their previous All-Ireland quarter-final meeting with Cork, Kildare have clearly regressed given how much the gap has widened.
The sending-off of Eoin Doyle did exaggerate Cork's winning margin to an extent given the extra space it granted to them but the second-half still raised issues about Kildare's ability to be a genuine national contender. Their attack malfunctioned, they were obliterated at midfield and their defence was cut open incessantly. It was a day where Kildare were meant to sound their intentions yet the margin of their defeat will create questions over the future of long-serving players like Johnny Doyle and Dermot Earley, and their manager Kieran McGeeney.
5. Cork and Donegal issues different statements of intent
The August Bank Holiday weekend is the stage of the championship when football gets serious and when teams who have serious designs on winning ultimate honors, announce themselves. Cork and Donegal did that in differing fashions yesterday. Cork crushed Kildare, banishing any anxieties about how their idle summer would have affected their play and a match that was forecast to be tight transpired to be anything but. Donegal toughed it out against Kerry, showing they could bring their game honed in Ulster and execute it in Croke Park. They are now on course to collide on August 26th and both have huge ambitions.