IT'S NOT every day you come across a League of Ireland player who has a degree from Harvard, is a practicing pescatarian and has a penchant for scoring goals from the halfway line.
Taner Dogan, who recently officially signed for Dundalk, has one of the league's more unique backstories.
He was born in Seattle, Washington, and spent time living in San Diego, California, but considers St Louis, Missouri his hometown, having attended high school there.
In the basement back home, Dogan's Turkish-born father introduced him to soccer — one of several sports he participated in growing up — and his love of playing developed from there.
Academic prowess coupled with a talent for the sport helped earn him a soccer scholarship at Harvard University — widely regarded as one of the most prestigious colleges in the world — and he spent four years playing there while undertaking a degree in economics.
"I concentrated on economics, but took a lot of other classes in different fields," he tells The42.
"It was a good experience to go to Harvard, and meet different types of people. If you were just a professional footballer coming through the academy system in England or Ireland, you probably wouldn't have that experience. I was lucky for that."
He continues: "To have that degree in the back pocket is definitely reassuring. I'd recommend players to go over there and play high-level college soccer. You've your education and you're playing full-time. You're still training every day, the facilities are great. So I could get more contact hours over there, and saw the opportunity to go pro back here.
"To play professionally was always my plan A. And as a plan B, I'm glad to have the education behind me as well."
Whereas in Ireland, talented young footballers often choose to join academies in England at a young age, invariably at the expense of getting a comprehensive education, in America, it is more commonplace for gifted young players to prioritise college.
"In the last couple of years, there have been more players turning professional directly," Dogan adds. "I would say with the high-school structures and the MLS clubs, most kids will still go to the proper schools and get the same high-school credentials. [In recent years] there's a trend of top players going to Europe early or signing MLS homegrown contracts, but there are still good players in college soccer, getting that holistic education. It's kind of a funny ecosystem in US soccer right now, but there are options either way." 
The Massachusetts-based university is arguably the most famous educational institution in the world, with countless high-profile alumni, including many Nobel prize recipients, Olympic medallists and Academy Award winners. 
Dogan, however, insists attending Harvard is not as daunting as its lofty reputation might lead people to believe.
"I really enjoyed it. Once you're there, it's a bit more normalised. You make friends and get into your daily routine. It was great. The different people you meet was the most important thing."
Dogan is not the first footballer to have an association with Harvard. Current Leeds striker Patrick Bamford turned down a place at the college to pursue a career as a professional footballer. The Premier League star last month suggested in an interview with The Daily Mail that, early on in his career, he was treated with prejudice because he came from an educated background. Has Dogan ever experienced similar issues?
"I don't think I've encountered a prejudice because I had an education. People might think that if you're playing at a pro club when you're younger, that might carry more weight [in terms of] your footballing ability. But times are changing, people are realising that education is a positive thing and if you're a good enough player, you'll still reach your potential, regardless of whether you have a good education or not.
"As well as Bamford, there's also Jack Harrison, a prominent player for Leeds, he played college soccer in the States, he was at Manchester United and played at Wake Forest and now he's a top Premier League player. It just shows that the quality is there [at collegiate level in the US]."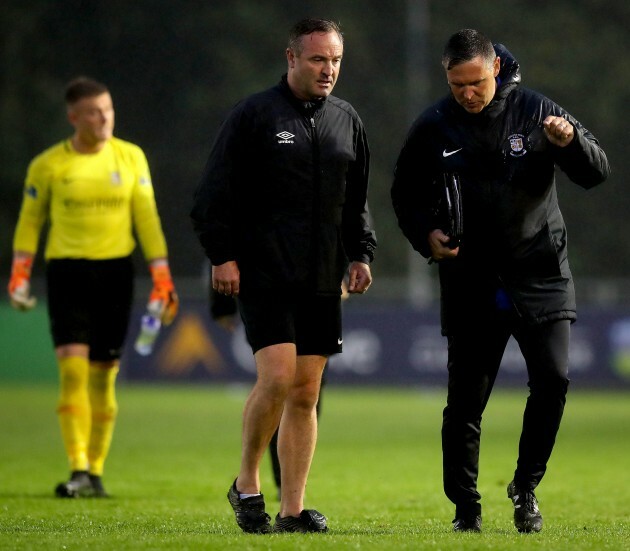 Ryan Byrne / INPHO Dogan is currently on loan with Athlone, who are managed by Adrian Carberry, pictured above. Ryan Byrne / INPHO / INPHO
An Ivy League education is not all that distinguishes Dogan from the average League of Ireland footballer. The 22-year-old is also a pescatarian, meaning he is essentially a vegetarian with seafood as the only source of meat in his diet.
"There isn't much dairy either," he adds. "It was just from experimenting with cooking over the years and from a performance standpoint, so when I was at Dundalk, catering always made a meal [specifically] for me, which was nice of them. Everyone got their own thing, which made their body feel best and helped them perform and that's what I found suited me."
And does Dogan believe this diet gives him an edge on others from a fitness standpoint?
"I had recovery issues, a lot of which started when I was younger, so I think it's helped with that. You'll probably generally be a bit leaner and there's lower saturated fat content with it too that might be better for overall fitness, but everybody has their own thing that makes them tick, and that works for me."
It was former Dundalk chairman Mike Treacy who provided Dogan with an opportunity to play in Ireland, with the young midfielder having spent a summer training at Millwall prior to then.
The pair met at Harvard and the youngster came over on trial with the Lilywhites in January 2020.
Dogan impressed sufficiently, but his subsequent pathway was far from straightforward.
Work permit issues meant he couldn't play for Dundalk in competitive matches, or sign professional terms with the club.
Instead, a one-year student visa meant he was able to spend last season with Athlone as an 'amateur' player, while regularly training with the Lilywhites.
"Last year, I was glad I was able to play a lot of competitive games and put myself in a position for a work permit this year," he says.
"It did take a while for it to get in and I ended up missing the first two weeks of pre-season, which was a bit of a bummer for me, because you want to come in and show what you can do.
"But I'm glad I got the permit and I've signed a professional contract with Dundalk, which was the objective coming here last year." 
Exclusive Six
Nations Analysis
Get Murray Kinsella's exclusive analysis of Ireland's Six Nations campaign this spring
Become a Member
There was the added complication of the first coronavirus-related lockdown occurring shortly after the start of last season, which saw all football in Ireland postponed for a lengthy period.
Dogan spent this period in London, with his English girlfriend who he met at Harvard and who happens to be a professional squash player.
"With the workouts, that lifestyle of eating right and getting to bed early, it's definitely a really productive environment to be in when I'm with her."
Sensational goal from Taner Dogan for @AthloneTownAFC against @DroghedaUnited - Ronan Manning impressing again too

🎥 Drogheda United YouTube Channel

Great that First Division games are being streamed live - 👏👏 pic.twitter.com/yRJYNsYb99

— Cian O'Connell (@oconnc62) October 2, 2020
Dogan caught the eye lining out in the First Division, particularly last October, amid a 2-0 win away to eventual champions Drogheda.
He won the penalty for the first goal, before scoring the second, an incredible David Beckham-esque lob from the halfway line.
"In terms of an individual and team performance, it was definitely a day to remember and you don't score goals like that every single week, so it's one that I'll  remember fondly," he adds.
That surprise victory provided evidence of Athlone's potential, as did an FAI Cup run that saw them get as far as the semi-finals for the first time in 22 years – though the memorable journey was marred by an eventual 11-0 thrashing by Dundalk, which Dogan missed through suspension.   
Having finally officially signed for the Lilywhites last month, Dogan has now returned to Athlone on loan, as he bids to get more game time under his belt.
Adrian Carberry's side finished a disappointing ninth last season, but with a revamped squad, the American star believes the team are good enough to challenge for promotion this time around.
Dogan has also been impressed with the standard of Irish football and likens the First Division to high-level college football in the States.
"I think some of the better college soccer teams are probably close to the First Division. It's a pretty undervalued market, I think, NCAA Division 1 soccer. Quite a few players go to MLS and USL in the United States, and some, like myself, go to play in Europe. The academy stuff in the US is actually at a pretty high level."
And as with the majority of foreign footballers who come to ply their trade in the League of Ireland, Dogan is hopeful he can use the experience as a stepping stone to graduate to bigger and better things ultimately.
"I'm 22 now and the difference [with others] is, at 22, I'm kind of starting my professional career, when there are players that start a bit earlier. Hopefully, I can kick on now, get myself in that Dundalk team in the future and obviously, every player wants to play at the highest level they can. Step by step, I want to develop myself, get to where I want to be and achieve my goals."
Originally published at 06.30; updated at 12.13