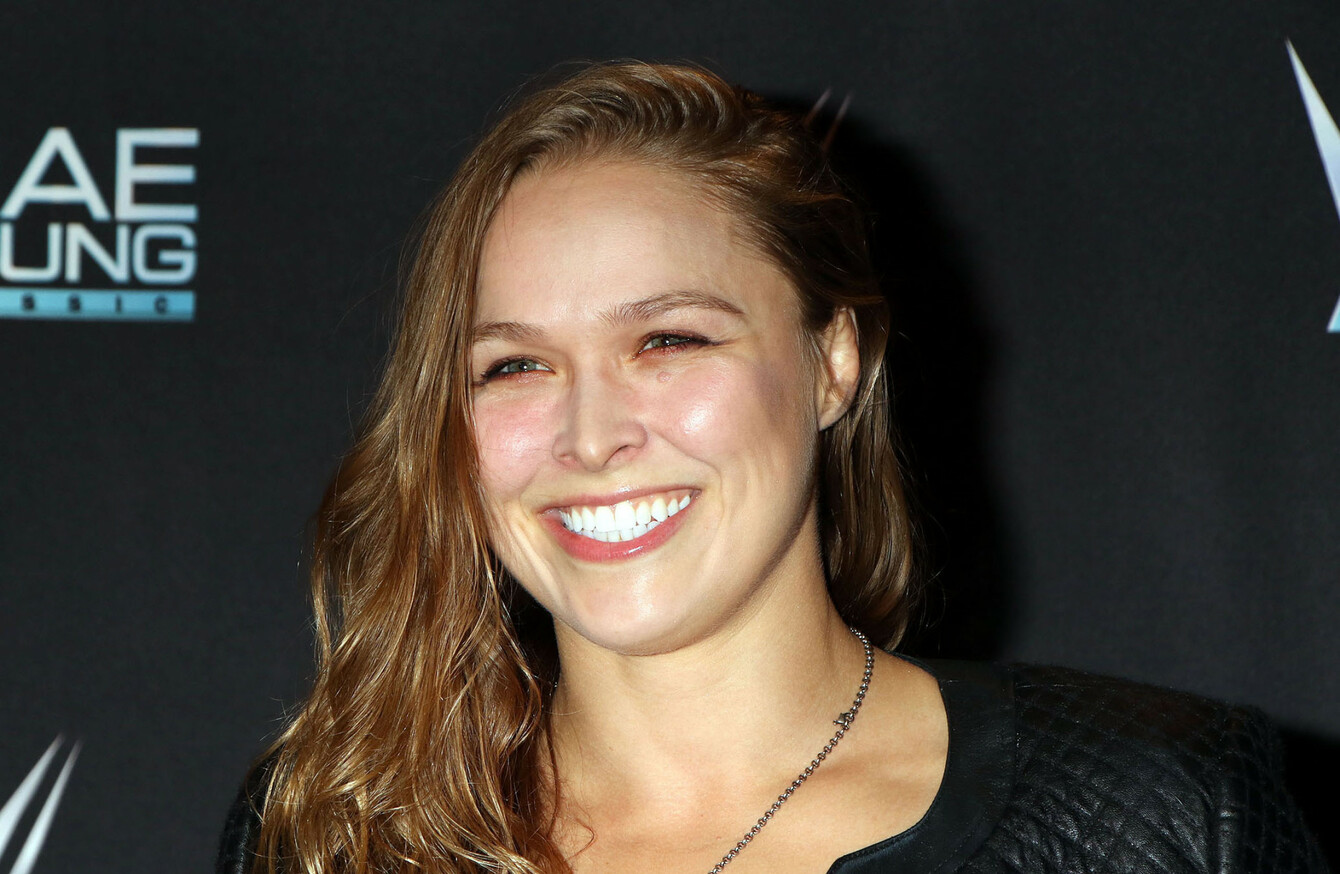 Rousey pictured last week at a WWE event in Las Vegas.
Image: EMPICS Entertainment
Rousey pictured last week at a WWE event in Las Vegas.
Image: EMPICS Entertainment
UFC PRESIDENT DANA White has said that he doesn't expect her to fight again, but Ronda Rousey's coach is more optimistic about the prospect of seeing the former champion in the octagon again.
Rousey, who was the UFC's first female title-holder, hasn't competed since being knocked out after 48 seconds of her clash with reigning bantamweight champion Amanda Nunes last December.
The 30-year-old Californian had relinquished the title 13 months earlier when she suffered the first defeat of her career at the hands of Holly Holm.
Speaking to Ariel Helwani on The MMA Hour, Rousey's coach Edmond Tarverdyan said that while the 2008 Olympic judo bronze medallist has had injury problems recently, her mixed martial arts career may not be over just yet.
"It's going to be her decision if she fights. One more, I don't know. I've spoken to her. I don't know if she'll do it," said Tarverdyan, whose quality of coaching was the subject of criticism from many quarters as Rousey eventually saw her unblemished record tainted.
"One more fight, maybe. If she really can. If her body does give her one more fight and she really wants to mentally, she might. It's 50-50 right now I would say."
If Rousey does return, Tarverdyan has one opponent in mind: current UFC women's featherweight champion Cris 'Cyborg' Justino. Despite plenty of speculation over the years regarding a potential clash between the pair, a fight has yet to materialise.
Rousey's dismal displays against Holly Holm and Amanda Nunes haven't convinced her coach that she's not capable of competing with a fighter of Cyborg's calibre.
"I want that fight," Tarverdyan said. "When I trained Ronda, I know Ronda could beat Cyborg. I know that. Cyborg is too slow."
He added: "We'll live and we'll see. If injuries weren't there and everything was where it was, we would take that fight and I'm telling you she's too slow for us. And Ronda will beat her."