IT'S A COMMON misconception that there have been no professional boxing shows in Dublin since the fatal gangland shooting at a weigh-in at the Regency Hotel in February 2016.
In reality, 22 fully sanctioned pro shows have been staged in the Republic of Ireland in the intervening years, and 17 of those have taken place in the capital city. Two of those Dublin shows were broadcast live on TG4. The most recent of them, untelevised, was headlined by Donegal's middleweight world-title challenger Jason Quigley at the National Stadium just six weeks ago.
Professional boxing in Dublin never died, but it's been on life support for years. Small-hall promoters, most notably Sligo man Leonard Gunning and his Boxing Ireland outfit, kept its heart ticking at great personal expense.
Invariably, these promoters — basically, people with normal jobs who simply wished to breathe life into the sport in the Republic — would realise sooner than later that this was a fool's errand. Love makes fools of us all, though, and there will nearly always be someone in Ireland who loves boxing enough that they'll try their hand at promotion.
Gunning lasted longer than most before bowing out in the interests of his own sanity. His brilliant Celtic Clash series being the exception, it's become a running gag within Irish boxing that virtually every professional boxing show announced by a new promotional outfit in the Republic in recent years has been titled something along the lines of 'The Beginning.' Usually, their second show should be called 'The End.'
There are loads of reasons as to why the Republic of Ireland, and Dublin especially, are so inhospitable for professional boxing. That the Kinahan organised crime group has sunk its mandibles into the sport was prohibitive for a time, obviously. More recently, though, it has simply been the case that it has become exorbitantly expensive to stage a mid-sized sporting event of any kind south of the border.
Insurance premiums have proven the biggest obstacle for boxing. From about 2019 onwards, it was 10 times more expensive to insure a ticketed, indoor event in Dublin as it was in Newry an hour up the road. That was fine for your MCDs and your Aikens, but for a fella with a normal job who just wanted to stage a boxing show, the difference between five grand and five hundred bob could be the preservation of his marriage.
Add to the equation that, for the past decade, virtually every big-name Irish boxer was signed to the Kinahan-founded MTK Global management group. Only comparably unvarnished, local talents remained unsigned and, regardless of the esteem in which they might be held in their respective communities, you're never going to get 1,500 people to pay to watch their guy box six rounds against the only opponent you can afford: a chain-smoking panel-beater from Riga.
All told, if you didn't lose your arse on a show — and take that to mean if you didn't lose more than €3,000 — you'd be within your rights to class it as a success.
And really, it has ever been thus in Ireland: Regency or no Regency, MTK or no MTK.
The Bernard Dunne Days remain the yardstick but were they an aberration? Consider the variables. For starters, they began in 2005; we were all partying.
More pertinently, Dunne first established himself in America, winning his first 14 pro fights before returning to his hometown.
His promoter, Brian Peters, was more seasoned and better connected than any of his successors in recent years. Peters was eventually able to sell Dunne — the unbeaten, cocksure, charismatic Dub — to major sponsors as well as RTÉ.
Terrestrial television has always been the most powerful vehicle in sports promotion: if you can advertise a boxing match after the Six One News, chances are the general public are going to find a reason to care about it. RTÉ, however, have expressed an unwillingness to show live professional boxing since Willie Casey's first-round defeat to Cuban great Guillermo Rigondeaux at City West in November 2011.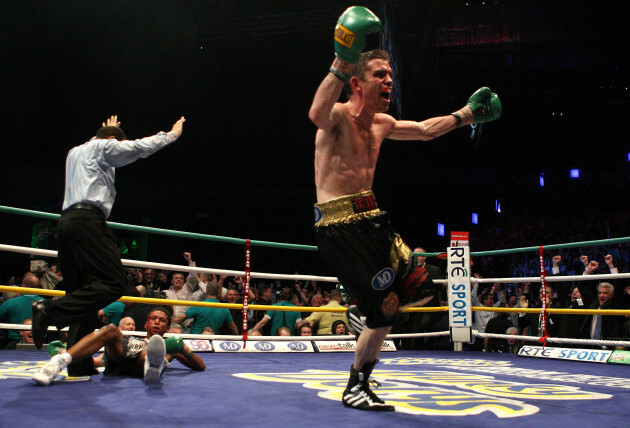 James Crombie / INPHO Bernard Dunne celebrates his victory over Ricardo Cordoba. James Crombie / INPHO / INPHO
Very few of the factors that led to Dunne's transcendent stardom are replicable in 2023. The closest thing we've seen since has been Eric Donovan who, through his brilliant work as a pundit, brought a ready-made profile into the professional ranks in 2016 but fought just twice on free-to-air TV during his 18-fight professional career. The Athy man signed off on TG4 in September with a thrilling EU title victory over Khalil El Hadri. The bout was held in Belfast.
Meanwhile, the last 'major' show to be staged in the Republic by one of the preeminent British promoters was Eddie Hearn and Matchroom's Return of the Mack card, headlined by Matthew Macklin, in 2014. Hearn's stated intention at the time was to build Macklin, Birmingham-born but as Irish as they come, as a star in the motherland.
Macklin, though, was 13 years into his professional career and had already challenged unsuccessfully for the world title three times. He was stopped in the 10th round by Jorge Sebastian Heiland in front of a half-full 3Arena.
Ringside that night was Daniel Kinahan, who has no criminal convictions but has been named in the High Court as the leader of the Kinahan organised crime group.
Kinahan had befriended Macklin and co-founded with him a management company called Macklin's Gym Marbella, or MGM. After a lengthy naming dispute with the MGM Grand hotel and casino in Las Vegas, it would rebrand as MTK (Mack The Knife, Macklin's ring moniker) Global in 2017. Macklin, who has no involvement in crime, began to cut ties that same year, offloading his stake in the company.
MTK said that Daniel Kinahan also ended his involvement with the company in 2017; Kinahan, however, was only beginning his campaign to weave himself into the fabric of the sport.
Before all of that proverbial hit the fan, there were a couple more attempts by big British promoters to pitch their tents in the Republic. Frank Warren booked Thomond Park for Andy Lee's second world title defence against Billy Joe Saunders in 2015 but an absolute hames of a promotion — hindered especially by the fact that the event was being marketed almost exclusively on the BoxNation TV channel which had no meaningful presence in Ireland — saw Limerick man Lee's dream homecoming taken away from him.
A similar fate befell Katie Taylor in the spring of 2018 but for different reasons. Hearn was close to announcing Taylor's second defence of her first world title for the 3Arena but when Matchroom tried to cross the T's and dot the I's, they were informed by Gardaí that the "climate was not conducive" to staging a big boxing event in Dublin while the Kinahan-Hutch gangland feud raged on. It had already spilled into an MTK weigh-in at the Regency two years prior and, while Taylor has never had an affiliation with MTK, Matchroom openly did business with them.
Taylor's homecoming was shelved indefinitely. For five years, she stormed the boxing world while fielding questions about when she was coming home. The answer was always the same: that she would love to, but it was ultimately out of her control. On the few occasions that her manager, Brian Peters, was posed similar questions on the record, he would cite the greater financial allure of America as sufficient cause to keep Ireland on the backburner. In reality, Peters was just doing what every manager should do: ensuring that his client's name didn't share headlines with the Kinahan OCG.
It always struck as though Hearn didn't really understand the complexity of the situation, albeit he's handy at playing dumb when it suits him. Presented with questions about an eventual Taylor bout in Ireland, he would acquiesce and stress that it would be a personal failing on his behalf if it never happened.
That would have been true, too. But 'the climate' has shifted over the last 12 months and this Saturday, an event that was privately considered to be genuinely impossible since 2018, will take place at the 3Arena: Katie Taylor is coming home.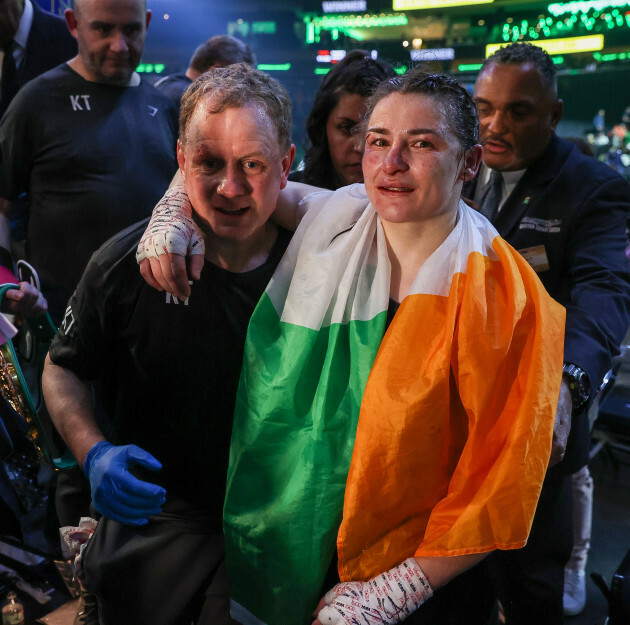 Gary Carr / INPHO Katie Taylor with her manager, Brian Peters. Gary Carr / INPHO / INPHO
It's fitting that it would be Taylor who should spearhead the return of big-time boxing to the Republic. For one thing, she's one of the greatest sportspeople this country has ever produced. There's a case to be made that her victory over fellow boxing great Amanda Serrano at a sold-out Madison Square Garden last April puts Taylor over the top of even Barry McGuigan, Steve Collins and Carl Frampton as the greatest Irish fighter since Jimmy McLarnin.
A few of you in the comments section may not see it the same way — it's only pub talk, anyway — but the vast majority of Taylor's male peers, including at least a couple of the aforementioned, would list her as #1.
The reverence towards Taylor from within Irish boxing is never tokenistic, the way it occasionally can be from male athletes towards their female equivalents in wider sport. Former two-weight world champion Frampton has always epitomised this. He cried robbery on behalf of Delfine Persoon after Taylor's razor-tight decision over the Belgian at MSG in 2019. He'll tell tales of sparring Taylor during their days shared on the Irish team and he'll flat-out tell you that he was able to win those spars by utilising his greater physical strength in the clinch; but he'll also tell you quite seriously that when Taylor could fashion a yard of space between them, he had very few answers for her hand-speed and technical acumen.
And Saturday's undercard is stacked with Irish talents who have shared similar experiences with Taylor at Irish training camps or when they've crossed paths in gyms during the few weeks a year in which she's home in Ireland.
At the press conference announcing Taylor-Cameron in Dublin in March, there was a massive sense of gratitude on behalf of Kildare lightweight contender Gary Cully [16-0, 10KOs] and Dublin heavyweight prospect Thomas Carty [5-0, 4KOs] towards Taylor for also granting them their first opportunities to fight so close to home. Indeed, as he wandered the expanses of the Mansion House, Carty was kicking himself that he didn't explicitly thank Taylor during a casual chat earlier in the afternoon.
Up-and-comers in the shape of Belfast light-middleweight Caoimhín Agyarko [12-0, 7KOs] and Limerick's Paddy Donovan [10-0, 7KOs] have since been added to the show, while Poland's Waterford-based flyweight Kate Radomska [3-1] will also get the rare chance to both perform in front of loved ones and peacock for the wider Irish sporting public.
But it will be an especially meaningful night for Kildare light-middle Denis Hogan [31-4-1, 7KOs]. One of the game's true gentlemen, the 38-year-old Hogan moved to Brisbane more than a decade ago, where he now has a young family and Australian citizenship.
Throughout his brilliant 12-year professional career (which should have yielded a world title in 2019 when he was robbed by a hometown decision in Monterrey, Mexico), Hogan has routinely spoken about his dream of one day fighting back home in Ireland. The reality is that without Katie Taylor, that dream would never have been fulfilled. But on her undercard this Saturday, family and friends from Kilcullen and further afield will watch 'Hurricane' defend a belt in a potentially thrilling fight with Liverpool's James Metcalf.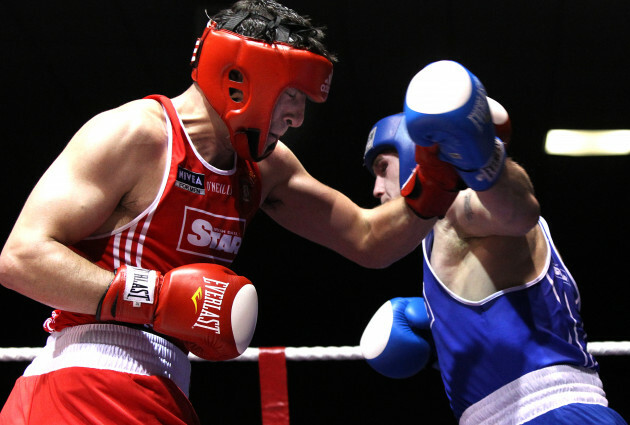 James Crombie / INPHO Denis Hogan (R) trades blows with Kenneth Egan during their 2010 Irish Senior 81kg semi-final. James Crombie / INPHO / INPHO
While none of Saturday's undercard was expressly by her design, it is of personal significance to Taylor that she is the sun in this solar system. She has always been quick with a message of support for other Irish boxers, particularly younger ones, and there will be a quiet satisfaction in the knowledge that she has delivered for a few of them this weekend.
On a conference call last week, Taylor spoke about bringing back those heady Bernard Dunne days. She had a better vantage point for the boom times than most: she fought as an amateur on the undercard of Dunne's greatest victory over Ricardo Cordoba. By that night in 2009, she was already a two-time world champion and three-time European champion. The atmosphere for what was merely an exhibition was electrifying.
It will have ramped up tenfold come 10pm this Saturday, reminiscent of a Dunne fight but, at this stage, worthy of its own mantle: a Katie Taylor night.
But Taylor will in reality need someone else to pick up the mantle if there is to be another heyday for the sport here akin to the mid-to-late 2000s. She's 37 in July. She will probably get the chance to fight in Ireland only once more, if at all.
It will ultimately fall to relative youngsters with big aspirations and commensurate promotional backing — like Gary Cully, Caoimhín Agyarko and Paddy Donovan — to carve out days in their own name.
The door has been kicked down again, at least. Taylor-Cameron feels like it could be the beginning of something. Let's just hope it's not the end.