LAST UPDATE | Mar 1st 2023, 8:59 PM
THE TEMPTATION TO suspect that something might be afoot upon hearing that Katie Taylor's Dublin showdown with Amanda Serrano has been postponed due to an injury to the Puerto Rican is an understandable one.
As a general rule, virtually everything that emanates from a business as unprincipled as professional boxing should be taken with a tablespoon of salt.
Taylor and Serrano had been due a settler for nearly six years by the time their respective roads converged in Madison Square Garden last April. Their rivalry was women's boxing's Mayweather-Pacquiao saga, the notable exception being that it eventually culminated in a spectacle worthy of its billing as a fight for the ages.
A rematch was inevitable. Before the dust had even settled on the MSG ring, Serrano — born in Carolina, Puerto Rico, but a New Yorker since early childhood — verbally agreed to return Taylor's favour by facing the Irish champion on her own turf.
So too did her de facto manager, Jake Paul, who among other things claimed that the woman who had sung Amhrán na bhFiann pre-fight had told him personally that she believed Serrano to have won the fight.
That was 10 months ago and, while Cathy Maguire's scorecard remains under seal, most of it was guff.
Gary Carr / INPHO Serrano and Jake Paul at MSG last April. Gary Carr / INPHO / INPHO
When the adrenaline subsided, Serrano and her team decided that hers and Taylor's road would split once more: rather than rematch the undisputed lightweight champion in Dublin while the iron was hot last autumn, the Puerto Rican Brooklynite instead decided to complete her set of belts — and a career-long dream — down at her preferred division of featherweight.
Serrano understood that becoming an undisputed champ in her own right would dictate that she could demand more money when the time came for her team to negotiate an eventual Taylor rematch, as is her absolute right. She also understood that to push the rematch out by the bones of a year would probably diminish Taylor's chances of beating her. It had almost worked the first time.
Serrano always remained amenable to a Dublin date in the first half of 2023 while she finished business at 126lbs. She had already agreed a deal in principle to face Taylor in Croke Park by the time of her undisputed featherweight title bout with Erika Cruz on 4 February, albeit she would naturally have to beat Cruz first.
During Serrano-Cruz fight week, Eddie Hearn pulled the plug on Croke Park, citing costs. With the promoter busy in New York, Croke Park director Peter McKenna bodied him in the PR battle.
While the Irish sporting public split into factions and raged — either against the deceitful Hearn, against the greedy GAA, or against the ungrateful clowns who had the temerity to rage at the GAA — Serrano and her management team were brought back to the table as late as the Thursday night before her fight to negotiate a restructuring of the rematch contract, minus clauses like a Croke Park sellout bonus. After significant dialogue, Serrano put pen to paper and, provided she was able to see her way past the excellent Cruz, the rematch was on for '[venue TBC], Dublin, Ireland'.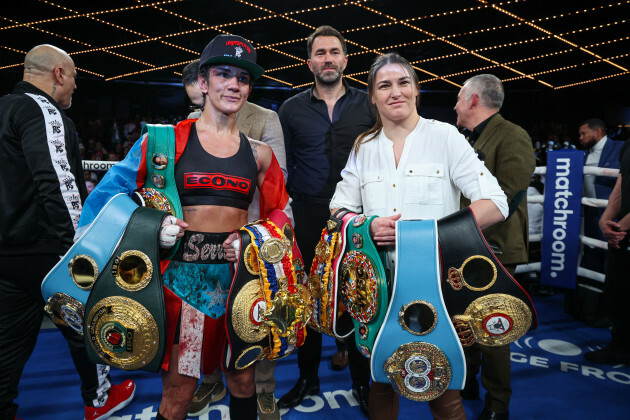 Matchroom Boxing / Ed Mulholland/INPHO Matchroom Boxing / Ed Mulholland/INPHO / Ed Mulholland/INPHO
The aftermath of Serrano's eventual victory was a damned-if-you-do, damned-if-you-don't situation for Hearn and Matchroom: Taylor had travelled to New York from her home in Vernon, Connecticut, to formalise the rematch from centre-ring. The promotional material for the rematch was ready to run and the boxing world was expectant. Even more pertinently, so too was Matchroom's partner broadcaster DAZN. It would have been a letdown had they decided to hold off on the announcement.
Ultimately, though, the announcement itself felt like a bit of a shit-show. With Croke Park having proven a mirage, the lack of a fixed venue — and the overwhelming likelihood of the fight landing at the 3Arena — was anticlimactic in its own right: yes, Katie Taylor was finally coming home, but with asterisks, and probably for an event half the size of her sold-out Madison Square Garden epic a year prior.
And while it's understood that the Bray woman would have been equally excited to fight literally anywhere in Ireland, you couldn't blame Serrano if she felt a bit indifferent to Plan B.
For 10 months, the seven-weight world champion was sold on the idea of fighting at an 80,000-capacity stadium of huge historical significance in her opponent's home country. In so far as it was one of the very few ways she and Taylor could elevate women's boxing beyond what they had already achieved at Madison Square Garden, it was worth crossing the Atlantic for. Suddenly, as the adrenaline subsided once more, she was confronted by the far less inspiring reality of making the same concession purely so that Hearn could tick the box of having Taylor fight at home.
Gary Carr / INPHO Taylor and Serrano, flanked by their trainers Jordan Maldonado and Ross Enamait, in the MSG ring. Gary Carr / INPHO / INPHO
None of which is to suggest that Serrano is feigning the unspecified injury that caused yesterday's postponement of her 20 May rematch with Taylor.
It's understood that the Puerto Rican southpaw's complaint is one of several shorter-term knocks rather than one big one, and this absolutely stands to reason. Only three-and-a-half weeks ago, Erika Cruz threw 968 punches at Serrano, landing 202 — both the highest figures Serrano has faced in the ring. In terms of their physical toll, even the majority of Cruz's 766 'missed' shots shouldn't really be considered misses at all: many of them landed on areas like Serrano's forearms, her shoulders, and around her back, and while those aren't considered scoring shots in a boxing context, it's worth noting that the body will count their resulting bumps and bruises just the same — particularly at 34.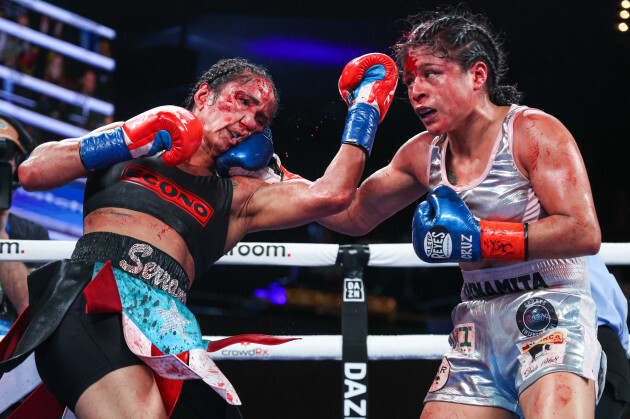 Matchroom Boxing / Ed Mulholland/INPHO Matchroom Boxing / Ed Mulholland/INPHO / Ed Mulholland/INPHO
Matchroom Boxing / Ed Mulholland/INPHO Serrano (L) shipped significant damage against Erika Cruz just over three weeks ago. Matchroom Boxing / Ed Mulholland/INPHO / Ed Mulholland/INPHO
Serrano might well return to full physical fitness — or as close enough to it as a 14-year professional boxer can get — by 20 May, but that's not the date in question here. In order to prepare for a bout with Taylor, she would likely have to start her training camp in the next couple of weeks. Having already exceeded her dreams of achieving relative financial security through boxing, and at a stage in her career in which she's predominantly governed by her ring legacy, it would be totally understandable if Serrano was unwilling to compromise the early stages of her fight prep to facilitate a few niggles and, in doing so, possibly cede further advantage to Taylor, already the home boxer.
Whether she would have taken the hit for an event the size of a fight at Croke Park is another thing. Perhaps Serrano, like the rest of us, now wonders if the postponement might afford all parties the breathing space for Croker to be reexplored.
It's all theoretical but on the Irish side of things, an early-autumn date at GAA HQ would objectively make more sense than the original plan of 20 May: the inter-county GAA season would be finished, the fight would no longer clash with rugby's Champions Cup final at Lansdowne Road and, by extension to the latter, the event would better qualify for the kind of government support that Hearn failed to gain the first time around.
On the flipside, you can't help but wonder at this point if Taylor's homecoming dream will ever be realised at all.
It remains Matchroom's intention for Taylor to fight Serrano in Ireland on a rescheduled date but this latest chapter in the years-long saga between two boxing legends only further illustrates that there is often a distinction between Matchroom's intentions and what they actually wind up doing.
The plans are essentially in flux for the moment. Maybe this is less a speedbump and more a slow puncture.