Bradley Wiggins and Dave Brailsford at a press conference in 2009.
Image: PA Archive/PA Images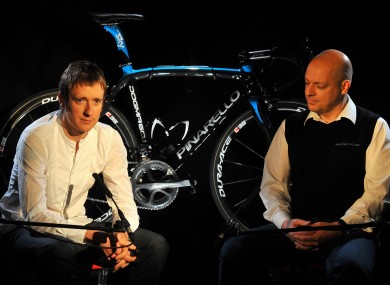 Bradley Wiggins and Dave Brailsford at a press conference in 2009.
Image: PA Archive/PA Images
TEAM SKY HAVE admitted making a number of mistakes around the reception of a medical package for former Tour de France winner Bradley Wiggins but expect to be found not guilty of breaking anti-doping rules.
Last September an allegation emerged which claimed Wiggins was issued with an intra-muscular injection of triamcinolone by Dr Richard Freeman after the final stage of the Criterium du Dauphine in June 2011, just weeks before the Tour de France.
The investigation surrounds the contents of the package received by Dr Freeman. Team Sky say it contained legal decongestant Fluimucil, not corticosteroid triamcinolone, which is used to treat allergies and asthma.
Wiggins later received three therapeutic use exemptions for triamcinolone, which was leaked by hackers Fancy Bears.
The pair deny the intra-muscular injection took place and while Team Sky accept they have made some errors in their record-keeping, which have been criticised by a number of British MPs, they are confident there is no truth in the allegation.
UK Anti-doping (Ukad), the statutory anti-doping body in the United Kingdom, is still conducting an investigation into the contents of the package.
"Team Sky has co-operated fully with Ukad's investigation and looks forward to its conclusion," the Team Sky statement reads.
"A number of current and former Team Sky staff and riders have been interviewed by Ukad, including all riders and senior staff present at the Dauphine in 2011.
"We have also provided extensive documentation and contextual information, both proactively and in response to requests made by Ukad.
"It should be made clear that, as far as we understand, Ukad's extensive investigation has, to date, found no evidence whatsoever to substantiate the allegation that was made.
"We remain confident that the allegation is false and that there has been no wrongdoing by Team Sky or its employees.
"However, as Ukad noted, some of the individuals questioned have been unable to supply all of the documentation and records requested for the short period of time that is relevant to the investigation.
"Clearly, this has caused difficulties for the investigation. It highlights an issue with historic record-keeping where we accept that mistakes were made."
The statement also went on to highlight 14 steps Team Sky have taken in a bid to improve their anti-doping and medical governance processes which include a whistleblowing policy, advanced background checks on riders and an education initiative.
In a letter to MP Damian Collins, the chairman of the Culture, Media & Sport Select Committee, Team Sky principal David Brailsford added that the mistakes were regrettable but he also wanted to highlight inaccuracies, which were subsequently reported, with regards to the way the team operates.
"Self-evidently, the events of recent months have highlighted areas where mistakes were made by Team Sky," Brailsford's letter reads.
"Some members of staff did not comply fully with the policies and procedures that existed at that time.
"Regrettably, those mistakes mean that we have not been able to provide the complete set of records that we should have around the specific race relevant to Ukad's investigation.
"We accept full responsibility for this. However, many of the subsequent assumptions and assertions about the way Team Sky operates have been inaccurate or extended to implications that are simply untrue.
"There is a fundamental difference between process failures and wrongdoing. Our commitment to anti-doping has been a core principle of Team Sky since its inception.
"Our mission is to race and win clean, and we have done so for eight years."
You can see the letter in full here and the Team Sky statement here.
The42 is on Instagram! Tap the button below on your phone to follow us!