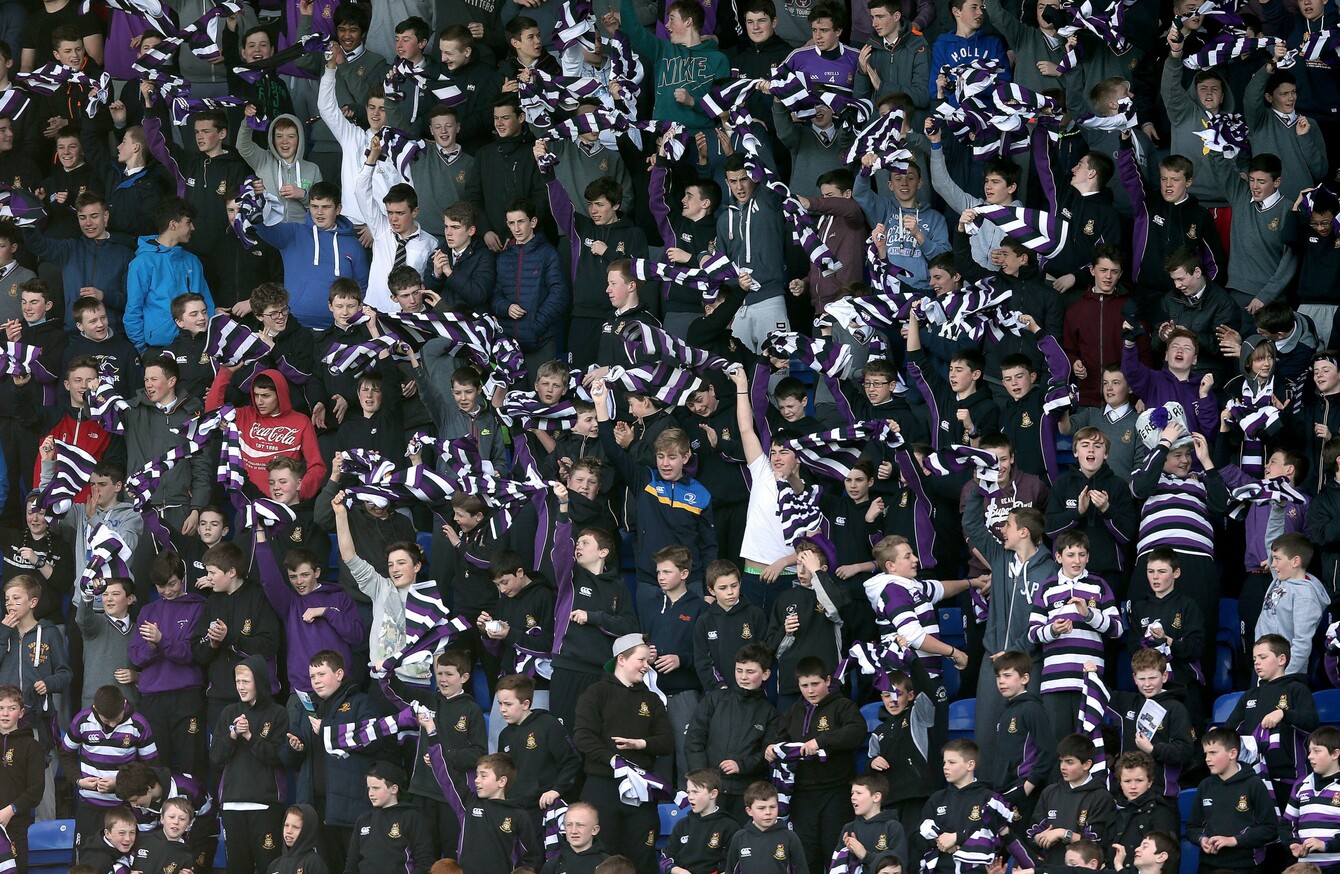 Terenure fans (file pic).
Image: Donall Farmer/INPHO
Terenure fans (file pic).
Image: Donall Farmer/INPHO
Terenure College 12
Kilkenny College 3
TRIES IN EITHER half by wingers Zak Vaughan and Luke Murnaghan proved decisive this afternoon at Castle Avenue, where Terenure College got the better of Kilkenny College in the opening round of the Leinster Schools Senior Cup.
Clear-cut scoring opportunities were few and far between during a game that was played in wet and windy conditions, but thanks to the sharp finishing of Vaughan and Murnaghan, Terenure ultimately booked their place in the last-eight of the competition.
Kilkenny had broken the deadlock on Clontarf RFC's all-weather surface with a penalty from skipper Josh Miller, but their lead proved to be a short-lived one. The industrious Vaughan was picked out inside the Kilkenny '22' in the ninth-minute, and after spotting a gap behind the opposition defence, he raced over the whitewash.
This score was supplemented by a Mark Fabian conversion, and following a wayward place-kick by Miller on the half-hour mark, 'Nure brought a 7-3 lead into the break. Six minutes after the restart, Murnaghan received the ball in a wide position, and squeezed through under intense pressure for an unconverted score.
This setback left Kilkenny in a perilous position, but they were given a much-needed boost at the end of the third-quarter, when 'Nure flanker Jack Cadell was sent to the sin-bin. Yet, superb defensive work kept the Vinnie Murray Cup qualifiers at bay during a scrappy conclusion to the play, as Terenure ensured their progression to the next stage with a disciplined display in the north Dublin venue.
Terenure College Scorers:
Tries: Zak Vaughan, Luke Murnaghan
Conversions: Mark Fabian [1 from 2]
Penalties: Mark Fabian [1 from 1]
Kilkenny College Scorers:
Penalties: Josh Miller [1 from 1]
TERENURE COLLEGE: Sam Dardis; Luke Murnaghan (Ross McInnes '68), Adam La Grue, Dominic Henry-Hayes, Zak Vaughan; Mark Fabian, Mark Eaton (Matthew O'Shea '63); Adam Tuite (Bill O'Hara '54), Harry O'Neill (Jack Boland '68) Joe Kerins; John Quirke (Rory McGrath '56), Adam Melia; Jack Cadell (Alex Deegan '68), Jack O'Hare, Jack Cooke.
KILKENNY COLLEGE: Mark Braithwaite; Tamalori Awonusi, Andrew Ross, Jason Rothwell (Ben O'Sullivan '63), Lukeman Onilenla; Josh Miller, Evan Stephenson (Luke Kerr '63); David Young (Clifford Neale '60), Stephen Gray, Owen Edghill; Sam Smyth (Lloyd Stephens '52), Gavin Parr (Andrew Warner '63); Stuart Dudley, Andrew Florio (Malik Onilenla '52), Reuben Pim.
Referee: Marcus Casey (Leinster Rugby Referees).