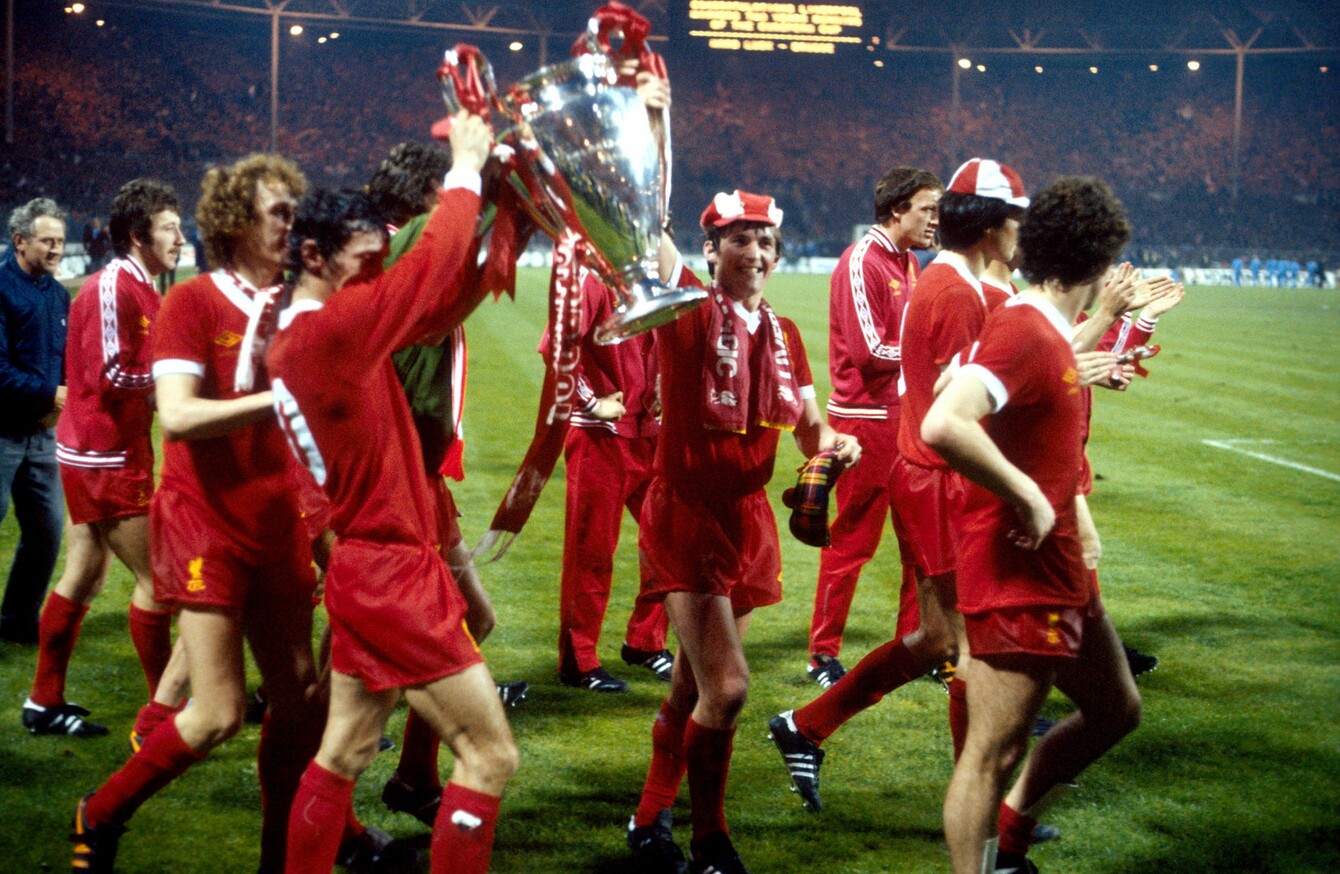 Liverpool's Terry McDermott (third l) and Kenny Dalglish (fourth r) celebrate with the European Cup.
Image: EMPICS Sport
Liverpool's Terry McDermott (third l) and Kenny Dalglish (fourth r) celebrate with the European Cup.
Image: EMPICS Sport
IT'S RARE FOR a footballer to achieve the level of success that Terry McDermott enjoyed over the course of a sterling 18-year career at senior level.
The former England international's CV emphasises how special he was.
He began life in the lower leagues at Bury before helping Newcastle reach the 1974 FA Cup final in a brief spell there, but the Kirkby native's best times undoubtedly came at Liverpool, the club he supported avidly as a boy. During eight years there, he won five league titles, three European Cups, two League Cups, a Uefa Cup and a Super Cup.
Individually, he won PFA Players' Player of the Year, FWA Footballer of the Year, First Division Goal of the Season and he was the joint-top goalscorer in the European Cup during Liverpool's triumphant 1980-81 campaign. In total during his career at the club, McDermott scored 81 goals in 329 appearances — a particularly impressive ratio for a midfielder.
He made an impact elsewhere too. During a two-year stint at Newcastle, McDermott's second spell at the club during the 1980s, he helped them gain promotion to the top flight. That was followed by a very brief stay in the League of Ireland with Cork, in addition to his final two years as a player in the searing heat of Cyprus at APOEL, in which he won both the league and cup as his incredible career drew to a close.
The Liverpool side of McDermott's era will always be remembered as one of the greatest teams football has ever seen. And almost as legendary as the performances on the field from that period were the stories off it. In Terry Mac: Living For The Moment – My Autobiography, the Reds icon shares plenty of amusing anecdotes from that time of unprecedented success for the club.
A natural raconteur with a flair for comedy, it's no surprise to learn that McDermott has been a hit on the after-dinner circuit, having left his last job in coaching at Birmingham in 2014.
Source: Adrian Houghton/YouTube
During the star's heyday, English football in particular was notorious for its booze culture, a climate that was the antithesis to the ultra-professional set-up instilled at all top clubs today. McDermott admits that some of the stuff that himself and teammates got up to "you wouldn't get away with now". Nicknamed 'lege' — short for legend — by his peers, this description was as much prompted by the star's colourful personality as his exemplary footballing talents.
I've done a lot of daft things and sometimes you're not proud of it," he tells The42. "But that's the way I am, that's my makeup."
In the end, McDermott believes his fun-loving, slightly mischievous ways ultimately hastened his Anfield exit in September 1982 at the relatively young footballing age of 30.
When I look back on it now, I'd been to a World Cup (in the summer of 1982) with England, I'd scored 20 goals the year before and they were letting me go. With all my misdemeanours, they probably said 'we've got to get him out'.
"I got a bit of a reputation, not in a nasty way, but just (for being) daft. And we're all the same, we all say and do daft things when we've had a drink. But I was still as fit as any of them at the club.
I knew when I got back that I was not going to be involved, and I wasn't. I was on the bench after I was virtually top scorer the year before. It was unusual when you'd scored 20 odd goals for the club, you think: 'Why are they getting rid of me?' But they did, though they didn't do it nastily. They said the right things.
"I could have stayed at Liverpool and fought for my place and said 'no, I'm not leaving,' and got back in the team — I'm convinced of that. But because (there was an offer from) Newcastle and Kevin Keegan there, I thought 'it's going to take off,' and I was spot on."
Asked to elaborate on why he came to be known as "daft" and somewhat of a troublemaker at Liverpool, he recalls one story that many understandably regarded as no laughing matter at the time. Even in an era where the media scrutiny of players was minuscule in comparison with the present day, McDermott managed to acquire a level infamy thanks largely to one particular incident.
The then-26-year-old star had just won the first of his three European Cups, scoring in the final as Liverpool beat Borussia Mönchengladbach 3-1. Predictably, plenty of alcohol was consumed amid jubilant scenes in the days thereafter.
After the game we were all drinking beer, I certainly was," McDermott recalls. "It was a great occasion. We'd already won the league. We missed out on the FA Cup. Then we've gone to win the big one (the European Cup), and we won it.
"We got up the next day to travel to the airport, got on the plane, drinks were flying. We got on the coach when we went to Liverpool, went round the city. It was absolutely heaving all the way down the streets. How I never fell off I don't know — I was sat on the back of the bus. If anyone had pushed me, I would have gone right onto the deck. We got to St George's Hall, where we were going to greet the fans. They all congregated — there must have been 100,000 people there. There was a balcony where we were meeting the mayor of Liverpool. We all piled onto this platform. I was at the front singing 'You'll Never Walk Alone' and all the songs.
Then I was desperate to go to the toilet. I couldn't go anywhere because I was hemmed in by all the players and dignitaries. I couldn't move. I thought: 'I might as well just have one here…' So I peed over the balcony and there was a nurse underneath. And it went all over the nurse. I didn't know this, I was drunk.
"I got home eventually. I was knackered. I had a game the next day — an England team against a Tommy Smith Liverpool side. It was (Tommy's) testimonial. That afternoon, I got a phone call from a journalist. The reporter was asking me to make a comment on something I'd done.
I said: 'What have I done?' He said: 'We've got photo of you urinating over a nurse, Mr McDermott.' I said: 'Shut up, what are you on about?' They said: 'Yeah, we've got a picture of you on Sunday and we're going to use it. I said: 'I'm not making no comment.'
"In my eyes, I hadn't done it. You'd think you'd remember that, but I didn't. So I said: 'Not me mate, you've got the wrong one.'
So I rang Tommy Smith: 'I said Tommy, they've got this picture and they're going to use it on Sunday. He said: 'Phone him up and tell him to fuck off.' So I did. I said: 'I'm telling you now, it wasn't me, go and fuck off.'
"Then in the paper on the Sunday was a big picture of me peeing over the nurse with a big cross on my you know what. I didn't know I'd done it… But I obviously knew I had done it when I saw the picture in The Sunday People."
McDermott subsequently feared the incident could cost him his career at Liverpool, though surprisingly, no one at the club said a word about it to him. The star also contacted the unfortunate nurse in question, and McDermott's profuse apologies were accepted much to his relief. A less sympathetic individual, he admits, could have called for the player's sacking.
Fortunately for player and club alike, the issue had been put to bed without much fuss and McDermott went on to win two more European Cups and earn countless other accolades under the astute management of Bob Paisley, whose nine-year period as boss coincided almost exactly with the accomplished midfielder's tenure at Anfield.
Indeed, when McDermott arrived at Liverpool, legendary boss Bill Shankly had only recently announced his retirement at the age of 60. Initially at least, the iconic coach was still a regular visitor to the Reds' Melwood training ground even after stepping down as manager.
I didn't really know Bill, but I'd met on him on a few occasions — he'd come to the training ground. He'd just join in with the staff when they used to play games against the young kids.
"I remember going in one day — I'd had a few drinks the night before. I came in, my mouth was like a budgie cage: dry. There were no bottles of water on the side of the pitch like you have now. So I've gone into the changing room. I had my head under the tap. Bill Shankly walked in and said (in a strong Scottish accent): 'Jesus Christ, that's not pure (water). You don't see lions drinking that. Don't ever drink that again, son.' That always sticks in my mind, but I didn't have anything to do with him really."
McDermott and others recognised the problem with Shankly's continuing presence at the club.
Players were coming round (to Shankly) saying 'alright boss'. Bill wasn't the boss. Bob Paisley was the boss."
With Paisley's leadership seemingly being undermined to a degree, Liverpool harshly felt it necessary to put a halt to Shankly's visits, prompting him to start turning up at the training ground of bitter rivals Everton instead.
I have been received more warmly by Everton than I have been by Liverpool," the acclaimed manager would famously later quip in his autobiography.
The more laidback and introverted Paisley, however, was almost the polar opposite to his gregarious predecessor. McDermott succinctly highlights the contrast between the two.
"Bill used to wear steel toe caps so people knew he was coming," he says. "Bob would wear slippers."
Paisley's biggest strength, the former star adds, was and arguably still is the most important attribute needed to be a successful manager — the ability to recruit top players.
He was lucky with the players he already had when he took over. But what he was brilliant at was identifying the players to bring in, because not everyone can do that. I certainly couldn't do it for two years.
"A lad called Frank McGarvey was a good player, but he wasn't a Liverpool player. He was the only one where Bob made a little bit of a mistake.
The rest of them were all quality signings — Ronnie Whelan, Ian Rush, Phil Neal, Alan Kennedy, me, Jimmy Case, Alan Hansen, Graeme Souness, Kenny Dalglish… There were loads of people involved apart from him.
"There was a fellow called Geoff Twentyman, he was the chief scout, he used to go everywhere. Tom Saunders (the Youth Development Officer) would also travel and watch players and teams abroad. They played their part behind the scenes, but Bob obviously sanctioned these moves.
And he didn't do badly, did he?"
After retiring following his Cyprus stint in 1987, McDermott ultimately returned to the game to become assistant boss at Newcastle in 1992.
With Kevin Keegan as manager, the club swiftly gained promotion to the Premier League and by the 1995-96 season, they had built up a team that looked good enough to win the title, as they found themselves 12 points ahead of second-place Man United by Christmas.
Ultimately, however, an Eric Cantona-inspired Red Devils side came back strongly, pipping the Magpies to first place by four points.
Despite their woe, however, that Newcastle team is still remembered with a degree of reverence. Spearheaded by the phenomenal talents of players such as Philippe Albert, Peter Beardsley, David Ginola, Faustino Asprilla and Les Ferdinand, the Magpies were known as the 'Great Entertainers' and lost an especially thrilling fixture later dubbed the match of the decade, a 4-3 defeat away to Liverpool that would prove pivotal in the title race.
Though a weak defence is often perceived to be that Newcastle side's fatal flaw, their record at the back was actually quite respectable in comparison to their rivals, as they conceded just 37 goals in 38 games. McDermott ultimately feels their collapse was mainly down to "a little bit of bad luck and our star players losing form and confidence" amid the crucial end-of-season run-in.
David Ginola, the former Magpies assistant says, was for six months "the best player I'd seen for a number of years," though he "struggled a bit" in the latter end of the campaign.
McDermott continues: "When we were playing Blackburn, we were 1-0 up, David Batty scored, it could have been two or three. We hit the post. Then they scored through a lad called (Graham) Fenton, who was actually a Geordie. He scored two goals for Blackburn in the dying minutes, which was beyond belief.
You've got to give Man United credit for winning 13 out of their last 15 games and drawing one. They went on a fabulous run
"I know I'm a little bit biased, but I thought we were the better team that year. I thought we deserved to win it.
People were saying it was because we brought in (new signings) David Batty and Tino Asprilla (midway through the season), but far from it. Those two were our best players over the last four or five games. It was just that the lads that were scoring goals stopped scoring goals and we had a little bit of bad luck along the way.
"Against Nottingham Forest, we were winning 1-0 when Ian Woan hit one from 35 yards that normally wouldn't go in but found the roof of the net.
"But the football we played that year was the best football I'd seen for a number of years. We were absolutely fantastic — it's just a shame we didn't do it for the fans."
Source: mdsevers/YouTube
McDermott remained at Newcastle when Keegan resigned after the latter fell out with the board, staying on for Kenny Dalglish's short-lived time in charge, but stepping aside once Ruud Gullit took over, as the Dutchman sought to bring in his own staff.
He would return to Newcastle again along with the much-loved Keegan in 2005, remaining there for another three largely frustrating years, followed by roles as assistant to Lee Clark at Huddersfield (2008-2012) and Birmingham (2012-2014).
Significantly, there was a common theme with McDermott's last three jobs — the club owners' lack of patience.
You never fall out of love with football," he says. "You always want to be involved — it's a great place to be, doing things that you enjoy.
"But there are owners who just want instant success. I always remember Lee Clark at Huddersfield — we'd gone a record 43 games unbeaten. Then we were beaten at Charlton and we were under pressure all of a sudden. We were fourth in the league when they sacked Lee. I'd love them to say 'this is the reason why we got rid of him'. I don't know to this day (why they did).
You've got to get the job done in the first year, otherwise they'll replace you. It's happened so many times recently.
"I don't think it puts managers off because of the salaries that they get, certainly in the Premier League. You wouldn't mind doing that for three or four years, because you wouldn't have to work again."
Meanwhile, McDermott may no longer be active as a player or coach, but his work at Anfield keeps him fulfilled and his passion for football remains undimmed.
"I got to play for my boyhood heroes and I get to watch them every week now," he adds.
A book on his life and career in football, McDermott readily admits, is something he "never wanted to do". Yet after an arduous nine-month process spent putting it together with ghostwriter John Richardson — a journalist he has been friends with since 1982 — the Liverpool legend is delighted with the finished product.
Over the last two years, my wife and kids were saying: 'Well everyone else has a book, why can't you (have one)?' (My kids) weren't even born when I was playing. So I thought it would be nice for them to read what went on in football (back then)."
Along with the countless entertaining anecdotes, there are moments of poignancy within Living for the Moment too.
There was some sadness along with the good times," he explains. "When I read the book — those things about my mother, my dad and my brother, that brought it home to me. I had a hard upbringing as well.
"It was not just that they died, but when they died. My mother died at 55 when I was winning the European Cup for Liverpool (in 1977).
I had a brother (Charles) who died early. He was an invalid really — couldn't walk, couldn't talk. His sister was a twin and was perfectly normal. He was the unlucky one. They were the sad things, but there were a lot more great times as well."
'Terry Mac: Living For The Moment – My Autobiography' is published by Trinity Mirror Sport Media. More info here.
The42 is on Instagram! Tap the button below on your phone to follow us!