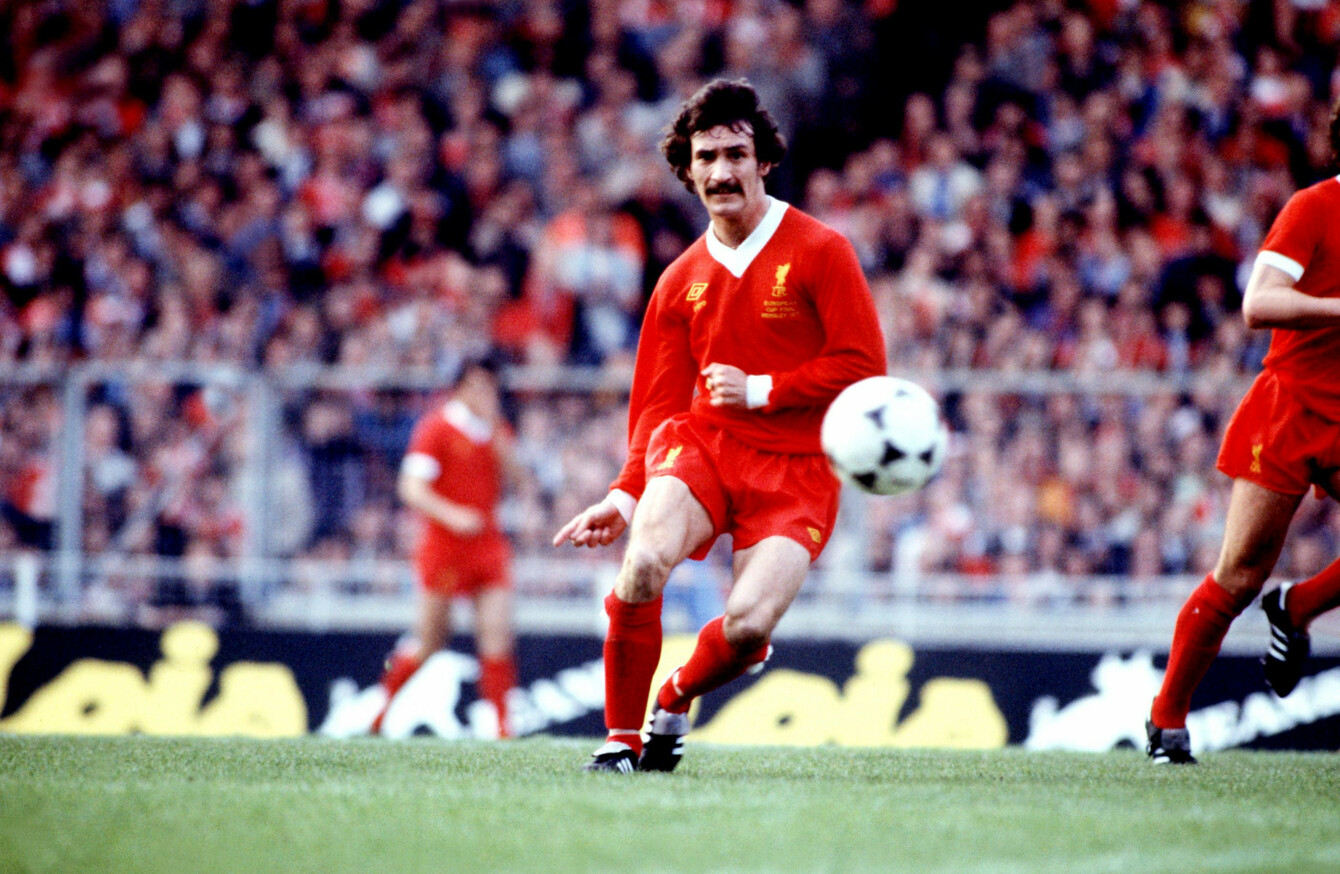 Terry McDermott pictured playing for Liverpool in 1978.
Image: EMPICS Sport
Terry McDermott pictured playing for Liverpool in 1978.
Image: EMPICS Sport
THE FOLLOWING PASSAGE is an extract from Terry Mac: Living For The Moment – My Autobiography.

I was due to get married after the season and because I'd taken a pay cut to come to Newcastle and we were now in the First Division, I thought it was fair the club reviewed my deal. (The manager) Arthur (Cox) was also in talks over a new contract.
I went into the office to talk about mine and Arthur was in there with the chairman Stan Seymour and the secretary Russell Cushing.
Arthur was behind Seymour and was secretly gesturing to me to knock it back. He's waving his arm and shaking his head so I got the message and told them I would like to delay any decision. To be honest, I didn't know what the hell was happening.
When we got out of the office, Arthur revealed that he had been having trouble with his contract. There was a chance that he might not be staying – and didn't want me to commit until the future was clearer.
A few days later, I'm at Ascot Races with Alan Hansen and Alan Kennedy when the news came out that Arthur had left Newcastle United.
"What's going to happen to me now? Who's going to come in as Arthur's replacement?" I blurted out to Jocky.
"Aye, you might be retiring and joining Kevin in Spain," Jocky quipped.
Before I knew it, they had appointed Jack Charlton. I got a call from Joe Harvey who told me Jack wanted to speak to me. I was down at Ascot and due to get married in Liverpool just a few days later. He was persistent, saying I needed to come up to see Jack to get things sorted.
So I drove up from Ascot and was shown into the manager's office by Joe who then left me, saying Jack would be in shortly. I'm still sitting in there 10 minutes later and there's no sign of Jack and I've driven non-stop from Ascot Races for this.
Finally, he came in. I'd never met him before. He shoved the new contract in front of me to read. I quickly discovered it was the same money. He told me it was good money. I disagreed. He asked me what was I going to do? I replied that I was going, I was finished with Newcastle.
"You'll be back," he shouted. "You fucking watch," I retorted. I never spoke to him again.
He then tried to stitch me up in the local paper saying I was being greedy. I also had my say in the press and it became a war of words.
By the time pre-season training came around, I didn't have a contract but they still held my registration so I couldn't sign for anyone else.
I needed to keep fit so I decided to run around the local golf course. The club had to keep paying my wages because the moment they stopped I would be liable for a free transfer. I was desperate to play. Now I was running along the roads, around the golf course, everywhere to keep up my stamina. I got a couple of calls, one came from Carlisle, but I didn't fancy that after Liverpool and Newcastle to be honest. Then they stopped paying me my wages.
Source: Ryan McDarby/YouTube
In one respect that was good because I was now legally free to go anywhere I wanted. The problem was most clubs now had sorted out their squads for the season which was well underway. Not exactly perfect timing and maybe not the way I really wanted to call time on my Newcastle career the second time around. I was 33 and also needed to earn some money.
On a personal level, I also received some bad news around this time when I was told that my brother Charles (who had been born with blue baby syndrome) had died. In some ways, it was a relief because he never had a life. I have to confess that a part of me was glad to see him pass away. It just felt that there was nothing for him to live for.
My brother Peter was told first about Charles' death because my dad was staying with me in Newcastle. By then, of course, my mum had sadly passed away. Communication wasn't great in those days. Pete was told that Charles had died during the night. Pete waited for Dad to return to Kirkby and then he told me on the phone.
It had been horrible for Charles and for everyone who had seen him suffer over the years. Sadly, in life, tragedies like this happen. I think at times I was badly affected by his plight. But it wasn't something I discussed with my team-mates or anyone in football. It was something I largely kept to myself.
Eventually I got a telephone call from Cork City who said they would look after me and help me get fit. They would pay me a decent amount and playing in the League of Ireland would place me in the shop window, plus I didn't even have to move to Ireland.
It was great, really enjoyable. They picked me up from the airport on the Friday and would take me around the city, stopping off at all different bars. I was with the manager and the chairman and they insisted I should have a drink, even though I would be playing the next day.
By 6pm I was pissed. The next afternoon I'm playing and after the game they would take me to the airport to return home until I was due back in Ireland for the next game. I would leave with a big brown envelope.
After around six weeks doing this, Tommy Cassidy, a former Newcastle team-mate from the Seventies, rang me. He was manager of a big Cypriot team Apoel Nicosia. He asked me if I fancied playing for him. We'd just had our first child, Neale.
"Terry you'll love it out here. It will be a great life on and off the pitch," he said in that unmistakable Irish brogue.
"There's no harm in me coming over for a chat I suppose," I replied. I talked it over with Carole and she was up for it. There was no harm in giving it a go. Tommy again insisted I wouldn't have a problem with the football but, to my horror, I struggled for the first few months. It was a lot hotter than Newcastle for a start, not that that really bothered me. I was also trying to make my normal runs off the ball — ones that had been my trademark at Liverpool — but the ball never used to end up coming anywhere near me. It wasn't a lack of effort, but it just wasn't happening.
What are they
really like?
Rare insights on sport's biggest names from the writers who know them best. Listen to Behind the Lines podcast.
Become a Member
During the 1985/86 campaign Tommy pulled me in and asked what was wrong with me. "I'll turn this around," I told him. "Promise."
A week later, I scored two against our local rivals and everything took off from then. We ended up winning the league for the first time in six years. The local rivals, Omonia Nicosia, had won it every other season so we were now heroes.
The Cypriots were fanatical. You had to win games. If we lost, some of the fans would follow Tommy home in their cars and give him real grief. If you won, they couldn't do enough for you.
When Carole and I wheeled Neale down this main street in his pram we would be showered with gifts from the baby shops. There would be new shoes, new outfits, the lot. But it would only happen if the team had won.
I was there for two seasons. Towards the end of it, Carole went back to England to have our daughter Rachel because I knew I wasn't going to renew my contract. We got to the Cup final in the second season against Apollon Limassol, but lost 2-0 when we were expected to win. I found out later that four of our players had allegedly taken bribes, three of them were brothers. That cost me a Cup winner's medal.
Another incident over there almost cost me my life. After having a few too many drinks in Nicosia one night, I got in the car and in trying to get home I ended up in the pitch black going up this dirt track after first crashing through a barrier.
Suddenly out of nowhere this figure appeared with a great big rifle. He was a military policeman guarding the border between the Cypriot side and the Turkish sector, which you weren't allowed to enter. He told me in no uncertain terms to turn back and that I had been lucky not to have been shot.
Many over the years hadn't been so lucky. Normally it was shoot first and ask questions second because of the growing tension between the two countries.
On that night I could easily have been mistaken for a terrorist instead of someone who had been intent on having a good time.
Terry Mac: Living For The Moment – My Autobiography is published by Trinity Mirror Sport Media. More info here.
The42 has just published its first book, Behind The Lines, a collection of some of the year's best sports stories. Pick up your copy in Eason's, or order it here today (€10):