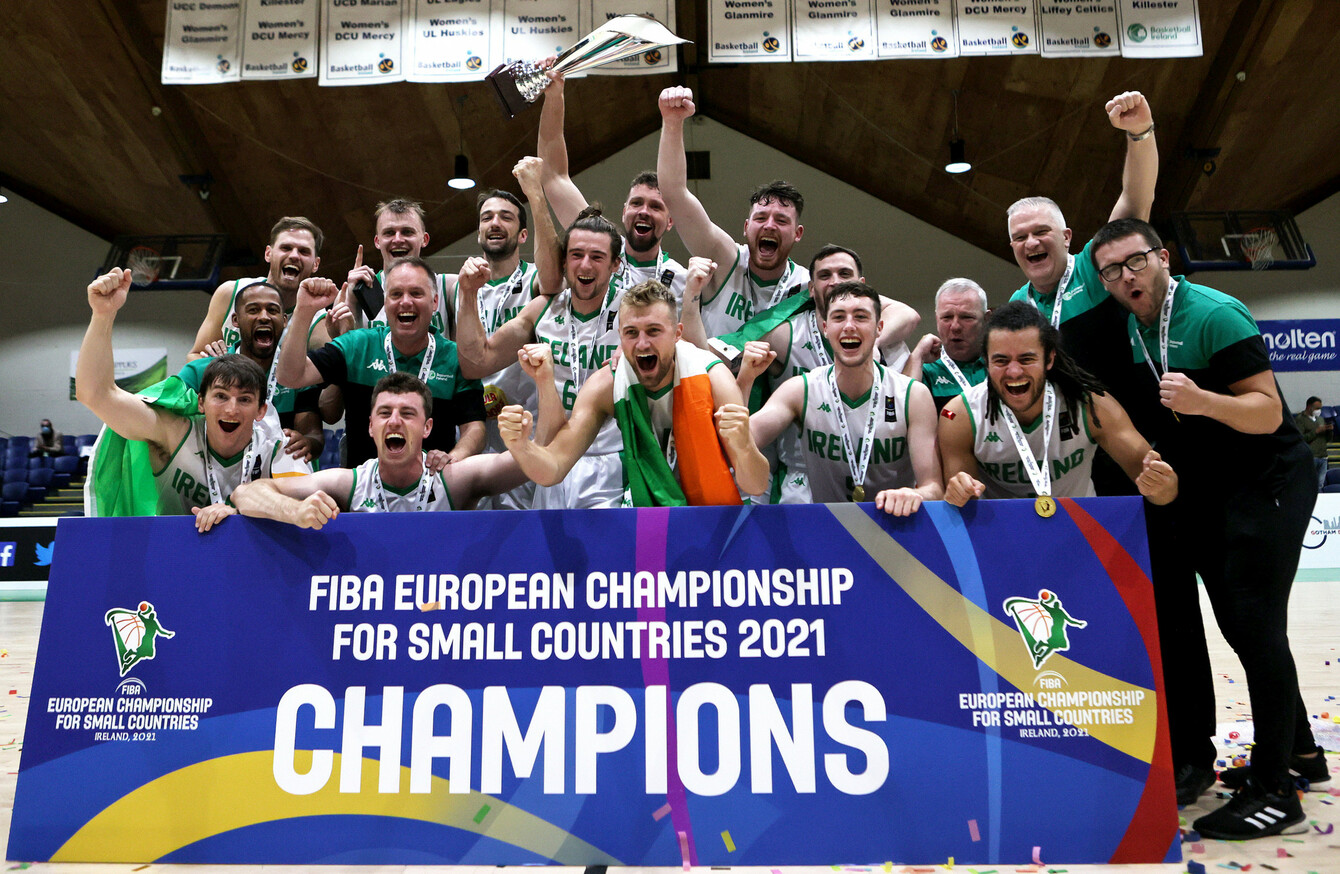 Ireland claimed the European Championship for Small Countries title in August.
Image: Laszlo Geczo/INPHO
Ireland claimed the European Championship for Small Countries title in August.
Image: Laszlo Geczo/INPHO
TG4 WILL BE broadcasting live coverage of the upcoming men's FIBA EuroBasket 2025 pre-qualifier Round 1 clash with Austria from 4.50pm on Sunday afternoon. 
Ahead of the game, The42′s Sinead Farrell chats to TG4 Cispheil Beo analyst Emmet Ryan… 
The Irish men's basketball team began their FIBA EuroBasket campaign this week with a 81-73 win over Cyprus, and are preparing for the second of two crunch pre-qualifiers.
Following Thursday's trip to Nicosia for their Group A opener, Ireland have returned home to host Austria at the National Basketball Arena tomorrow evening. Switzerland is the other nation competing in this group and they will face Ireland next February.
Only the group winners will be guaranteed qualification to the next phase, while there is also a best runner-up spot up for grabs in the three qualifying groups.
TG4 will be covering Ireland's home tie against Austria live on Sunday, with the coverage beginning at 4.50pm.
Source: Journal Media Studio/YouTube
Mark Keenan's side have gone into these fixtures on the back of capturing the European Championship for Small Countries in August. That victory will certainly breed confidence within the Irish squad but TG4 analyst, and ballineurope.com editor, Emmet Ryan, says this will be a challenging week for Ireland.
"Travelling to Cyprus for the first game is going to be tough but all their players are domestic league-based players," he told The42 earlier this week. "They've got no one really playing at a higher level in Europe.
We have guys playing in Iceland, Cyprus, Spain and Ukraine and obviously Ireland as well.
"We have a broad element of experience but there's also a few bodies missing from the Small Countries tournament that Ireland won in the summer. Jason Killeen has retired, CJ Bolton is not available because he's in college in the US and they don't get released.
"So it's very hard to say how things are going to go. My one fear is that for a lot of these lads, it's their first step up to this level of international even though it is smaller than the one the women took. 
"Austria on Sunday is a much tougher one to read, again because they have a lot of domestic-based players again and they'd all be professional. They have a few guys that are subs in Germany so I'm a little torn as to what sort of challenge exactly they're going to present."
Speaking more generally about the health of basketball in this country, Ryan believes that although it may be a while before Ireland can expect to see real progress at international level, he is nevertheless excited to watch the talent that is coming through the ranks.
"It's great to see them back playing," he adds. "It is a journey, there's no getting around that. It's going to take a couple of campaigns to make any real hay or any real noise but there are players coming through. It's very hard to see what's going to happen this week.
"Being on national television helps to get people noticing. Getting the women's game out two Sundays ago was huge because a friend of mine tweeted me saying their nine-year-old boy saw me on TV doing the coverage and you're like, 'Oh that's brilliant.' That's a nine-year-old seeing Ireland and recognising that this is a thing you should care about."
Watch TG4′s live coverage of Ireland v Austria from 4.50pm on Sunday. It is available on TG4 or on TG4 Player in Ireland (and on catch-up for 35 days after the broadcast).