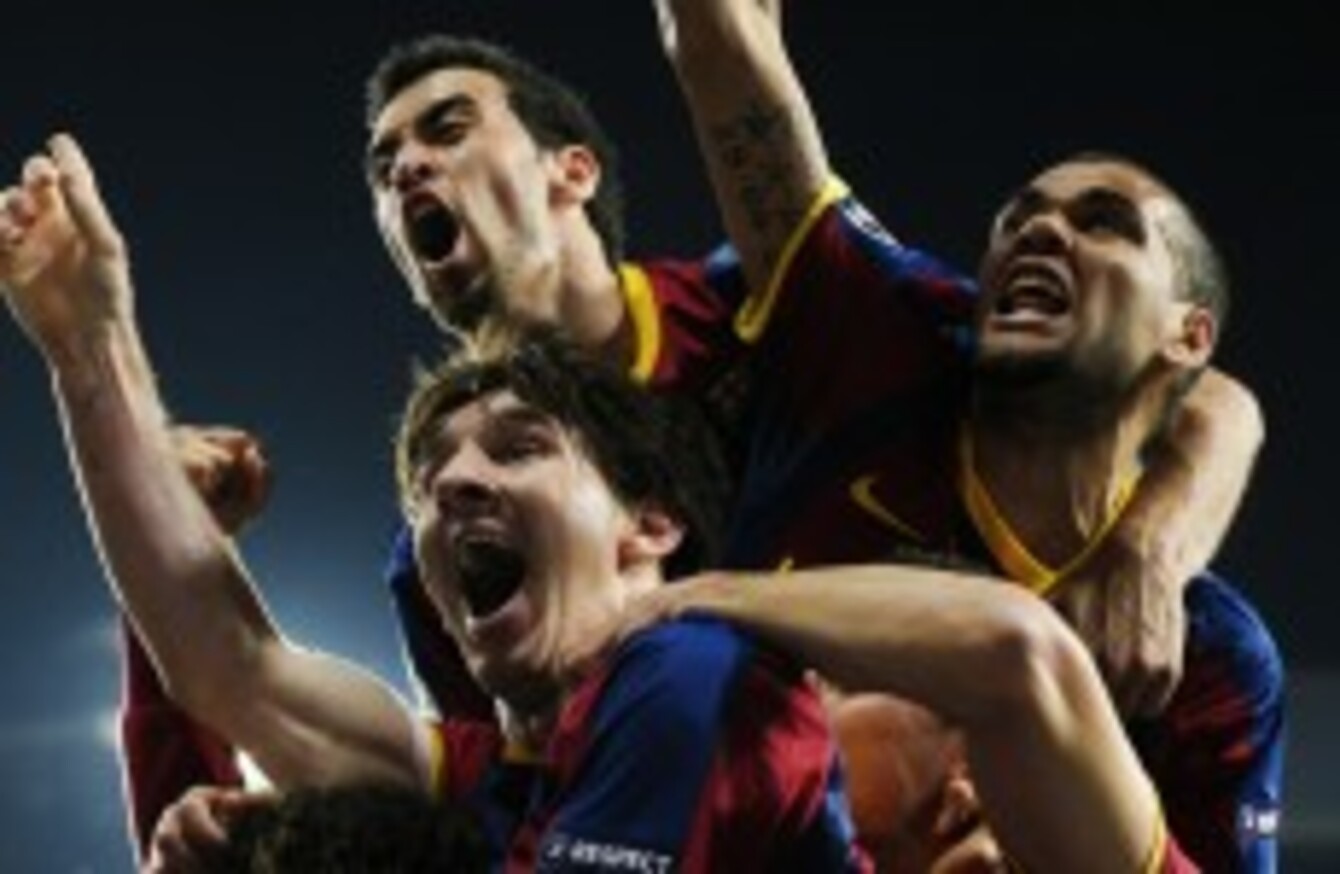 Leo Messi celebrates his first goal against Madrid with Pedro and Danny Alves.
Image: AP Photo/Manu Fernandez
Leo Messi celebrates his first goal against Madrid with Pedro and Danny Alves.
Image: AP Photo/Manu Fernandez
IT HAD BEEN hyped up as such all week, and as much as it's possible, it really did work out as Jose Mourinho vs Barcelona.
A coach who would do ANYTHING to win against a side with their own philosophy on how to go about playing football.
In the end, though Mourinho tried his damnedest to bridge that gap in ability between the two teams, the conditions he had whipped up probably worked against him and though he got the type of match he wanted – scrappy, bitty and lacking any rhythm – his side also got the red card that was always likely, an occurrence which changed the game really.
The first half unfolded as expected in many ways – Barca's monopoly of possession, something which pretty much every opposing side has now come to terms with as a matter of fact, and possibly ought not be used anymore as a valid form of analysis for Barcelona games (for the passing stats, Real had 157 passes in the end, Barcelona 688) – though not so expected in others.
Last year Mourinho's Inter had forced a high tempo at the San Siro, pressed Barcelona high up the field and hounded them relentlessly into discomfort. This also seemed to be the template for Real in the  Copa Del Rey triumph last week.
Case for the defence
Yet here, Real fell back into their own half as a default, more interested in denying Barcelona space to receive the ball in threatening positions than forcing turnovers and winning the ball high up the field. Xabi Alonso sat in front of the defence, more filling space than as a playmaker. Pepe and Diarra were given the dogs of war roles, yet seemed to lack the necessary energy to really put pressure on Barcelona's midfield, though Pepe did neutralize the influence of Xavi to a large extent, which probably meant he had done his job.
Time and again, Sergio Busquets in particular was free to take ball off Pique and Mascherano, turn and get bouts of Barcelona possession going.
To an extent, Mourinho's plan worked and though Barca passed the ball at will, they rarely got into dangerous positions on the ball and only worked a couple of half openings for Villa and Xavi.
Barcelona, and this is a failing of theirs at times, were tending to get their forward players isolated in possession, with Messi, Pedro and Villa often running with ball at the Madrid defence but with little support options or numbers in the box.
Dani Alves was unusually conservative and Puyol lacks the instinct to attack from full-back. It was, in essence, a stalemate for long spells, especially when Barca reacted to some provocations with playacting of their own.
Breaks in play
Of course, all disruptions, distractions and stoppages were exactly what Mourinho wanted. The idea that he'd send his side out to try and take Barcelona on in a passing contest – especially given the 5-0 thumping in November – was misguided at best.
The idea that Mourinho was going to allow – apart altogether from the fact this was a Classico, the third in 10 days between two clubs who openly hate what the other stands for – an open, entertaining, pure footballing sort of 90  minutes was naïve at best. It was also probably the correct, or certainly an understandable, concept which Mourinho devised: basically hope to frustrate and stop Barcelona playing so much that eventually Real could take advantage of any lapses in concentration.
Real weren't out to beat Barcelona at football; they were out to beat Barcelona the only way they were likely to.
But it's a risky game, where Real needed to be constantly disciplined. When Mourinho helped to create a poisonous atmosphere where every tackle and coming together of players seemed likely to erupt, it's always possible for a slightly overaggressive or mistimed tackle to be punished more severely than perhaps necessary (which is what happened when Pepe was sent off).
The red card happened to come at the time in the game where Real had actually gotten some territorial advantage. Adebayor coming in at half-time had pushed Real 20 yards further up the field and Barcelona hadn't had the time and space in deep areas they had enjoyed in the first half. As Andy Townsend pointed out on ITV, it wasn't like Madrid looked like scoring or anything, but suddenly it looked like they had some sort of hold on the game.
What are they
really like?
Rare insights on sport's biggest names from the writers who know them best. Listen to Behind the Lines podcast.
Become a Member
White flag
But if the red card made the job even more extremely difficult for Real – though Inter held out with ten men for longer at Camp Nou last season – it was the lack of any sort of reaction to it that was odd.
Alonso and Diarra were left to do the job of looking after three men in midfield while also closing down space for Messi to drift into, which proved impossible in the end. Xavi took advantage of extra room to recycle possession out to Afellay to create the first goal; Messi stole into that danger line between the midfield and back four to finish things gloriously.
Still, as well as the lack of reaction to the sending off, other questions remain of Mourinho's tactical plan. Was there a coherent strategy, in the first half especially, as regards whether they were meant to press as a team or sit deep? Why play Ozil for just 45 minutes if this was meant to be the most defensive timeframe of their gameplan as Mourinho himself suggested afterwards? Why the lack of any sort of plan to get Ozil and Ronaldo especially on the ball in danger areas (especially when Pepe and Diarra simply can't offer any creativity)?
In the end though, the quality of Messi shone through. Mourinho had constructed a plan to stop Barcelona playing rather than play themselves. It might have been the right general idea, but it didn't work this time.
Barcelona chiefs to consider action against Mourinho | As it happened: Real v Barca