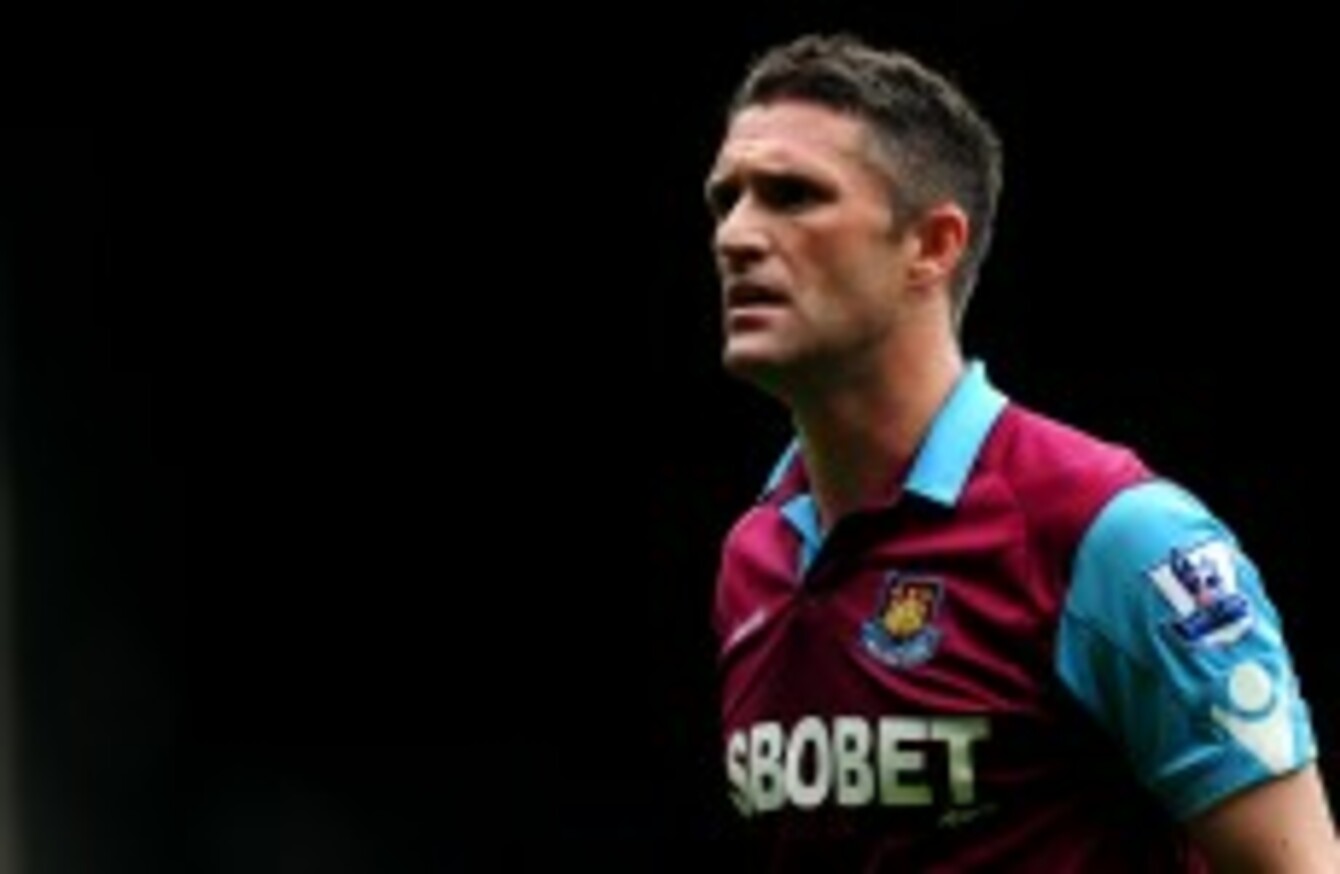 Image: Adam Davy/EMPICS Sport
Image: Adam Davy/EMPICS Sport
ON THE FIRST weekend of the Premier League season, 10 Irish internationals started for their clubs, with two sub appearances.
Last weekend, on the penultimate round of the season, we had 11 Irish internationals turning out, with three subs coming into games.
That might make it seem a case of as-you-were, but truth is, there's been plenty of ups and down for all the Irish players across the water.
The strange case of Robbie Keane is even more muddled and as much as his supporters express bemusement and ridicule any hint of criticism, well, you can't ignore the sort of season he had.
He's now managed to put together three seasons in a row that have ranged from indifferent through downright poor without any runs of approaching top form with his various clubs, three seasons of constant questions being asked of form, of fighting for being first choice; the goals rate has slipped from averaging 15 league goals-per-season to two league goals all season from 16 appearances with Spurs and then West Ham.
As much as anything it's the lack of sharpness, the absence of any form or the clever movement and finishing that's most worrying. When given a chance for Spurs at Old Trafford in the league, Keane managed to give one of his more awfully ineffective, chasing-around-achieving-nothing performances, touching the ball nine times (never in a threatening position) before being whipped off after an hour – though in fairness, playing as the most forward player in a 4-5-1 never suited him.
He hardly played again for Spurs (a damning state, given all the games they had this season) and at West Ham, though unlucky with injury, he's merged anonymity with huge fluffed opportunities v Blackburn and v Chelsea (at 1.01 here).
It's gone on a bit long to be called a slump at this stage and at only 30, there's a terrible sense that Keane's best days may be behind him unless he manages firstly to find a club who'll give him a run of games at the top level, and then to hit some kind of form.
It's already cost Ireland points (three big chances missed v Slovakia) and his goal against Macedonia masked the display of a striker lacking games and confidence. We seem to be saying this forever, but next season (and first, this summer) is a big one for Robbie Keane.
Rub of the Green?
Elsewhere, some of his senior colleagues haven't exactly been pulling up trees in the Premier league – there was actually one period of the season that none of Keane, Duff, Dunne, O'Shea or Given were first teamers for various reasons.
Damien Duff did manage to pull himself out a slump with Fulham before Christmas – where he was dropped after a poor 45 minutes against Man City – to become the fizzing, side-stepping Duff of old for a few months, smashing four goals and an assist into a run of six games.
Overall Duff has probably been the bright spot of our core group and though he's not beating players with the ease of old, he still has the knack for getting ball into danger areas.
Richard Dunne, after an excellent first season with Villa, suddenly became Richard Dunne of early-period Man City form, looked unfit and half uninterested, lost a few yards of pace, piled up a list of costly mistakes, got involved in disciplinary issues and generally showed the sort of form that means most Villa fans want rid of himself and James Collins for next season.
He's recovered from this sort of slip before – his last three months at Man City were quite bitty – but like Keane, it'd sure want to be happening quickly.
Shay Given has been the forgotten man at Man City, that big call from Mancini to back Joe Hart meaning he's not played a league game all year. John O'Shea's had a typical John O'Shea season, winning a league medal while performing solidly enough over 20 league games for Man Utd without ever quite nailing down first choice right-back.
O'Shea wasn't burnt all year at full-back, yet rarely roared up and down the wings either, his lack of dynamism shown up particularly in the recent home game with Everton, when United immediately had more energy going forward when O'Shea was replaced at left-back with Patrice Evra. He could well be benched by Fabio or Rafael's greater speed for the Champions league final, and still it'd be no surprise should he start. As we said, typical John O'Shea season.
Green shoots
In many ways, the younger brigade carried much of the intrigue and few Irish players caused a stir quite like Seamus Coleman. Nominated for PFA young Player of the Year in his first full season really, Coleman brought his unique brand of energy to right midfield rather than right back for Everton, caused problems for a whole pile of decent full-backs (including giving Ashley Cole a horrid time, check this out (below) if you doubt Coleman's pace) with the Stephen Hunt template of just running up and down all day, getting crosses in and creating chances, including in some big games.

He notched four goals and a couple of assists from 33 league appearances but more than that impressed with his mentality and workrate; if he adds a spot of composure and some tactical awareness – there is a tendency to get lost against some of the better sides – Coleman should improve again with experience.
Not that he's been the only young fella making a splash.
James McCarthy returned from injury to offer Wigan creativity from an attacking playmaker role and showed enough to suggest he'll replace the class of Stephen Ireland at international level – though maybe not as many goals – without the flakiness. He'll be a Premier league player next year whether or not Wigan stay up. Ciaran Clark has played central midfield and left back quite effectively for Aston Villa in a rough season but will probably settle into centre-half soon enough and has shown enough to suggest he could be a nice mix of Richard Dunne's and John O'Shea's better attributes.
20 games in his first season – and some goals in big games as well – would surely have done nicely when setting out the ambitions last summer.
David Meyler's emergence was stalled again by injury and we hope we're not forever talking about potential here. Ditto Darron Gibson, who managed to combine notching a goal and a wonderful assist in a Champions league semi-final with another generally underwhelming season where he's not quite looked like making that step up, characterised by three poor performances in a row against Blackpool, Southampton and Crawley (hauled off after 45 and 57 minutes in the first two) when he got a chance of starting games in January.

Still, there's been nuggets of enough to keep him interested at Old Trafford, including more starts in recent games (Marseille and Schalke in Champs league, Everton and Fulham in league) where he hasn't done too badly. Man Utd's transfer activity in the summer will tell a lot of his future. Shane Long has stepped out of the shadow of Kevin Doyle after a few years where it seemed he'd fade away, and as with James McCarthy, he'll be a Premier League player next time around no matter what happens this weekend.
Other bits and bobs of interest? Andy Reid didn't do much for his cause-celebre status when transferred to Blackpool, failing to make any impression in a team that ought have brought the most from his passing ability.
In fact, in the two games he started for Blackpool, it was the amount of ball he gave away while trying that killer ball too often – always a failing – that reflected badly.
Glenn Whelan, by contrast, forced his way back into an in-form Stoke side in the second half of the year and showed exactly how effective he can be at a decent level. There might be a perceived gap in ability here but there's little doubt who's been more effective in the Premier league. Check out the difference in Andy Reid's passing against West Ham and Glenn Whelan's keeping of the ball against Man City.
[Guardian]
So a year where the older lads lost a little of their shine while we all get carried away with the promise of the likes of Clark, McCarthy, Meyler and Coleman.
Typical mixed bag for the Irish then.