SO FOR ALL the hype, in the end it was that straightforward. Chelsea might have steamed into this title decider as if they had the momentum, but they were blown away by a Man Utd side with more belief, more verve and who were, simply, better.
Tactically, United set up as expected in the 4-4-1-1 of recent use, with Rooney playing off Hernandez and Carrick and Giggs patrolling the centre as in the recent Champions League games, while Chelsea went back to a 4-3-3 with Mikel sitting, and Malouda and Kalou supporting Drogba.
In truth though, systems didn't matter a jot yesterday. This was a win for hunger and workrate, for energy and will, for individuals doing their jobs brilliantly on one side and not at all on the other. United could have played a 1920s style 2-3-5 and still come out on top.
It's sometimes a very trite explanation to say a side wanted it more and believed in themselves more but United simply did. On top of that their players performed like guys who knew exactly what needed to be done, which doesn't always necessarily follow. As a result, United won every individual match-up around the field.
From the first minute, United overwhelmed Chelsea with their tempo, movement and energy, nowhere more obviously than on the wings.  Ji-Sung Park was a ball of energy. If you were showing a video to kids learning the game of what can be achieved through sheer workrate – and intelligence to be fair – you'd make a clip of the opening thirty minutes of Park's performance. The South Korean was involved in both goals and hounded Chelsea out of any rhythm time and again. He made 12 tackles, winning 8 of them all over the pitch as he was allowed drift infield by Ferguson who knew that Branislav Ivanovic posed little threat in possession.
Valencia monstered Ashley Cole all day long, continuing from where he left off in the Charity Shield. He took the Chelsea left back on and beat him repeatedly, worked one-twos down the side, got crosses in, caught Cole in possession and never allowed him get forward.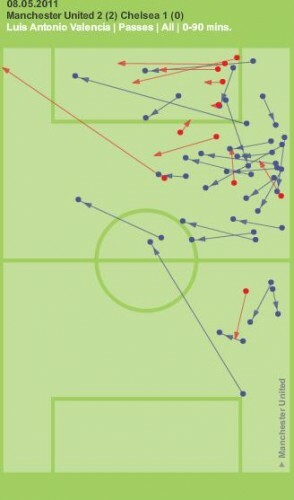 [Guardian]
Valencia attempted 35 passes, 24 successful, which is high for a winger, and made 11 tackles, winning 8. Cole made 7 tackles, winning only 2, which tells its own story and doesn't even take in the number of times Valencia got down the side without any tackle. To steal Daniel Taylor's line, Valencia terrorised Cole more effectively than Cristiano Ronaldo ever did, or probably could.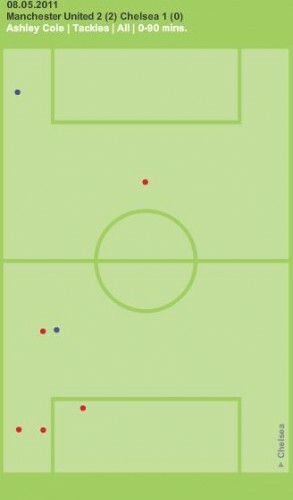 Elsewhere, everyone did their jobs as needed. Giggs again provided a final ball worthy of a finish in a game against Chelsea and just kept things ticking over with simple balls again and again in midfield (48 successful passes from 62 attempted). Michael Carrick used the ball simply and kept possession flowing to the wings (42 successful passes from 50 attempts), though he did hit one sumptuous ball to put Rooney through on goal late on.
Rooney was always involved from his creative number 10 role, switching play with Scholes-like accuracy (well, almost) to Valencia especially time and again. Hernandez proved again he'll take advantage of any slip in concentration at any time, managing to only touch the ball eight times, yet score, miss three wonderful chances and set up an open goal for Rooney with his efficiency. (Watch his movement for the missed header at 13.12 here).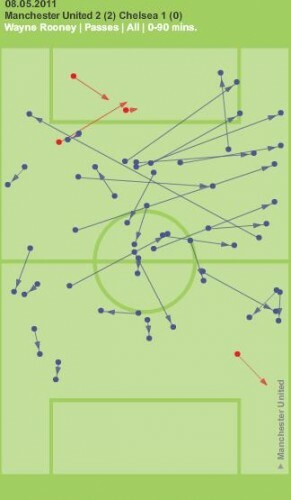 Chelsea simply never showed up and all stats back that up.
The missed interception after only thirty seconds completely rattled David Luiz and he only made one tackle throughout the whole first half before being hauled off. John Obi Mikel – who was meant to be the guy breaking up United's attacks, remember – was overrun, making a grand total of 1 tackle, no blocks and no interceptions for 45 mins.
Frank Lampard and Florent Malouda were largely anonymous. Didier Drogba was timid instead of unplayable, on the ball fourteen times and never once in a threatening position. Torres' late snatched shot at goal probably summed up his time at Chelsea so far.
Chelsea just weren't clever in any form either. Check out Vidic's goal here, firstly for how easily United work a situation where Giggs is one-on-one with Kalou and secondly, how easily John Terry – Chelsea's best defensive attacker of a ball surely – allows himself be pulled out of the danger area by Carrick drifting to the edge of the box. Why was he marking Carrick anyway?
Where their attacking needed to be high tempo, which it was when they caused United most problems in the second half of both the league and Champions League games at Stamford Bridge, here it was one-paced and laborious. It's fine to have slow build-up if you're Barcelona and have Xavi and Iniesta to unlock defences. When your biggest weakness is lack of real guile and creativity from the midfield, it's a fatal error to slow things down to crawling pace.
There has been a school of thought out there that this is a weak Premier League, that the winners would be arrived at almost by default. There may be an element of truth to the argument but yesterday's events – and we include another Arsenal collapse in that – showed that when the league was there to be won, United grabbed the title with a Championship display.
It may not be the most rampantly-won title United have achieved (and we're assuming here they'll pick up the necessary point), but in getting the most from an undoubtedly flawed side and convincing another set of players that they are indeed winners first and foremost, it must rank as one of Alex Ferguson's finer achievements.