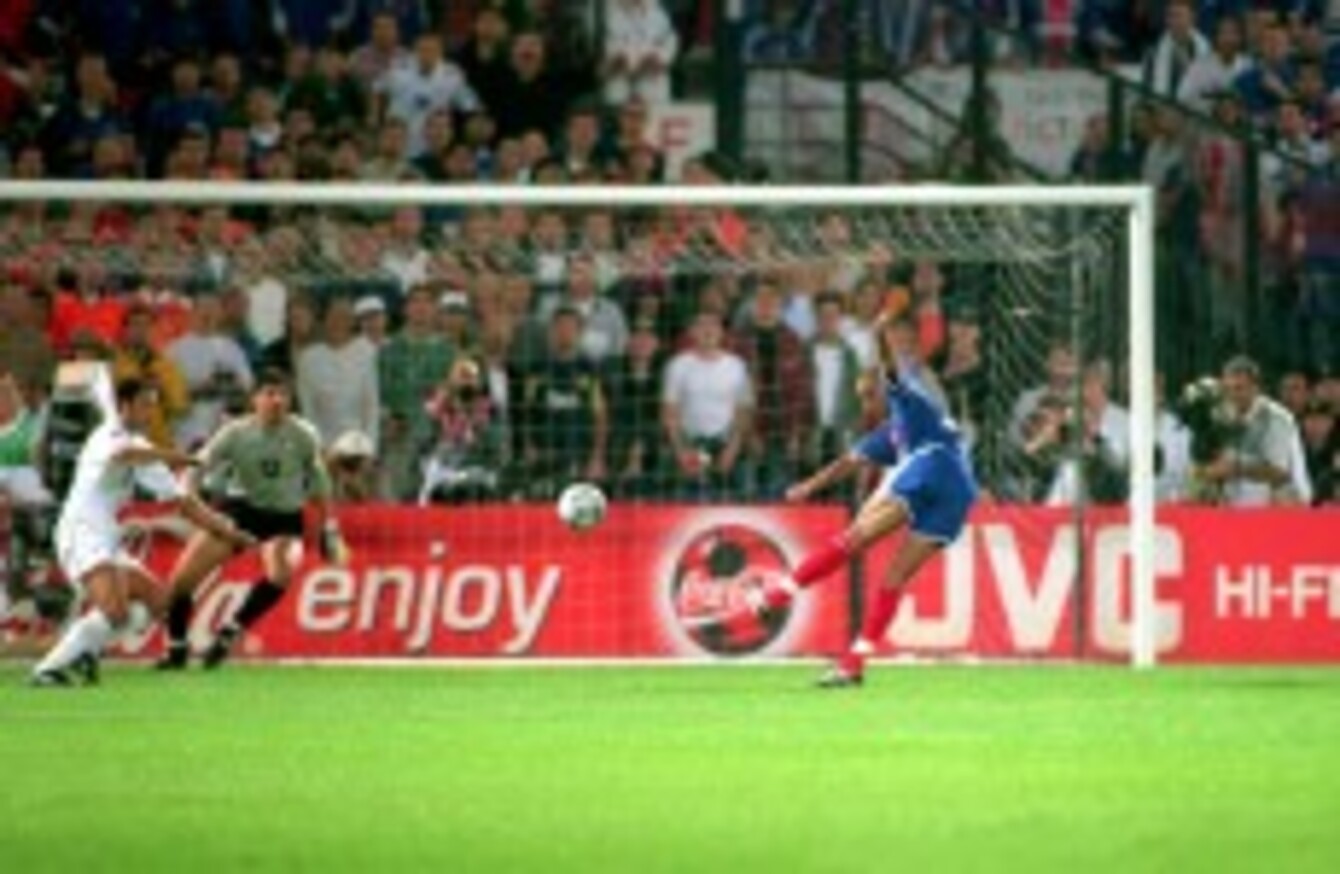 A peak moment?
Image: PA
A peak moment?
Image: PA
DIDIER DESCHAMPS WAS unequivocal.
"It's never going to get any better than this."
He was, of course, talking about David Trezeguet's golden-goal winner in the Euro 2000 final. But, although Deschamps wasn't thinking it at the time as he breathlessly expressed his elation in the immediate aftermath of that victory, he may well have been describing the entire competition that led up to that moment.
There is a very strong argument, as even Jonathan Wilson states in Inverting the Pyramid, that Euro 2000 was the greatest international tournament of all time.
Before going into the specifics, consider the general truths. It had surprises, scintillating high scoring games, exquisite and astounding goals, drama, tension and excitement at almost every turn and, most importantly – in a tournament in which the dominant tactical trend was based around fluidity and attack – all of the best teams played to the absolute maximum of their ability. And, given the manner in which the expanded Champions League began to consume international football in the period immediately after this, this was the last time the latter – in particular – happened.
In short, it was the tournament that had everything. And, almost symbolising that, it was the European Championships with more goals than any other since the competition took on the group-and-knock-out format in 1980…
Euro 80: 1.93 goals per match (13 matches)
Euro 84: 2.73 goals per match (15 matches)
Euro 88: 2.27 goals per match (15 matches)
Euro 92: 2.13 goals per match (15 matches)
Euro 96: 2.06 goals per match (31 matches)
Euro 2000: 2.74 goals per match (31 matches)
Euro 2004: 2.48 goals per match (31 matches)
Euro 2008: 2.48 goals per match (31 matches)
Goal counts, of course, are a hugely simplistic way of analysing the actual quality of a competition. But this raises another point in support of Euro 2000's superiority. The competition only saw three 0-0 draws in 31 games, but one of them was the most tactically intriguing, most drama-filled, most elementarily exciting matches of the tournament: the Italian-Dutch semi-final.
Still, though, more was to come. And so much more had preceded it. Even when you look back to the first game, Belgium-Sweden wasn't exactly the most enticing of opening fixtures. Instead, it was fired into life by Emile Mpenza's scorcher and fascinatingly sustained by Sweden's attempt at a late rally. In the end, they couldn't completely overturn Belgium's 2-0 lead as Johan Mjallby's goal wasn't enough.
Be part
of the team
Access exclusive podcasts, interviews and analysis with a monthly or annual membership.
Become a Member
Other teams, however, would not only finish the job but go much further. A total of five games in the 31 saw supreme comebacks. The most famous were Portugal's glorious, gradual unravelling of England in the first game of Group A and Yugoslavia's sensational point having been 3-0 down to surprise package Slovenia.
While the Slovenians – led by Zlatko Zahovic – undeniably enlivened the tournament, however, they couldn't quite get out of the group. Indeed, their pool was amazingly overturned by one of most entertaining games of all time: Spain's incredible 4-3 win over Yugoslavia.
That result saw Norway bow out, something that was to the benefit of the tournament as a whole. Egil Olsen's side, along with Germany and England, were among the most dour, unsophisticated and unimaginative in the tournament.
Indeed, on Irish television at the time, John Toshack got into a lively discussion with John Giles and Eamon Dunphy about how this was "the tournament of the number-10s". He noted how all of the teams got into the last eight featured traditional playmakers at the top of their game. The most impressive examples were Francesco Totti, Luis Figo, Gheorghe Hagi, Dragan Stojkovic and, most of all, Zinedine Zidane.
If Spain's use of, say, Raul perhaps illustrated that Toshack had exaggerated the proliferation of playmakers, though, there is no denying that more interchanging, more fluid tactical formations – of the kind that befitted the dazzling angles created by true playmakers – dominated the last eight. France, after all, set in vogue the 4-2-3-1 formation.
Even then, though, it wasn't like these more forward-thinking formations just freewheeled their way into the quarters. Turkey didn't kill off Belgium's chances until 20 minutes from their last group game while both Romania and, obviously, Spain got through by the very tightest of margins.
In the quarter-finals, then, Spain went out by the tightest of margins: an astonishing Raul missed penalty in the last minute.
And this is the thing about the whole idea of excitement and surprises. It isn't so much the identity of the teams that win that's important. (After all, the energy value of the 2002 World Cup's surprises soon wore off when the quality of the later games significantly dropped off.)
It's the idea of unpredictability. If even a big team feels anyway under threat, then it will be thrilling.
And that was exactly the case in the final itself, which was such an appropriate ending to an incredible tournament.
That French side weren't just one of the greatest attacking sides of all time – marking a notable evolution from their 1998 World Cup victory – but one of the greatest teams of all time. And, in order to achieve that kind of transcendent feat, they were put to the ultimate test by an Italian side who may have been the opposite to France tactically but, as such, only added to the psychological and strategic dimensions of a stunning contest.
And that's stunning in every sense, from Sylvain Wiltord's injury-time equaliser to Trezeguet's emphatic winner.
To steal Deschamps sentiment, it's difficult to think of many tournaments – from 1954 to 1970 – that had any elements much better than all of that.