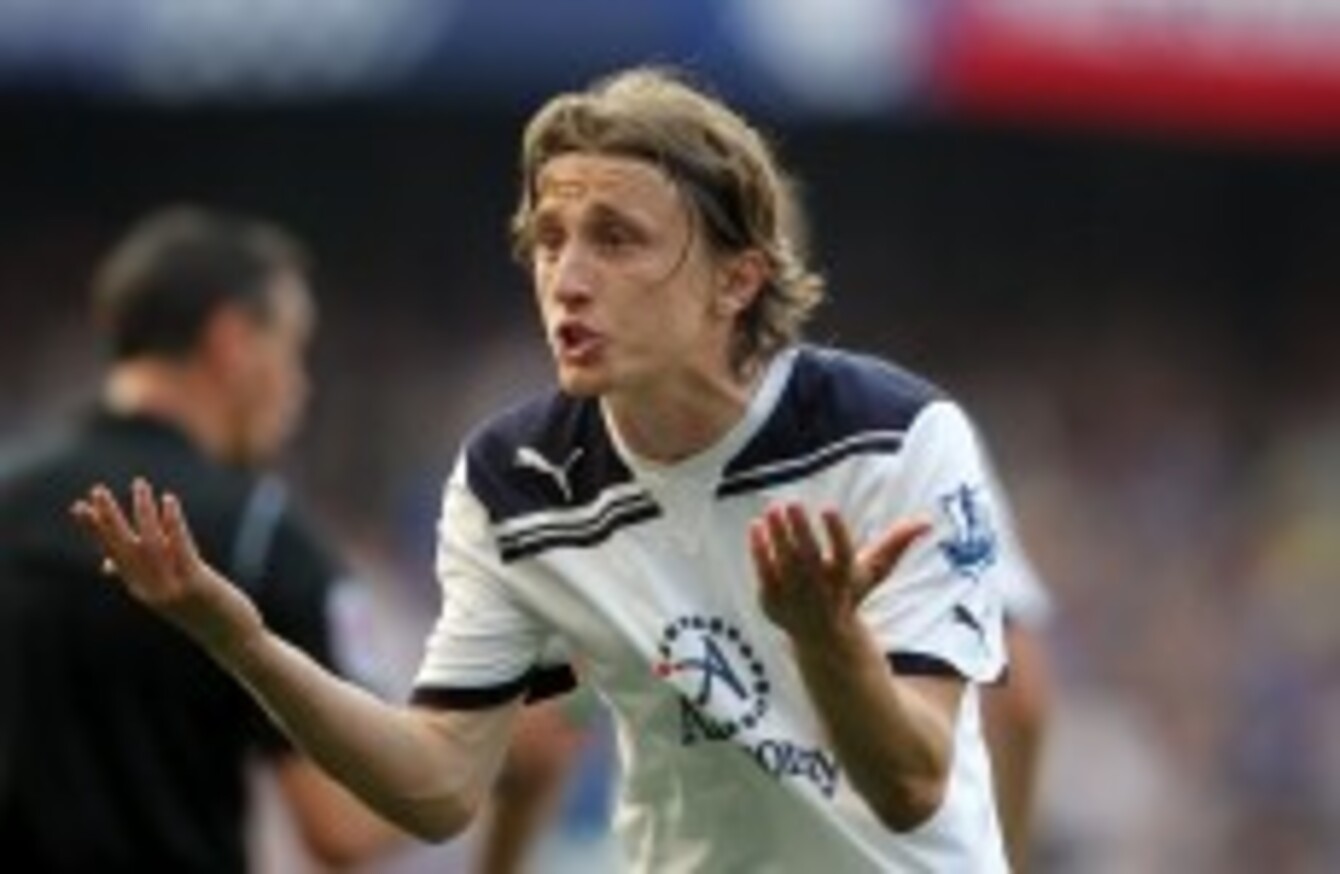 Luka Modric.
Luka Modric.
WHAT DOES LUKA MODRIC have in common with Wayne Rooney?
Aside from their less-than-film-star looks, there are also rumours that the Croat is considering declaring his loyalty to Tottenham – as Rooney did with United – despite previously signalling his intentions to leave the club.
Sources have indicated that Modric may stay with Spurs if they invest in one or two big-name signings.
In other news, Man United are reportedly interested in QPR midfielder Adel "what in God's name posssessed Harry Redknapp to sell him" Taarabt.
In addition, United and neighbours Man City are wondering whether Alexis Sanchez will do the sensible thing and agree to join Barcelona, or if he'll accept either of their offers.
It is being reported that Andre Villas-Boas will agree to be Roman Abramovich's puppet and become Chelsea manager rather than Guus Hiddink as had previously been anticipated.
Elsewhere Aston Villa seem somewhat out of their depth in attempting to sign Charlie 'flavour of the month' Adam, given that they're vying with genuinely big clubs including Man United and Liverpool.
United – who are seemingly being linked with everyone today – will also look to avail of the services of Lassana Diarra, who seems intent on playing for every big European club, having already crossed Chelsea, Arsenal, Real Madrid and, ahem, Portsmouth off his list.
Meanwhile, Man City will try to alleviate Carlos Tevez's chronic boredom by increasing his already ludicrously high 286k-a-week wages.
Leeds are considering bringing former players Alan Smith, Lee Bowyer and Jonathan Woodgate back to the club in an optimistic bid to return to their Champions League-competing glory days. Sadly, Olivier Dacourt is now retired, meaning the frightening prospect of having to play Smith in midfield is likely.
Finally, the news every Liverpool fan has been waiting to hear, Paul Konchesky is set to leave the club for £3.5m, with Wolves being his likely destination.