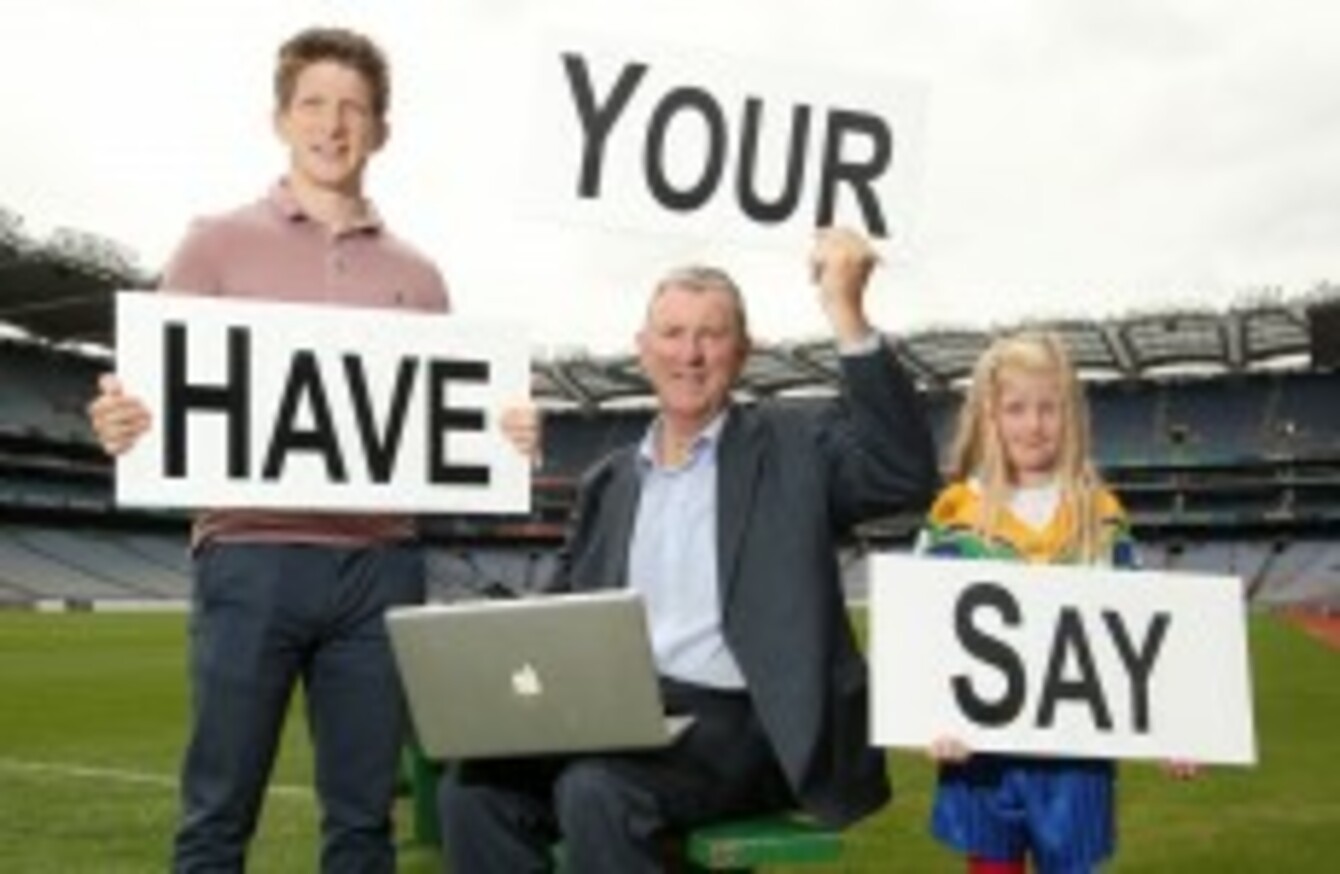 Sligo footballer David Kelly, Committee Chair Eugene McGee and Lauren Darcy in Croke Park yesterday.
Image: INPHO/James Crombie
Sligo footballer David Kelly, Committee Chair Eugene McGee and Lauren Darcy in Croke Park yesterday.
Image: INPHO/James Crombie
EVER ARGUED THAT the All-Ireland football championship structure was unfair? Said that the square ball rule needs tweaking again? Had a stand-up row over the prevlance of the hand-pass these days?
We've got the website for you.
The GAA's football review committee (FRC) are now inviting feedback on the current state of play in the game.
FRC chairman,  Eugene McGee, said yesterday at the launch of their new website that the current format of the football championship wouldn't last another decade, in his view.
The competition's structure is one of the main topics within the FRC's scope, as well as hand-passing and the season's length.
"In 10 years' time, we surely won't be having the same provincial championship. Mayo playing their first Championship match eight weeks after Longford — that sort of stuff won't go on. Young men won't put up with that today. That's not going to happen.
"The change from handpass to footpass whereas it was 1:1 (ratio) years ago and 3:1 today — if that were to increase it would mean it'd be 5:1 in 10 years' time so only 20% of the play would be with the foot. If that were to happen today there'd be a bit of a revolution. People would be say, 'Jesus, what's going on?' But it's quite likely to happen because the coaches may decide to keep at the hand-pass so therefore in 10 years time it could be even 90%.
"People don't realise how quickly these things come in. I was involved in the 70s with the Kerry-Dublin stuff and people said the hand-pass would be a one-day wonder. At that time, you had hand-pass and you could throw the ball into the net. But it's there and it's still there and it went from strength to strength because it worked for Dublin and especially for Kerry. That's how thing sneaks it. The hand-pass, even though a lot of people object to it, may become the natural way of transferring in the game.
McGee heads up the committe with the likes of Killian Burns of Kerry and Paul Earley (Roscommon.
"The inequity of it is really getting to a lot of people," said McGee of the widening gap between the have and have-nots in the championship. "I haven't seen any suggestions about what is meant to be for weaker counties to help them. I was involved with the FDC (Football Development Committee) 11 years earlier. I must dig it up again because that catered really for weaker counties and gave them far more matches. The recent weaker counties on recent history haven't seem bothered about improving their position. The Tommy Murphy Cup was an excellent idea but they killed it themselves with some of them not even turning up for matches.
"One of the things we will be looking at, and we discussed this with the GPA is the financial aspect of the weaker counties. The resources they have are grossly inequal compared to the rich counties. You can spend a million to win the All-Ireland but there's no way Longford or Leitrim can spend a million. They'll never have it. Teams are being punished now because finance is so important when it comes to preparing a team. It's a new and ever growing problem, the disparity in financial resources."
The FRC are seeking submissions via their website, at frc@gaa.ie or to FRC, c/o Communications Dept, Croke Park, Dublin 3. McGee says they want to hear all feedback from stakeholders within the game like players, refs, officials or interested spectators.  The committee plan to produce a document before the end of the year.
"We are supposed to have it done by November and we will stick by it so that he (GAA president, Liam O' Neill) can start over the winter months and see what the next step is and move quickly forward. He's adamant it's not going to be sitting around for two years."
Have any suggestions for the FRC?