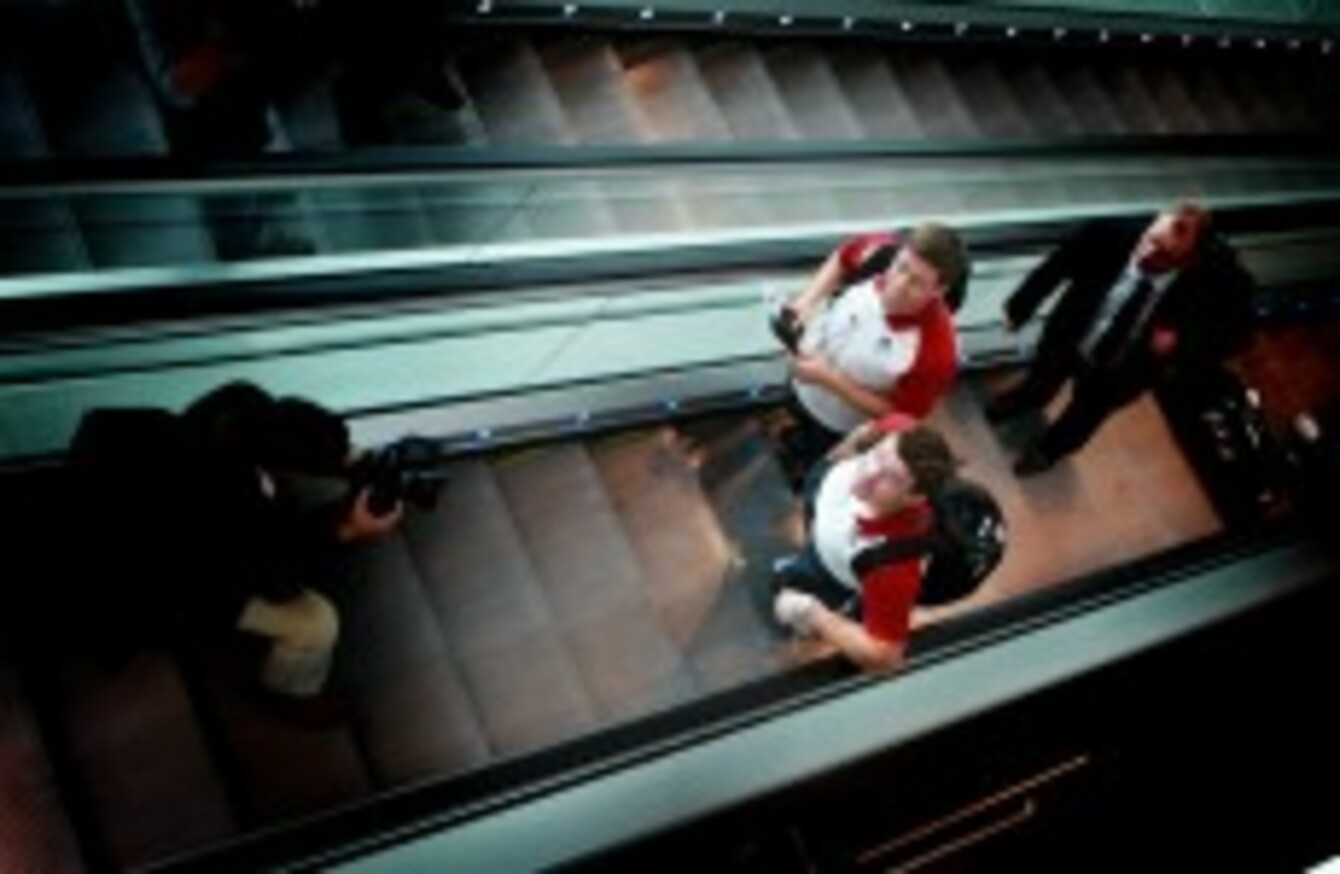 Image: Julien Behal/PA Wire/Press Association Images
Image: Julien Behal/PA Wire/Press Association Images
We're sending one Irish rugby fan off to New Zealand with the keys to a van, a road map and a broadband dongle. He'll send updates from the road throughout the tournament up until the point of his eventual  arrest or when the money runs out. Meet the Happy Camper, Sean Farrell.
WAS IT LILLE? Maybe it was Metz or Reims. Wherever we were, Irish rugby's inglorious failure had taken us someplace we were never supposed to be.
It was September 2007 and the World Cup hosts had just given us a pasting in Paris.
With hostels scarce, this brave trio of boys were transformed into a fatigued, forlorn and shivering mess as they lay waiting through the night at the Ryanair bus stop. Even with hypothermia narrowly avoided, the week-long trip was a disaster.
It began in Bordeaux. Ahead of the narrow escape against Georgia, a hotel presented itself that was cheap as frites and adjacent to a 'Metro.' It seemed like a no-brainer despite being miles away from the city centre. Well, long story short; 'Metro' is not the name of the light rail system in Bordeaux, but rather a dimly-lit supermarket that made your bog-standard Aldi look like Donnybrook Fair.
We were stranded.
Our accommodation was deep inside an industrial park served by just one bus, which inconveniently arrived twice a day to serve the hardworking souls on the seven to seven shift.
The rest is history: We set out walking along the dual carriageway to watch Georgia get the 14-10 thrashing of a lifetime. We headed for Paris where Ireland kindly gave France a boost-up to their date with destiny against the All Blacks and, as if that wasn't already overly generous in the eyes of three Cavan men, we then allowed Argentina advance past us to the semi-finals.
A low had been reached in Irish rugby. Like the team we followed, our troupe left France with tails tucked so firmly between our legs that John Wayne could have threatened copyright infringement.
Four years on, selective amnesia has helped us fully recover from that trauma. We tell ourselves: 'This year will be different.' For a start we'll be in crisp clean New Zealand – the set of Lord of the Rings. Not smelly old France – set of those smutty films TG4 used to show of a Friday night.
The tent, the dodgy hotel and the bus shelter that made up our sleeping arrangements during the '07 disaster will morph into a swanky campervan fit for a king – so long as his majesty doesn't mind emptying the chemical toilet. As for the team we follow; this time around they go with realistic expectations, hoping to make the quarter-finals instead of expecting to win the whole bloody thing. This time, if the team is to be compared to a piece of meat, they'll be neither under or over cooked. This year; they'll be medium-rare baby!
I know, I know, winning ugly over the USA didn't do anything for confidence levels but the underdogs will be back in their rightful place this weekend, have some trust in chef Kidney.
As you read this, flight EY 48 is readying for take-off and Mark McIntyre is still raiding the duty free. Now, I've lived with young 'Tosh' (the name even his mother calls him) for almost two years.
You think you know a fella, but nothing can prepare you for the prospect of sitting shoulder to shoulder with him for over 30 hours in economy class.
By the time we've gone from Dublin to Abu Dhabi, and onward, to Sydney and to Auckland all we'll want is to seek refuge from each other at opposite ends of Aotearoa.
Out of the frying pan…
Instead we'll jump into another confined space. Yes, that van will be a tense little sardine tin come Thursday night. Having said that: the Toblerone and Jameson which are currently forming uncomfortable shapes in his carry-on luggage ought to provide ample distraction to keep the camaraderie going… for a few hours at least.
Soon after we arrive in the Kiwi capital and collect our noble steed of an RV, the group will be completed by the arrival of Del, who left the green shores of Éirinn last week for a quick stopover in Melbourne before joining us. A trio reunited just in time for Ireland's tournament defining clash with Australia.
That is just the game we need to finally lay the ghosts of 2007 to rest, dispel the notion that the match with Eddie's Eagles was just a rerun of the Namibia nightmare.
Even if our French history repeats itself off the field and the shivering band of brothers is left stranded and fogbound – at whatever they call the southern hemisphere equivalent of Beauvais. If we are then made to wait and wait until finally being bussed off to Lille airport  (170 kilometres away, but still classed as 'nearby')  it will all be worthwhile so long as our boys in green play anywhere remotely close to their ability.
Wherever they may take us, we don't need a World Cup trophy from this team. We have travelled to the far corner of the globe but all we want in return is four whole-hearted performances and no more excuses.