FOLLOWING ON FROM last week's YouTube Top 10, which featured this hilarious Matt Williams-aping clip, we decided to draw up a list of the best impressionists of sport stars ever.
And we're talking purely from a comedic, sketch show-type viewpoint. In other words, Robert DeNiro in Raging Bull, or Martin Sheen in The Damned United don't count.
And no, Jamie Redknapp's bad impersonation of a decent football pundit doesn't count either…
7. Darren Farley
Okay, he was never successful enough to get his own TV shown, and seems to have faded into obscurity following five minutes of YouTube-inspired fame, but what a five minutes it was. His impressions of Steven Gerrard and Rafa Benitez were so uncanny that even the stars themselves had to admit to their excellence, with Benitez remarking: "He does me better than me."
6. Alistair McGowan
Quite probably the only sporting satirist who has also worked as an actual commentator, Alistair McGowan is surely one of the most versatile entertainers around. In addition to featuring in the BBC's coverage of this year's Wimbledon, he has also written plays, acted in shows such as Skins and served as an ambassador for the World Wide Fund for Nature. This commitment to a variety of roles probably explains why his sports sketches have been less prominent in recent times, but they were always entertaining and immensely popular circa early 2000s. He still occasionally impersonates people these days, as the clip below attests.
5. Dermot Morgan
Dermot Morgan will of course always be most famous for Father Ted, however before he launched the award-winning hit comedy, he featured in Scrap Saturday, a radio show that was less well-known but at times equally funny. In addition to ripping on numerous politicians, one of his favourite people to parody was Eamon Dunphy, thus making Morgan the precursor to the ensuing success that Aprés Match acquired.
4. Mario Rosenstock
Not solely a satirist of sports stars, but still consistently funny when he does choose to rib some of the most well known figures in this area – from Roy Keane to Jose Mourinho to Ronan O'Gara, he never fails to draw a laugh from his audience. And unlike inferior mimics, not only does he demonstrate an acute ear for the speech patterns of sports people, but he also manages to include funny stand-alone jokes and thus, realises that simply doing a good impression of someone is not enough on its own.
3. David Mitchell
Sky television specialise in hype. Whether it be Manchester United against Arsenal, or some random Blue Square Premier fixture, they make it sound as if the end of the world is being broadcast live. And no one summed this up better than David Mitchell in the fantastic sketch below, with some help from his comedic sketch partner Robert Webb no doubt. The duo rarely perform sport-related sketches, but when they do, the results are invariably hilarious. See also: the superb football fan sketch.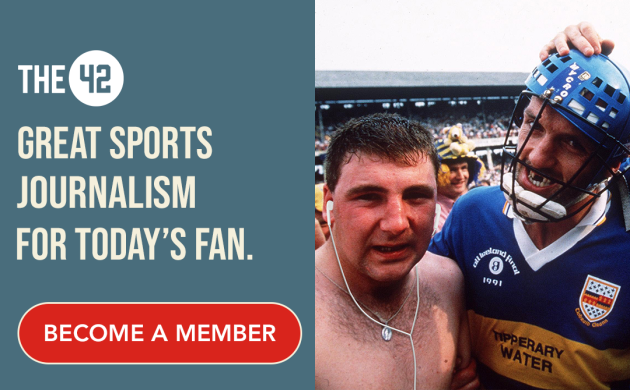 2. Apres Match
The sketch show has been around for so long that it has almost become as much of an institution as the array of famous figures that it mocks. Picking one clip is almost impossible, as there have been numerous highlights over the years. Some of the most memorable sports people mocked include Eamon Dunphy, George Hook, Mick McCarthy and of course, Pat Spillane.
1. Steve Coogan

Again, Coogan has only dabbled in sports mimicry, but the few occasions he has undertaken the challenge have produced arguably the funniest sports-related sketches ever conceived. The 1994 World Cup one is undoubtedly the most well-known of Coogan's efforts, however his horse racing commentator sketch is quite possibly even funnier. Alf Ramsey will never be thought of in the same way again.
Have we forgotten anyone? Let us know.